Bing Ads is making it easier for advertisers to make informed decisions when it comes to adjusting campaign budgets.
Now, in the Opportunity page, Bing is adding conversion estimates along with corresponding budget suggestions. This will give advertisers a better idea of budget adjustments will affect their conversions.
In order for Bing Ads to generate conversion insights for budget suggestions, advertisers will be required to use the Universal Event Tracking (UET) Tag.
"Incorporating your conversion data into your campaign suggestions can make them more useful and relevant to your business goals. As such we have already released three new suggestions this year based on conversion data for remarketing, location, and time/day bid adjustments."
Viewing Budget Suggestions
Budget suggestions can be found within the Opportunity tab in the Bing Ads web interface. You will see an estimation of how many more clicks you may receive if you increase your budget.


Clicking on "View Opportunities" will display both click and conversion estimates for each campaign based on the provided budget suggestion. There will also be options to either apply, view, or dismiss the suggestion.

The "Advanced View" will show more details related to the budget suggestion, such as estimated changes to spend and impressions.

Clicking on the "View" button in the last column of any row will bring up the "Conversion Landscape". From there, advertisers can manually enter any budget they wish to get an estimation of how it may affect their campaign.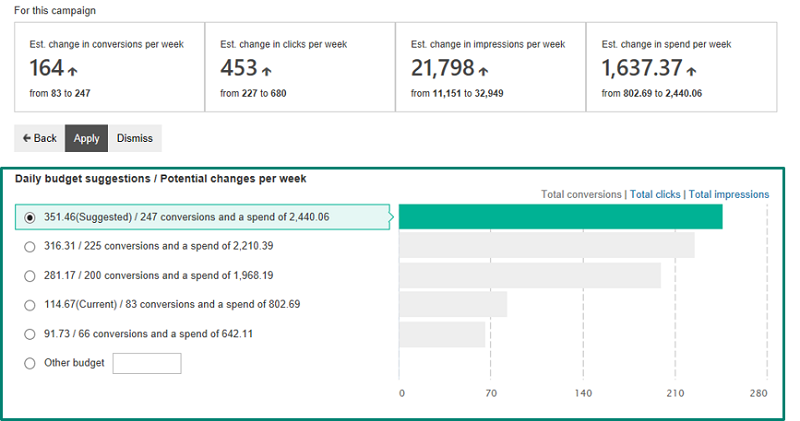 Advertisers who do not have conversion tracking set up in Bing Ads will not see conversion estimates based on budget suggestions. However, they will still see estimates for click gains and spend impact.