With the rise of modern instant forms of mass communication, the languages we use in our daily lives are evolving at a pace never before experienced in the history of mankind. People living in the same country, separated by just a few generations, often have a completely different ways of communicating with each other. Words, phrases, even meme's are born and die while the world moves ever onwards.
Thanks to the power of the internet, these strange misshapen mutterings are captured forever deep in the heart of cyberspace. Available for anyone brave or mad enough to delve into the depths after them, they can be a fantastic source of inspiration when it comes to considering a catchy brand and / or domain name, a new slogan or even when brainstorming for a new kind of product. And now that slang and Internet jargon is being added to traditional dictionaries, no one can ignore it any longer.
If you find yourself without any ideas, reading through some Sniglets (non-existent words) or checking out the top 100 words that never really existed, can do wonders for the imagination. Three of my favorite sites for finding lost, forgotten and just unwanted words are:
Double Tongued Dictionary: Slang and Idiom Database
The Double Tongued Dictionary is a site run by Grant Barrett, a professional lexicographer, who along with his team monitor new words, slang and idioms that start seeing common use within the English language.
Users can search using a traditional search bar function, or they can simply surf around the front-page portal, looking at the lists of recently compiled words and phrases. Entries are displayed in true dictionary fashion, complete with a full description of what is meant by the phrase in question, as well as its first attributed use.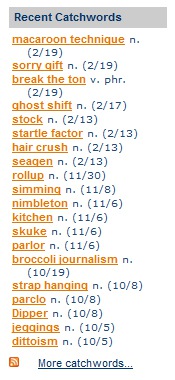 People can even leave comments or submit their own entries to the dictionary, but everything needs to be approved by the moderation staff before it appears on the site.
Pseudo Dictionary: The Home of Made Up Words
While the standards for getting an entry into Pseudo Dictionary are nowhere near as high as they are for the Double Tongued Dictionary, it can still be a really useful resource for finding the meaning of internet slang words, as well as sometimes just being funny to read through.
Similar to Double Tongued, Pseudo Dictionary does ask for a citation link so that people can see the new words being used in action, however because these links are do-follow (and entries aren't moderated before being put online), often people just use them as a way to generate back-links and to bait people into visiting their sites.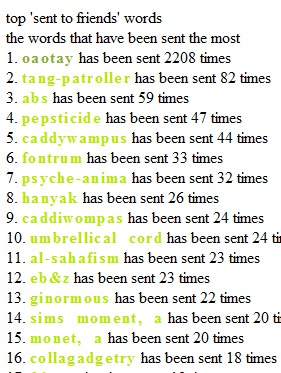 Urban Dictionary: The Best Resource for Internet Slang and Acronyms on the Web
Urban Dictionary is another site that deals in new words and internet based English slang terms. It is purely user generated, though it does have a moderation team that does its best to stop the site from overflowing with too much useless rubbish. If you need to get an idea of what some strange, never before heard of phrase means, Urban Dictionary is usually a good port of call.