AuthorityLabs is simple yet extensive seo software that's been around for about a year now. The software provides daily ranking data, as well as link data for any page or domain from multiple sources. Lately they've been integrating new data sources so that you can get exact match search volume numbers for every keywords in your account, for example:
Recently, they just launched the ability to track and report on domains or pages ranking within local packs. If a keyword your tracking throws a local pack, and your domain isn't found in it, you'll get one icon in the 'Type' column.
Here we can see when you search for 'hotel in dc' you'll get a local pack, but the domain 'monaco-dc.com' isn't ranking in it.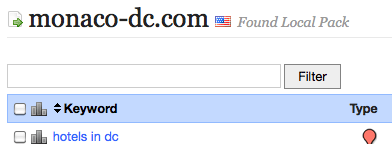 If you're tracking a domain that is found within the local pack you'll get a similar icon, but one which indicates where that domain ranked inside the local pack. Here you'll see that if you search for 'tampa lawyer' you'll get a local pack also, but in this case the domain 'tgalaw.com' was found within it it at position E.

From my testing, it seems accurate for keywords which are locally targeted (ie: real estate seattle vs real estate). What's interesting though, is being able to understand which keywords are throwing a local pack that aren't locally targeted.
As with anything, you'll want to take this data and look at it in aggregate. So, if you have a lot of keywords which are throwing the local pack, you know local optimization should be a priority, and for the keywords which are locally targeted you can track your progress. If you don't have a lot of terms throwing the local pack, local optimization may not need to be a priority for you.
Along with local data, they're also reporting on which universal results are found on a page. Currently, it looks like they're finding image, video, shopping, real-time, news and blog results. In this case, we can see that a search on Google for 'tiger woods' throws image, news, video and blog results.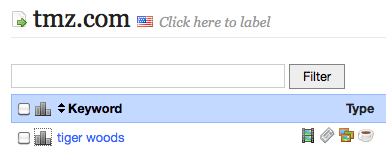 Again, this information is really useful in aggregate. So, if you're tracking 100 terms and 90 of them are throwing image results, there's an opportunity there for easier page one exposure. Or at least, you now know your images should be properly optimized, and you'll probably see results from that work.
They took it one step further, and are also capturing whether or not rich snippets were found on a search result. So, if you have a lot of keywords where rich snippets exist, getting some micro-format or RDF markup on your pages will probably help bump you up a few spots, or at least, get you a few more clicks with a fancier serp snippet.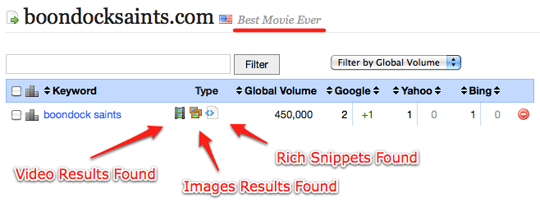 I appreciate Chase (one of the founders of Authority Labs) taking the time to walk me through, and demo a lot of these new features. I would encourage you to keep an eye on them, they are doing some pretty cool stuff, and I personally know of some cool new tools they have in the pipeline that, IMO are going to be a game changer in the industry.