This post is focused around outlining some of the free tools and features that Google AdWords offers but people often don't make full use of because they forget or don't know they are available. In the past many AdWords campaigns were monitored from within Bid Management platforms or from within Google Analytics but the new AdWords home tab is seeking to change all that.
The past problem with running your campaigns within the AdWords interface was the limited ability to get a quick snapshot of account performance and quickly identify problems to resolve. The old platform was next to useless and most people quickly starting using the campaigns tab as the default page for their reporting and analysis even when using Google Analytics for discovering actionable insights has issues due to a 24-48 hour delay in importing data.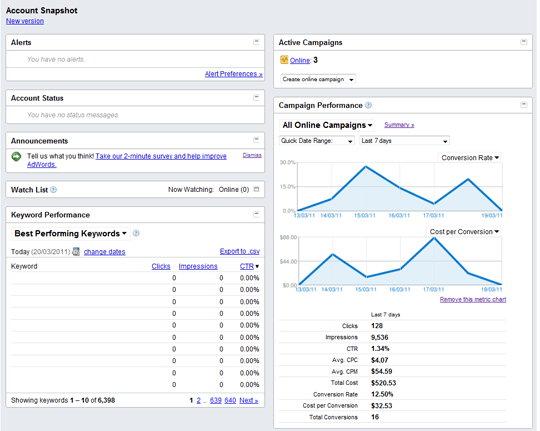 Benefits of PPC Dashboards?
The biggest benefit of the new AdWords home tab is that the your dashboard can be customised so you are able to focus on the campaign metrics that matter to each member of the team. It can be setup so your account manager, marketing manager and CEO can have a unique dashboard they are able to quickly view and monitor the top level details. While the new dashboard feature has been around for a about 2 months in most accounts it's likely that most people have failed to notice the update as their default tab is campaigns or they never bother to login to their AdWords account.
One of the better parts about the new dashboard feature is that it can re-use your existing filters that you have created and been using to refine data showing in your campaign dashboard. The other benefit of the new dashboard interface as you don't have to deal with the limitation that the old keyword performance module was not available for accounts with more than 10,000 keywords which made the previous module fairly useless for most large accounts.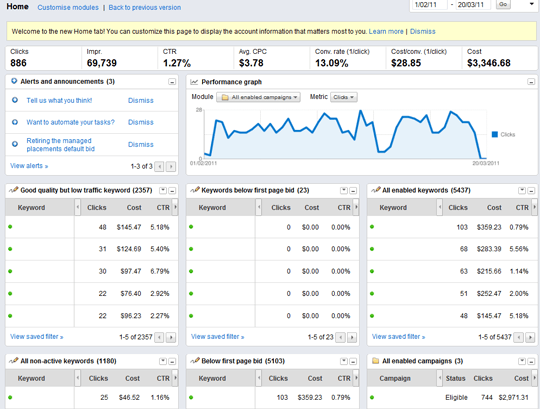 So How do I create new modules?
You can use the AdWords interface to create and save filters that can then be added as modules to display on your home tab which give you a lot more control over what information is contained on your dashboard. Some of the important filters I think most accounts should have are:
Keywords over your Average CPC Rates
Keywords over your Average CPA Rates
Keywords with a higher than average conversion rate
Keywords with a lower than average conversion rate
Keywords that have a lower than optimal ad position
Keywords that have a lower than optimal CTR
Keywords that changed status to limited, issues or not eligible to run
While these are just a few filters I have created that should help you focus on attaining a better ROI but also insure that your AdWords campaigns remain conversion focused. The dashboard modules work best when they are tailored to suit your campaign metrics and it is typically better to use multiple rules for your filters to get only the necessary information. You have the ability to quickly see just the keywords that are driving a bulk of your traffic, those giving you the most exposure via impressions or those making the cash register win via conversions.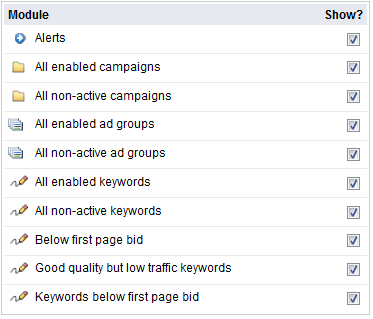 What about information overload?
Probably one of the best features of the AdWords dashboard is that if you label your filters well you can minimise the modules and you can see in the screenshot below that the count of items that qualify for that filter are shown in brackets.

What about mobile dashboards?
A growing number of businesses need to have someone checking the campaigns when they are on the road or out of the office and credible mobile solutions are becoming increasingly important for both small companies and agencies using AdWords but is extending to the C-level with an always connected global work force. The new dashboard does load on mobile devices such as iPhone, Android and even WindowsPhone7 but besides quickly checking stats it doesn't offer the full functionality people expect from mobile apps.
The full mobile version offers a bit more functionality as you can view your saved filters and view any custom alters for key accounts events but is not yet available for all mobile devices such as the Windows Phone 7.
While AdWords for mobile does offer a fairly limited level of functionality it's likely the functionality will be vastly improved as Google seeks to move it's platform into the hands of marketers so they can access it anywhere they can get a mobile signal. Outside of the update AdWords mobile dashboard there is only a limited number bid management platforms like Acquisio that have mobile apps for management of your PPC campaigns, so it's hoping that Microsoft AdCenter rolls out a mobile application soon otherwise if you use platforms outside of Google AdWords you may have to consider a Bid Management platform if you spend a fair bit of time out of the office or at conferences.
What is the limitations of AdWords dashboard?
The downside is the information contained in the modules is not placed into context as you could in the previous version where you could see the top level performance of a particular campaign. The screenshot below shows the ease that you could see how individual campaigns were performing against a previous period of time but was limited as it could not be broken down by AdGroup, Keyword or even select multiple active campaigns only.