This post was sponsored by the US Search Awards.
Every year, the majority of the SEJ team meets up in Vegas for Pubcon. The presentations, panels, and networking events make this one of our favorite times of the year. But our favorite event during Pubcon week, by far, is the US Search Awards. I want to share four fabulous reasons why you should attend, but first, I will tell you a little about this year's event.
US Search Awards 2016
This year's event will be held on October 12th at Caesars Palace in Las Vegas, Nevada. The ceremony will include a drinks reception, a fancy three-course dinner, a free bar until 11.30 pm, live entertainment, and the presentation of all the awards. Black tie dress is encouraged, and you can expect to see some fancy outfits!
This event is the biggest celebration of search, PPC, and digital marketing in the USA. Now in its fourth year, the event attracts hundreds of entries from some of the leading search and digital agencies across North America.
This is really a fantastic event, and I am going to tell you exactly why I hope to see you there!
Get Your Glamour On With Industry A-Listers
Some of the best and the brightest in our industry show up for this event. If you want to rub elbows with top influencers in the digital marketing industry, this is the spot to do it. Everyone gets dressed up, but the vibe is very low-key. There is an open bar, and usually a photo booth for you to goof off in. Last year there were selfie sticks. I may or may not have monopolized our table's selfie stick: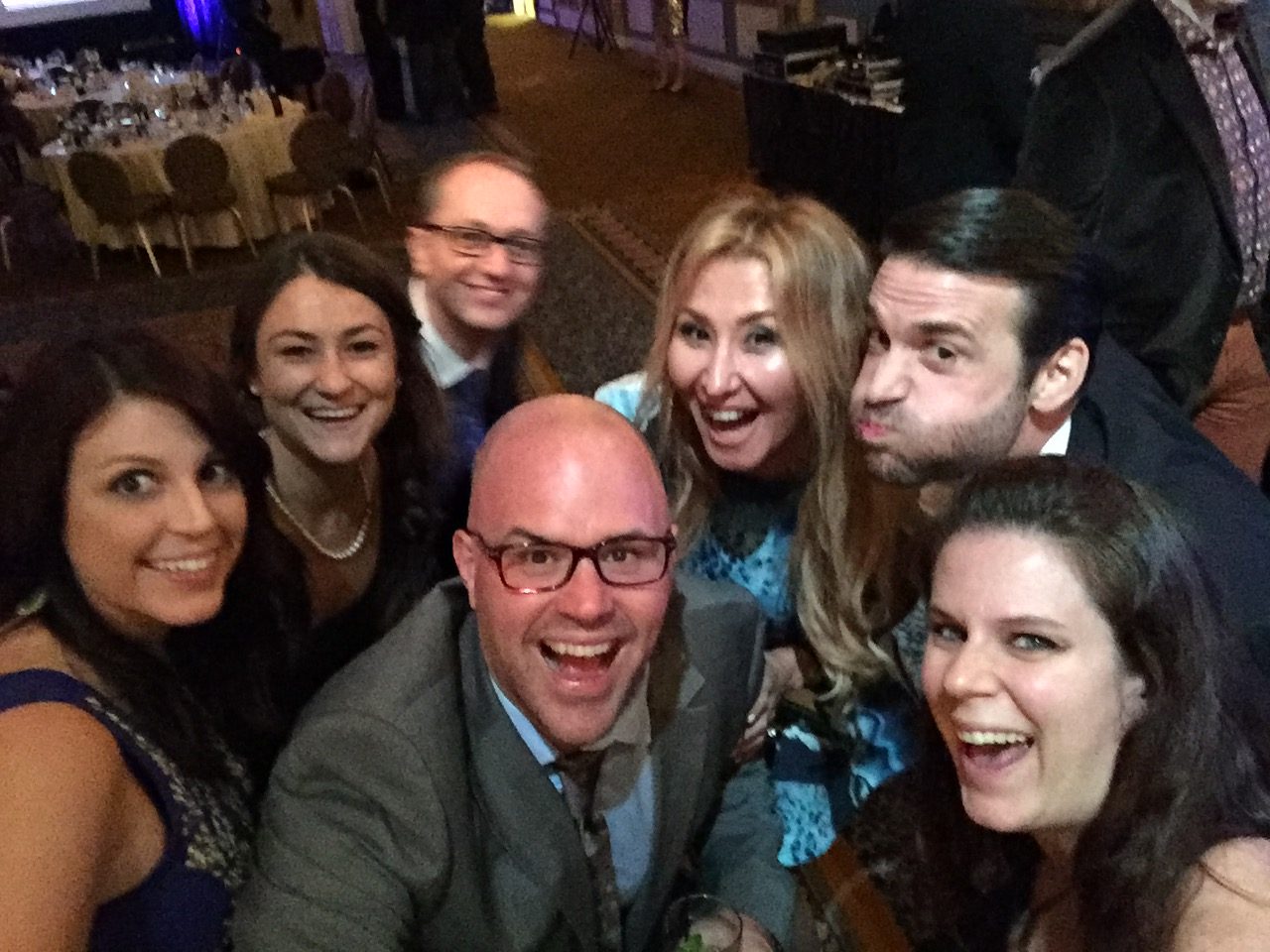 All Industry Areas Are Represented
Even though it is called the US Search Awards, many different areas of our industry are highlighted throughout the night. Some of the top judges include Matt McGowan from Google; Anne Kennedy, President of Outlines Venture Group; Lexi Mills, the Head of Digital at Dynamo PR; Mark Robertson Head of Video Growth Marketing at Tubular Labs; and our own Kelsey Jones, the Executive Editor at SEJ. The broad skill set in the judging panel means all industry aspects are represented, not just search.
In addition to judges from many different industries, there are also a diverse listing of categories. A few from last year include:
Best PPC Campaign
Innovation
Best Consultant
Best In-House Team
Life Time Achievement Award
US Search Personality of the Year
Awesome Networking Opportunities
Search is a fast-paced game, and the people working in our industry work really hard for their success. This ceremony is not only a perfect networking opportunity but a chance to really solidify contacts you may only have met in conference calls or over email. You also get to celebrate all the wins and let your hair down at a glitzy glamorous event. There is really a great energy during this event, everyone is relaxed and having a good time.
Plus, seating is arranged in large banquet tables of 10 to 12, which creates a perfect opportunity to chat with new people!
Winning Isn't Everything
Even if you don't win in your category, there are a lot of benefits to just being nominated. Remember, judges are from top industry companies, and they will be looking over the submissions. Plus, before each winner is announced, the presenters go through the nominees in detail. So even if you don't win, the mention alone can be quite valuable.
Did I Mention the Food?
This isn't your standard conference fare. This is a real, fancy three-course meal served with the right wine and everything. The offer both vegetarian and meat options, which is pretty awesome. Seriously, it is almost worth going for the food and drinks alone.
Get Your Tickets Today! Register here.
If you want to be a part of all the fun, tickets for the US Search Awards are on sale now. I hope to see you there. Stop by the SEJ table and we can get a shot together in the photo booth!