Emojis, once discounted as nonsensical Millennial-speak, have proven to have some marketing value for brands like Taco Bell, Domino's, Tim Hortons, Ikea and Dove. And so the emoji gold rush is on. But, like any marketing tactic, there's a time and a place for these emotional symbols – and they don't work for every brand.
Here's a survey of the emoji landscape, as well as a look at how brands can figure out whether emojis are right for them, whether to implement existing or custom emojis, and how marketers can ensure consumers use them.
Emojis Everywhere
World Emoji Day is July 17, but it could be argued consumers, marketers, and platforms alike celebrate all year long. To wit:
Facebook recently added 1500 new emoji to its Messenger app – including "skin tones that you can choose [and] lots of women in great roles"– and the Unicode Consortium, a non-profit that governs characters including emojis, approved 72 new emoji, including a face with cowboy hat, a clown face and a lying face with a Pinocchio nose.
Both basketball phenom Steph Curry and teen-heartthrob-turned-cautionary-tale Justin Bieber have released their own emojis in recent weeks, joining the pantheon of celebrity emojis, which also includes future Kardashian Blac Chyna, who, naturally, released her emojis after news broke she will be the mother of reality TV matriarch Kris Jenner's next grandchild.
And after selflessly helping the world secure a taco emoji, Taco Bell's more recent #TacoEmojiEngine asked users to tweet this taco symbol along with another emoji to receive a mash-up GIF.
Our #TacoEmojiEngine is waiting for you. Tweet us 🌮 + any other emoji. pic.twitter.com/fxRBqa7woJ

— Taco Bell (@tacobell) May 11, 2016
PepsiMojis – which the brand says "incorporate the essence of Pepsi — the brand's iconic globe shape and the colors of blue, red and white…for a universal language that is proprietary to the brand" – will adorn bottles and cans this summer.
Domino's enabled emoji orders to much fanfare last year, while Bud Light made an emoji flag for the Fourth of July, Burger King rolled out a Chicken-Fries-specific emoji keyboard and, as actor Patton Oswalt noted, the movie Deadpool appealed to fans with an emoji billboard.
🍕🍕'🍕 🍕🍕🍕🍕🍕🍕 🍕🍕🍕🍕. 🍕🍕🍕🍕🍕 🍕🍕🍕.

— Domino's Pizza (@dominos) May 12, 2015
🎆🎆🎆🎆🎆🇺🇸🇺🇸🇺🇸🇺🇸🇺🇸🇺🇸🇺🇸
🎆🎆🎆🎆🎆🍻🍻🍻🍻🍻🍻🍻
🎆🎆🎆🎆🎆🇺🇸🇺🇸🇺🇸🇺🇸🇺🇸🇺🇸🇺🇸
🎆🎆🎆🎆🎆🍻🍻🍻🍻🍻🍻🍻
🇺🇸🇺🇸🇺🇸🇺🇸🇺🇸🇺🇸🇺🇸🇺🇸🇺🇸🇺🇸🇺🇸🇺🇸
🍻🍻🍻🍻🍻🍻🍻🍻🍻🍻🍻🍻
🇺🇸🇺🇸🇺🇸🇺🇸🇺🇸🇺🇸🇺🇸🇺🇸🇺🇸🇺🇸🇺🇸🇺🇸#4thofJuly

— Bud Light (@budlight) July 4, 2014
Even moments like International Women's Day and the U.N. Climate Summit have merited their own emojis.
And that's just the tip of the emoji iceberg. In fact, research from social media analytics firm SocialBakers found – not surprisingly – emoji use by brands on Facebook and Twitter was up from 2014 to 2015.
So emojis may be having their moment, but…
Do Emojis Have Staying Power?
While it's hard to say emojis will overtake written communication in, say, the same manner mobile searches have surpassed desktop – or even that emojis will always be part of our lexicon, they do have at least some enduring appeal.
For his part, Christian Brucculeri, CEO of mobile messaging platform Snaps, cited mobile messaging figures, such as volume nearly doubling globally in a few years.
"Currently 270 [billion] messages are sent per day and somewhere around 6 [billion] emojis [are sent] per day," he said. "Assuming the projected growth holds, this medium will become more important, not less."
And part of the attraction of emojis is that they allow users to quickly and easily express emotions.
"As people use their mobile devices to engage with content, connect with their network and message with friends, emojis provide a convenient, fun and more accurate way to express sentiment and thoughts in a single click," said Shannon Truax, head of social media at marketing agency iCrossing.
Indeed, Kristen Nozell, strategist at marketing agency Red Peak Branding, agreed emojis have become shorthand for emotions and ideas and can, therefore, be quite functional.
"As chatbots increase in prominence and mobile continues to dominate, [emojis] will continue to be an integral part of our communications – not just among peers, but in conversations with brands as well, as those communications begin to mimic our personal communication styles," she said.
How Will Emojis Evolve?
Christopher Terschluse, associate director of social media at interactive agency Razorfish, noted it is important for brands to keep an eye on the cultural vernacular, which is largely driven by technology platforms, regardless of whether they use emojis themselves – and regardless of how chat-based communication evolves.
"We continue to see messaging apps and social networks expand their platforms to offer a wide variety of means for their users to express themselves, whether it's the standard emoji available on all smartphone keyboards or a GIF keyboard that taps deeper into Internet culture," Terschluse said. "At the very least, understanding how consumers are using emojis is an absolute necessity for all brands."
And, per Dana DiTomaso, partner at digital marketing agency Kick Point, emojis will likely be with us for some time in one form or another because they're the evolution of emoticons from the early days of the web and email.
"We can't yet see what they'll become, but as we struggle to find ways to communicate in a text-based culture, it helps us to communicate what we're feeling," she said. "Perhaps in the future, we will only communicate via GIF."
And so the takeaway here is a rather obvious one: Brands and marketers have to stay on top of what their audiences prefer and communicate with them accordingly.
"Why force someone to call for more information when they would prefer text or chat?" she said. "Why outsource chat when it's becoming a crucial step of your sales process? We need to pay attention to the entire customer lifecycle."
How Do You Know if Emojis are Right for Your Brand?
Generally speaking, there are two questions to ask yourself about emojis:
1. Be Honest: Do You Feel Compelled to Use Emojis Because Everyone Else is Doing It?
DiTomaso said she is generally anti-emoji except for certain brands because it feels like a bandwagon.
She points to communication platform Slack, which frequently uses emojis on Twitter.
Making things people love begins with a little bit of empathy. Here are some tips for nurturing yours: 🌻 https://t.co/0F0u9bHa8v

— Slack (@SlackHQ) May 24, 2016
"I think I've rarely seen a tweet without at least one emoji, but it's been like that from the beginning," she said. "What people really love about them is their emojis and GIFs."
But, she noted, other brands aren't Slack, like the Canadian Football League, for example, which attempted score updates in emojis and "drove [its] audience insane."
"Most of the audience aren't super-familiar with emojis – they're mostly men over 35 to 40," she said. "They were trying to appeal to a younger audience, but they alienated their existing audience by chasing a younger one."
Similarly, like anything in marketing, Maxwell Barna, manager of digital content and communications for screen printing company Rush Order Tees, said it's first and foremost about knowing your brand, audience, and products.
"Find a strategy that resonates with them and good things will happen," he said. "If that strategy includes emojis, great. If it doesn't, who cares? It's very unwise to try to appeal to what's popular in other arenas or verticals if it doesn't resonate with your brand's core values."
He cited Denny's use of emojis as an example of a brand that uses "memes, silly polls, funny thoughts and a lot of emojis and copy colloquialisms…to make people smile, be fun and make people hungry," But said it works because Denny's is a "fun, quirky" brand.
👨: GREG WHAT HAPPENED?
🍔: my burger head? an elf cast a spell on me like "u r what u eat, ur head is now meat"
👨: …
🍔: honestly? i love it

— Denny's (@DennysDiner) May 10, 2016
2. Are People Already Using Emojis to Talk About Your Brand?
A good sign that emojis might be the right fit for your brand is whether consumers are already using emojis in their conversations about you, DiTomaso noted.
"See how people are talking about your brand. Search for your brand on Twitter – are they using emojis to discuss you already?" DiTomaso asked. "That might be a hint for you that you should be pursuing emojis."
Otherwise, like Steve Buscemi on 30 Rock, brands trying to use emojis could come across like they're trying too hard to fit in, she said.
"And if you're a brand that doesn't get a lot of mentions, maybe you should worry about getting more people talking about you on Twitter first," DiTomaso added.
Should You Use Existing Emojis or Create Your Own?
Per Nozell, incorporating existing emojis in relevant communications can be an easy way to feel authentic to younger audiences, but these types of communications do not create any lasting brand equity. In other words, consumers will not think of the brand when using the emoji in other contexts.
Truax agreed existing emojis are already part of consumers' everyday messaging habits, so it can be beneficial for brands to simply tap into what already exists. However, she also noted while brand emojis can, in theory, extend the conversation, emojis must consider the consumer before the brand and not assume consumers will use them simply because they're there.
In a similar vein, Terschluse said brands should first think about ways in which they can naturally join the existing cultural conversation fueled by emojis.
"From there, the opportunity lies in extending the meaning and application of particular emojis that have resonance with your brand or customers," he said. "One brand that has been very successful with this is Domino's and use of the pizza emoji as a means of ordering pizza."
DiTomaso pointed to Ontario-based quick service chain Tim Hortons, which released an EHmoji keyboard for Canada Day 2015.
"Part of their brand focuses on being extra Canadian – there's a whole ad campaign apologizing for not making maple-flavored products sooner," DiTomaso said. "The emojis include chairs, the Canadian Flag and coffee, so, for them, that makes sense."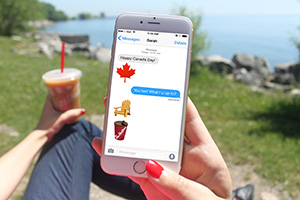 And Nozell noted the most compelling emoji campaigns can sometimes arise from lack of an emoji, such as Dove and its Love Your Curls emoji keyboard, which addressed the absence of emojis for curly-haired women.
The challenge with branded emojis, she noted, is the extra step consumers have to take of downloading a separate keyboard, or the need to make consumers aware of its existence in the case of branded Twitter emojis.
In other words, whether with existing or original emojis, brands should think about executions that bring value – either regarding adding to the conversation, filling an unmet need, enhancing the customer experience or providing surprise and delight.
What are the Hallmarks of a Good Brand Emoji?
The best brand emojis are those that express emotions – and strike the right balance between specificity and broad appeal.
"Why? Emojis become relatable and useful rather than blatant promotional objects," said Edward Sturm, SEO, video and image producer and self-described enthusiastic content marketer. "Feeling happy and using a Crest Toothpaste smiling emoji is more random and funnier than the normal happy face."
Brucculeri agreed the best brand emojis help consumers express an emotion or show pride.
"Logos are a top five piece of content across our network, but so are emojis with hearts, GIFs that allow for humorous reactions, and new versions of a smile," he added.
Nozell agreed a good brand emoji is specific enough to engage yet broad enough to appeal to a large audience.
"Dove was successful with its curly hair emoji, tapping into a huge yet specific audience of the one-third of American women who have curly hair," she said.
A good brand emoji should also avoid typecasting.
"Ultimately, an emoji has to map back to a feeling or an object from the offline world, so the less overt the interpretation, the better," Terschluse said. "What makes emojis so appealing and fun is the mental leap required to translate them in the context of a conversation or the personality of the individual who typed them."
Another brand emoji pointer: Don't over-brand.
Per Truax, emojis are all about the consumer, who will share them when they feel, "This is me!"
"They will not proactively include overly branded emoji in their daily conversations, so it's important to think of your data and your target audience when designing brand emoji," she said. "Find illustrative ways to let them express who they are, while maintaining your brand's integrity in the design."
She pointed to Ikea's meatball emoji as a great example.
"Meat lovers rejoiced, as Ikea didn't include the logo, which can be difficult to read when shrunk down to emoji size, and pictured meatballs with a simple Swedish flag sticking in the top ball," she said.
Should Brands Release One Emoji or a Series?
There is strength in numbers with brand emojis.
That's in part because they are emotional symbols and there's a range of human emotion.
Per Sturm, one standalone emoji can also come off as a half-hearted attempt that might not be taken seriously.
Indeed, Terschluse said emojis are much more powerful as a collection that people can mix, match, and ultimately make their own.
"In offline conversations, it's nearly impossible that a single expression could be used to convey thoughts or feelings between exchanges of words, so the same should remain true with our digital/mobile conversations," he added.
Truax agreed a series of thoughtful options packs the biggest punch – and offers opportunities for leverage.
"Different emoji can represent different brand pillars and products in creative ways. Often, brands have several different target audiences and it's wise to provide options for each of these audiences," she said. "Outside of the realm of emoji, brands can look to join messaging through other mediums as well. A series of emoji can be accompanied by a promoted trend on Twitter, Stickers, branded keyboards, branded borders in photo apps or even a sponsorship with Bitmoji. The idea here is that a series of meaningful, branded options can effectively help brands to join people's everyday conversations."
How can Brands Ensure Consumers Use Their Emojis?
First and foremost, think quality and utility.
According to Terschluse, emojis are no different from many types of brand content, in that the more the emojis feel like advertising, the less likely they will be used.
"Therefore, really understanding how your consumers converse using emojis to inform the creation of new forms of expression that fit naturally into those exchanges will ensure usage," he said.
And Truax, too, said marketers have to put their consumers first and serve high-quality emojis.
Tap into popular emotions for the highest likelihood of consumer activation.
That was according to Sturm, who also noted encouraging emoji use is all about awareness, so sponsoring emojis on popular platforms like Snapchat can also help.
In addition, brands can tie emojis to an action or an event.
Domino's did this with its emoji orders and Pepsi, Anheuser-Busch and Verizon did this with the Super Bowl, Nozell noted.
Addressing an unmet need can also drive adoption. Nozell suggested creating emojis that address a need in the emoji library, such as Dove and its Love Your Curls emojis or Taco Bell's push for the taco emoji.
And, finally, use influencers.
Further, Brucculeri recommended getting brand emojis into the hands of brand advocates.
"Brand emojis are the new word-of-mouth marketing — it all happens peer-to-peer, so you have to get the party started with the right group," he said.
Conclusion
To succeed with emojis, marketers must figure out how consumers are already talking about their brands and find new ways to provide value. That includes creating new forms of expression that fit naturally into existing conversations, as well as striking the right balance between specificity and broad appeal and not overly branding any of these new assets.
Image Credits
Featured Image: Screenshot by Lisa Lacy. Taken May 2016.
In-Post Image #1: Pjork/Reddit
In-Post Image #2: Tim Hortons
In-Post Image #3: Unilever/iTunes.Apple.com
In-Post Image #4: Ikea