Google announced they are changing how they display job search queries. Instead of showing a page of links, Google is displaying a user interface that helps users find jobs.
Anyone in the United Kingdom can search for a job straight from Google. This is part of Google's goal to make it easy to find what you're looking for.
Google Still Sending Traffic to Other Sites
Google is not taking over the job search niche. What is happening is that Google is making it easier for job seekers to find what they are looking for. It's easy to represent these changes as Google taking traffic away from websites, but that's not what is happening.
A job candidate still must visit the recruiting website or company site in order to apply for the job. The only thing that is changing is that Google is becoming the interface for finding that job across a range of websites, instead of simply showing links to ten websites.
Change Affects Many Job Search Queries
This update to how Google displays these search results affects a wide range of keyword phrases. Here is a Google Trends report showing how many search queries are made for various UK recruitment sites compared to a search for an actual job.
The amount of traffic being diverted to Google's alternative search results are large. There may be changes to how traffic is sent to other websites.
As can be seen in this screenshot for a search for Customer Service Job, Google is clearly sending traffic to websites that are offering said jobs.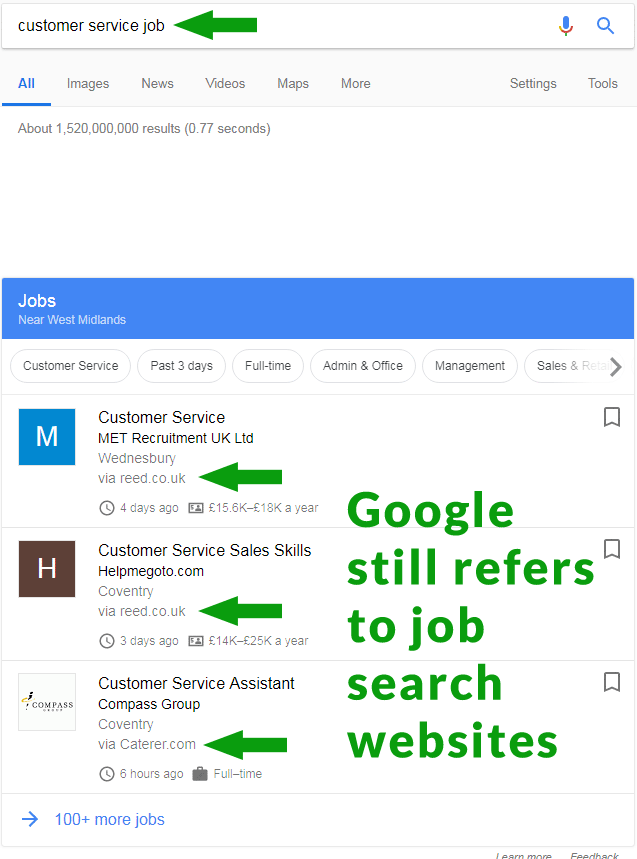 Google explains that this change is about the user experience and making it easier for users:
Starting today, when you search for "jobs near me," "teaching jobs," or similar queries in English in the U.K., you'll have the option to click through to a feature that lets you explore jobs from across the web that meet your unique needs. You can access salary information, reviews and ratings of the employer and different options to apply for a job, or use a location filter to see jobs in the areas that are convenient for you. Thanks to Google Maps, if you're signed in, you'll even be able to see how long it would take to commute to a job from your home.
As part of making it easier to find a job, Google's new interface will allow users to receive alerts about new jobs:
"…if you step away from your job search, you can stay in the loop on opportunities that interest you by turning on alerts to receive an email notification whenever new jobs arrive."
Why Google Updated this Search
Google is redesigning how it displays information. The goal is to be able to speak the search results and to display the information on a small device.
Efficiently displaying content over mobile devices is important at Google. That's why they have developed a design philosophy called Material Design.
This is how the search result appears for "find a job" when searched in the UK: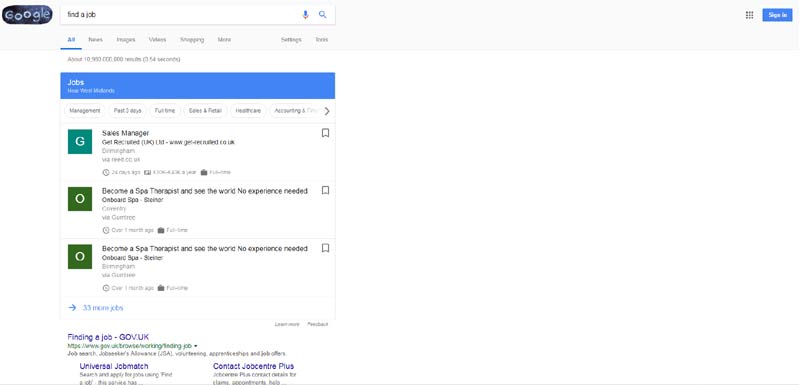 And this is what Material Design recommends for a typical text field where a user is expected to interact with a display.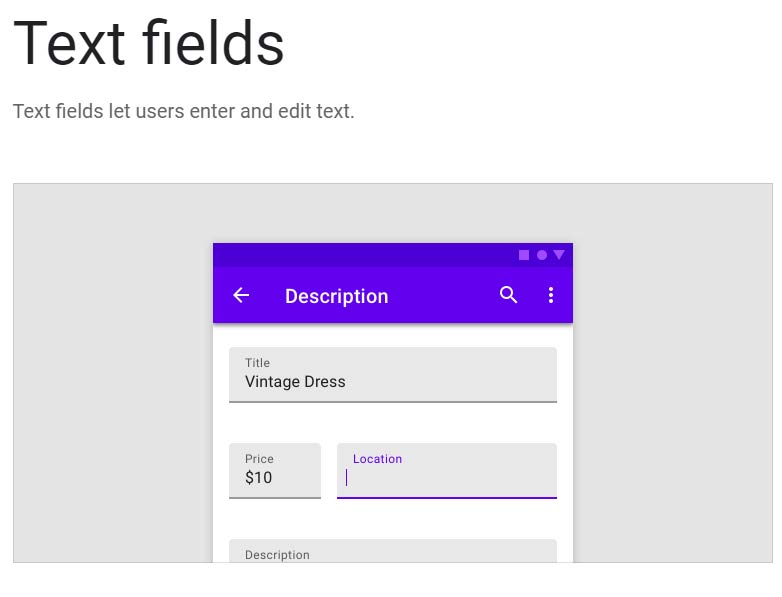 There is a strong resemblance between the actual search result and the example of a material design user interface. This is not an accident.
No More Ten Blue Lines
This change in how Google displays job search results is part of a continuing trend to accommodate mobile device users. Google is still delivering traffic to job search websites. The biggest change is to how the information is displayed.
Takeaway – How to Optimize
In general, the best way to optimize is to make it easy for Google to understand what your site is about. Using structured data markup is useful.
Being precise about the content you use on a web page, particularly the top of the page, may be important.
Do not use tables to communicate complex data. Communicate your data so that it can be spoken in a coherent manner. If your web page sounds awkward when spoken aloud, then it's likely that your web page is not properly optimized and will not be displayed where you feel it should be.
Read Google's announcement here, Helping More People in the UK Find their Next Job