Twitter's CEO, Dick Costolo, made a live appearance on the TODAY Show yesterday to announce updates to the Twitter experience. The changes affect the look and feel of profiles on twitter.com and the mobile apps for iPad, iPhone, and Android. As of yesterday, all Twitter users have the option of adding a very Facebook-esque header photo and better controls over their background photo. Enhancements also include the addition of the photo stream to the mobile app environment.
According to the Twitter blog:
New profiles also help you get to know people better through their pictures. Photo streams now appear below anyone's most recent Tweets on iPhone, Android, and iPad. Swipe through the stream to see the photos other users have shared or tap any thumbnail to view their photos in fullscreen.
You can upload a header photo either online or on your mobile device. If you want to do it via the app, select "Me," then select the settings "gear," and choose "Edit profile." There, you will find the options for your header and your avitar photo.
Online at twitter.com is much the same process. Select "Me" from the top, then click "Design." Scroll down the page to find the options to upload a header photo and update your background photo.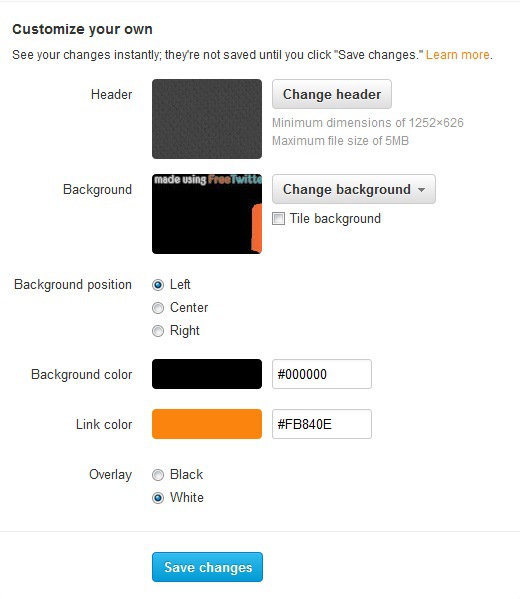 These changes come as Twitter continues to tighten up its business model and offer more value to its advertisers. Slowly but surely, Twitter has been limiting access to its API by third-party clients. The plan is to move users away from accessing their Twitter streams via services like Hootsuite, Echofone, and others. Certainly, giving Twitter users the option to better express themselves with photos will be a draw.
The updates also benefit brands. "Now marketers can instantly engage Twitter users with rich images while creating a more consistent visual identity across devices," says Twitter Product Manager, Sachin Agarwal.
For more information on the Twitter Ad Platform, please read: Social Media Advertising: Twitter's Advertising Platform
As a user or a brand, how excited are you about these changes? Will this enhance the Twitter experience? Or will the use of Tweetdeck, Hootsuite, Sprout Social, Buffer, and other social media management tools minimize the effectiveness of these changes?
EDITORIAL COMMENT:
I personally have mixed feelings about this for now. As a Twitter power user, the use of images doesn't really mean much to the way I use the platform. I'm here for the ease of conversation. For example, these changes won't effect one thing about how we operate our Twitter chat each week.
However, as a marketer, I certainly see the value of the opportunity for better visual branding. I will be working with all my clients to take full advantage of these updates as quickly as possible.
I have a couple of questions for all of the business people in our community. Will this change cause you to shift any additional efforts or resources to your presence on Twitter? Do you have any questions about how to take advantage of the changes?