I have been waiting to play with Twitter's self-serve ad platform for some time now. In fact, I wrote a post here about Twitter Advertising Strategy on December 15, 2011. Three days ago, I was checking out my Twitter profile and saw the words that I've been waiting for: "Twitter Ads."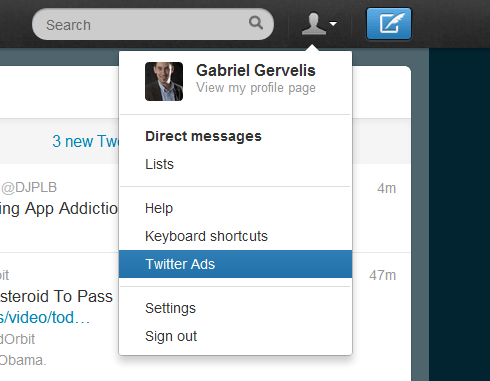 Could this be true? Do I need an American Express invite to register? Could this really be? Well, after a few clicks I found that my dreams have indeed come true. I had my first Twitter Ad campaign underway! Twitter offered me two different types of advertising options. Here are my opinions on one these two options:
Promoted Account
Ads from the "promoted accounts" will appear in a few different areas on Twitter users' profiles.
Who to Follow Area: This appears when you are on your Twitter profile.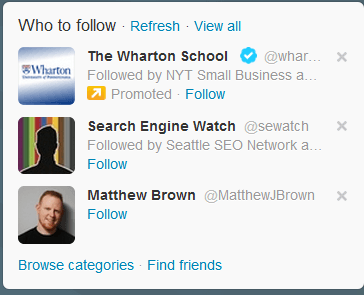 Similar to xxx (Rand Fishkin) Area: This appears when you are on someone else's profile.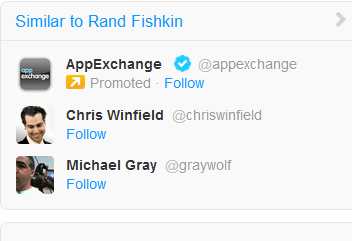 The possibilities are endless! I can't wait to start serving ads and building my personal following, not to mention what I can do for my clients! As my imagination started to run away from me, it was put to a complete stop. All the innovations and creative ad serving concepts I had were stripped from my control and reduced to a few simple form fields.

Yep, that's it. This is all the power that Twitter is giving me. The idea of innovative Twitter marketing just ran out the door.
How much do you want to spend per day?
How much do you want to bid per follower?
This you can expect!
In my mind, my social following has already been supercharged to superstar status, but the campaign ended before it started. But what the hell! Let's throw a few hundred dollars at the campaign and see what happens.
Twitter says I can expect 57 to 84 new followers per day. Sweet! So, in five days, I can add a few hundred additional followers to my following. Even without the control that I want, this is cool, and I can't wait to see the results.
Campaign Launch

Starting September 9, with a $30-per-day budget, expecting 57 to 84 new followers per day, I received four followers and spent $7.57. Ouch! Another dream killer. I have no control over optimizing the campaign other than increasing the cost per following that I am bidding. Now, in all fairness, I started the bid at $1.50; Twitter recommended I adjust it to $2 per follower, so I did. Now, with the lack of results, Twitter recommends I adjust the bid to $8+ per follower, so I did (fingers crossed).
I hope you can see my growing frustration here—no control over ad serving, results were overpromised and under-delivered. However, I've always considered myself a very understanding guy. I own a small content marketing startup company in Seattle and currently have a few programs in Beta testing, so I know what the learning curve is like.
Also, with Twitter coming out and saying HELP US and take this short survey, all I really want to do here is help and get my voice heard.

What better way to do that than go to Search Engine Journal and write about it, exposing my theory to tens of thousands of marketers! I hope someone from Twitter is listening…
Quick Recap:
My campaign testing is still going on.
I'm disappointed in the results so far.
I'm disappointed in the amount of control I have over the campaign.
I'm upping my bids and budget to give the Twitter Ad Platform another chance.
My Uber Creative Twitter Advertising Idea (Cry for Help)
I'd like the ability to select what profiles my promoted account is placed on. Give me the option to search for movers and shakers by industry and what type of following they have. Also, I love to be able to identify my target demographic market then have the Twitter users, who influence them, pop up. Then, I can target them and their following within my ad campaigns.
Additionally, I'd love the option to select groups of influencers by their engagement power. Selecting groups will allow me to target a greater audience and limit the amount of research I need to do before a campaign starts. Also, I'd love the ability to pick and choose individuals out of groups and add them to my list.
As an SEO, I would pay top dollar to make sure that every time someone follows Rand Fishkin, Melissa Fach, or Ian Laurie, my pretty face pops up with a "You should check this guy out, too." right next to it. Talk about an ego booster.
Future conversations with my clients might sound something like this:
"Your blog post Product Design for the Next Billion was very well written and has evidence of thought leadership all over it. Over the next three months, let's build your Twitter following so we can broadcast your content to the masses. I did some research and found that Brian Lam is the editorial director of Gizmodo, and he has 16,000 Twitter followers.

"Gizmodo is a technology-focused blog that features a lot of product innovations—it's right up your ally. Let's make sure then, whenever someone follows Brian, that your brand is exposed and they follow you, too. Also, let's find 20 other industry influencers to execute this strategy on…"
I fear this conversation will never take place.
Twitter, if you want to make some serious money, take this idea and run with it. Give me the ability to bid on a cost-per-follower basis on these different groups and individuals. To advertise on groups of people with lower influence, I'll pay less. But, to be with the groups of power influencers, I'll pay more!
Come on, Twitter, GIVE ME THIS POWER!
More to come on Twitter Advertising as my tests continue. I hope we are just getting started!