To date, I think I have filled out the request to contact form on Twitter's adverting page at least 10 times. DAVID ANGOTTI wrote a post on SEJ about Twitter's self-serve ad platform. He goes on to mention that about 20 advertisers are using the Beta. I don't know about you, but I can't wait to get my hands on that platform. Sure you can buy tweets on Buy Sell Ads or Sponsored Tweets right now, but that doesn't come close to the power that Twitter's ad platform is about to release upon us!
Let's think back to February 17, 2011 when Google released social integration in the SERP's. What did this change mean? Let's say you are searching for acne treatment in Seattle, and you follow a local dermatology clinic on Twitter. That local clinic, assuming the site has good content and basic on page SEO, will rank on the top of the SERPs. That's right, Google put two and two together!
What's Google Thinking? If you follow this content provider on Twitter, and you are searching for this keyword, and the content provider has the content, then the content should be displayed. BUT WAIT, There's More! That content provider can now hold from 2 -4 spots on the SERP.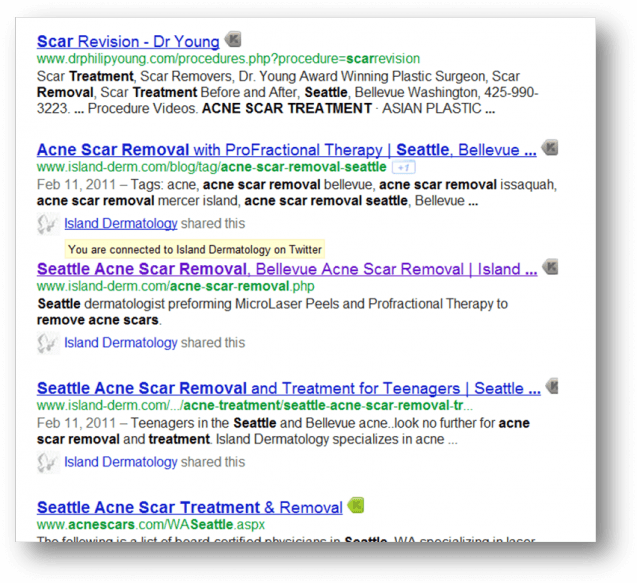 Remember all of the sleepless nights you spent building links and submitting to directories? Get ready for more sleepless nights following people on twitter!
Let's assume that the boys over at tweetville really did figure out this ad platform. I'm like you, clueless to the features and functions that it holds. How can we connect the dots here? If the SERPs are altered due to twitter followers, how can we use this data to advance our clients exposure? Again, if the boys over at tweetville built the platform right, then it would have geo-targeting abilities. If so, follow these steps:
1) Identify your clients target demographic
2) Create a list of people that demographic might follow on twitter
3) Buy sponsored placement geographically on twitter, allowing twitter to recommend they follow your client
4) Build your clients local following on twitter
Example of twitters "who to follow" promoted recommendation….I wonder how much this will cost!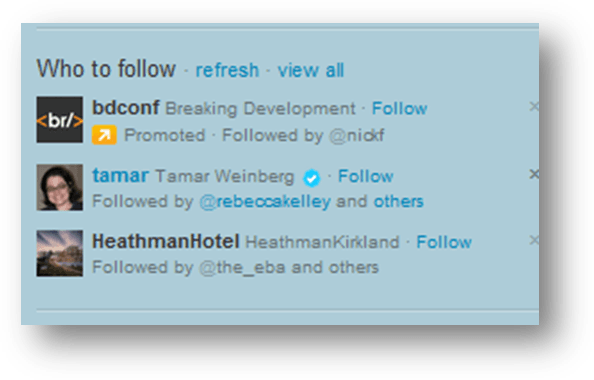 Let's say your client is a dermatologist in Seattle and their target market is woman 40 – 55. You might want to target people that fit this demographic who follow Dr. Phil. Next thing you know your client has 3000 followers on twitter. Every time one of them searches for anything cosmetic dermatology (laser hair removal) on Google your client will pop up!
The negative side to this:
1) These search rankings cannot be tracked in ranking reports
2) To my knowledge, using Google Analytics, there is no way you can track a click or conversion from someone that follows you on twitter (am I wrong)
3) If this person is also, signed into their Google Account, the keyword data is lost.
4) No real data driven way to prove my theory
I think this strategy is a winner! I have not tested it and I can't prove it. I guess we will have to wait for twitter to open up that ad platform so we can dive in. Heads up guys, I'm thinking of 15 other techniques that we can use through twitter advertising. I have a feeling 2012 is going to be a great year!