Twitter SEO can help you take one more step towards owning your online reputation.
When people think of Twitter, they don't usually think of it as a SEO or reputation management tool. Yet, when optimized correctly, a Twitter profile is yet one more URL that anyone can get to rank for their name.
Here are 4 simple Twitter SEO tips to help your profile rank:
1. Optimize your title tag.
Your Twitter title tag will be this formula: <Actual Name> (Username) on Twitter

The key point here is my name. My actual name is written in my Twitter profile as 'Matt Leonard', so that's how it appears in my title tag. I do not call myself 'MJ Leonard', 'MattLeonard' or 'Matt_Leonard'. It's very important to remember that if you'd like to rank for your name, just as with any form of SEO, use the correct anchor text. In this case, it's your name.
You can fix this by logging into your Twitter account and clicking 'Settings'. From there, change your 'Name'. Do not change your 'Username'.
2. Optimize your meta description.
Let me clarify, first, that meta description is not a true Google ranking factor. It does, however, insure that people get the impression you'd like them to have and help CTR, which is a ranking factor.

What you may not realize, is that your Twitter 'bio', is actually your meta description. When I realized this, my 'bio' quickly changed from some fun-loving comments about cheeseburgers and chocolate to the more professional description you see above (which in no way infers that I will not give out even more tips in exchange for junk food).
If you'd like to optimize this even more, talk about yourself in the 3rd person in your Twitter 'bio'. You can get your name bolded in the meta description by doing so. I personally try to only talk about myself in the 1st person.
You can fix this by logging into your Twitter account and clicking 'Settings'. From there, change your 'One Line Bio'.
Note: Google will sometimes include your 'Location' in the snippet. So, depending on how seriously you take this, putting your location as 'Planet Earth' may not be as funny as you once thought.
3. Build 'followers', links and PageRank.
Twitter will internally link your 'followers' to your profile. Higher PageRank 'followers' can give your page a boost as well. As always, you'll pick up outside links naturally if you tweet high quality content just as you would with conventional SEO.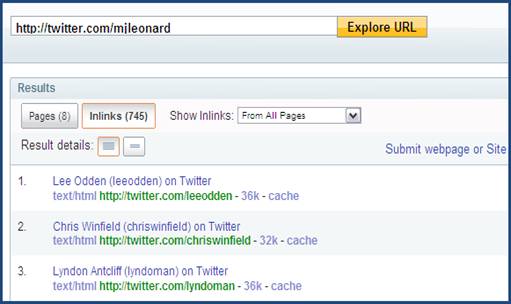 Note: If you don't already, the 3 links referenced above are all SEO greats to follow….
Lee Odden
Chris Winfield
Lyndon Antcliff
4. Link to your Twitter profile using your name as anchor text every now and then.
Don't just link to your blog. Throw in a link every so often pointed to your Twitter profile and share the wealth.
Have you ever experimented with different ways to rank your Twitter profile? If so, what did you do and why? On a lighter note, are you as impressed with Yahoo Site Explorer as I am for picking out 3 great Tweeps in the above screenshot? Please share your Twitter SEO experiences in the 'Comments' below.
Matt Leonard currently directs SEO, SEM and Revenue Management for Cruise Critic, the world's largest cruise site and part of the Trip Advisor Media Group. You can follow Matt Leonard on Twitter to keep up with his updates.