Twitter is a great tool to promote discounts and deals, but I often wondered when will restaurants and clubs are going to take advantage of this great micro-blogging site? This is what I would do if I were a restaurant or club owner to get the most recent specials, deals and discounts out to yet another area of social media.
Restaurants could take full advantage of Twitter by mentioning their daily or weekly specials.
If you had a special going on all one would need to do is tweet their followers the latest yummy meals.
Taking this idea to another level, a restaurant could even get their followers help promote your restaurant for you!
A restaurant could say that 50% one entrée for their followers.
If you were a chain, this would be bonus, because people nationwide or globally in fact could take opportunity of this deal and share it with their followers, thus making the restaurant gain a larger audience.
As mentioned on Mashable, Maggiano's recently promoted a gift certificate using Twitter by having the people who would follow @Maggianos and tweet "Follow @Maggianos by 5pm CST to be entered to win $100 in Maggiano's gift certificates." This was a great way to promote not only the restaurant, but to gain followers who would be constantly waiting for the next deal or offer.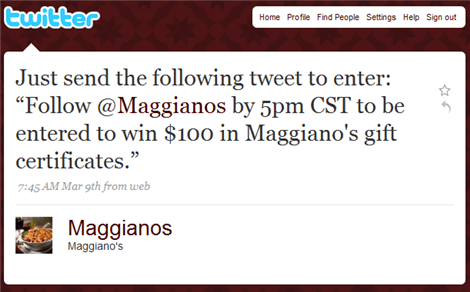 Another way Twitter could be used to promote a business is if you're a new club or bar. The week before a bar owner is promoting a party, fundraiser or even an opening could use Twitter to gain followers and hopefully turning them into customers. Clubs could tweet "Follow @Me and direct message me your e-mail address, so we can send you the free entry password in to the club!" This way you can get customers in the door and voila!
Hopefully, these industries will catch on and gain the true benefit of what Twitter can do for restaurants and clubs and how they can tweet people through their doors.
Victoria is an Internet Marketing Specialist for LinkShare Corporation. She works on Search Engine Optimization for various proprietary sites, one of which is BillSavings.com. You can also see her 'needs attention and will get to it blog,' at VictoriaSEOLove.com