Twitter announced they were locking suspicious accounts and removing them from follower counts. The move was designed to increase trust in the service.
The purge will be ongoing for several days and will become the new normal as Twitter increases how often they purge suspicious accounts.
Here are five reasons why the Twitter purge may positively impact your sales and advertising.
1. Advertisers Will Benefit
As a response to GDPR, Twitter began locking out users that hadn't properly declared their age, in order to better comply with regulations regarding under age users. Twitter continued locking out more and more users in the weeks following, inspiring the #TwitterLockOut hashtag.
Locking out millions of suspicious accounts may have been the lead up to what we are seeing today, which is the removal of those locked accounts from follower counts.
Hidden within the announcement was a brief mention that Twitter will stop showing ads to accounts that are suspicious. This means that previous to this purge millions of social marketing ad impressions were likely shown to suspicious accounts. That may have been a waste of advertising budget.
Here's what Twitter's announcement said:
"Until we confirm that everything is ok with the account, we lock it, which makes them unable to Tweet or see ads."
This purge is not a one time event. Twitter was vague as to whether they will continue to root out suspicious accounts on a daily basis. But Twitter did indicate there may be regular updates forthcoming.
"…follower counts may continue to change more regularly as part of our ongoing work to proactively identify and challenge problematic accounts."
Twitter's new proactive stance on suspicious accounts and bots should be good news for advertisers. This means that ad impressions will count more since they are likelier to be shown to actual consumers.
2. More Transparency and Trust
Some users were crowing about influencers and politicians who lost as much as 76% of their Twitter followers.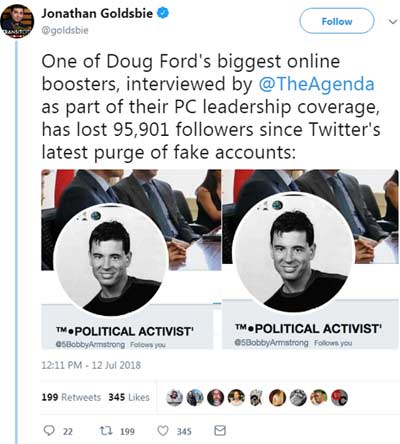 Twitter's purge benefits users who seek to influence others, including marketers. This is a plus because advertisers are able to make more accurate decisions. SEO professionals will benefit because your follower count will be more accurately reflect your popularity and reach.
3. Benefits Honest Users
Internet marketer Mark Traphagen tweeted a graph showing how he lost approximately 1% of his followers. This is a modest and negligible amount.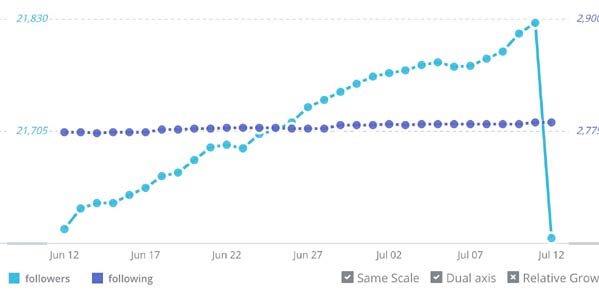 The Twitter follower purge reinforces the credibility of people on Twitter and makes it easier to know who to trust.
Many users were happy about the purge because they now had more confidence that they were tweeting to actual people.

4. Twitter Follower Purge is Unbiased
Twitter itself was the biggest loser.
Barack Obama lost more followers than Donald Trump. Obama's loss was close to 3 percent of his total. Donald Trump lost less than 0.6 percent of his total. Clearly there was no political bias in Twitter's political purge.
Yet that didn't stop some from speculating the opposite. One user claimed Twitter slashed her followers because she supports Donald Trump
I see the latest Twitter purge has begun. In the last 2 hours, I have lost almost 500 followers.

Like I said, @Twitter @jack are targeting Conservative accounts. It is so obvious.

I am being targeted because I proudly support @realDonaldTrump and America.

cc: @parscale

— Laura Loomer (@LauraLoomer) July 12, 2018
5. Twitter Purge is Good for SEO
The Twitter purge is long overdue. It's going to go a long way to making Twitter a better and more trustworthy place for influencing consumers and consuming content. You can have more confidence that your social media campaign is influencing real consumers.
For SEO, this means that outreach campaigns can more accurately identify influencers and consumers.
One of the hallmarks of SEO is increasing awareness of your site, service, or product. Twitter just became a more important way to achieve that goal.
Read the official announcement on Twitter's blog, Confidence in Follower Counts
---
Images by Shutterstock, Modified by Author
Screenshots by Author