In June Twitter announced a new feature called #Stickers, which let users overlay searchable emojis on their photos before tweeting it out to the world. Millions of photos containing these "visual hashtags" have been tweeted since then, according to Twitter.
Now Twitter is opening #Stickers to brands. Pepsi will be the first brand to use a new ad type called Promoted Stickers.
According to Twitter's announcement:
"Brands can design four or eight stickers — like accessories and other props — for users to add to their own photos. Photos with a brand's stickers are shared with all of a user's followers, allowing brands to be featured by their fans in a truly authentic way. #Stickers act as a visual hashtag, meaning that photos with your brand's sticker will be connected and discoverable to anyone who taps your brand's sticker. This allows a brand to see and engage with the people who are using their stickers in creative ways."
Pepsi will roll out 50 custom-designed #PepsiMoji stickers to 10 countries (Argentina, Canada, Egypt, India, Mexico, Russia, Saudi Arabia, Spain, United Arab Emirates, and the United States). This is part of Pepsi's "Say It With Pepsi" campaign. Users can find these featured in the Twitter #Stickers library.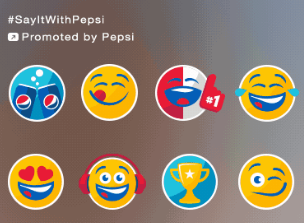 Here's one example of a tweet from Pepsi Canada that features the Promoted #Stickers:
Have fun with Twitter #Stickers and #sayitwithpepsi! Add exclusive Pepsi® #stickers to your tweets today! pic.twitter.com/sENllYXYyE

— PEPSI Canada (@PepsiCanada) August 15, 2016
It's unclear how much Twitter is charging advertisers for Promoted Stickers. For now, Twitter said Stickers are only available to select marketers who have a managed account.
What do you think about Twitter's Promoted #Stickers?
Featured Image: Pepsi