Keeping up with your social media activity may be exhausting.
You have to be everywhere at the same time asking and answering questions, expressing your opinion, commenting, etc.
Raven tools feature called "Personas" offers a handy way to monitor your Twitter activity and profile popularity:
1. Start by adding a new persona:
Go "Social" > "Persona Manger" and click "Add a new persona"
Provide your persona details: your full name, your usual user name and password, your website, address and avatar: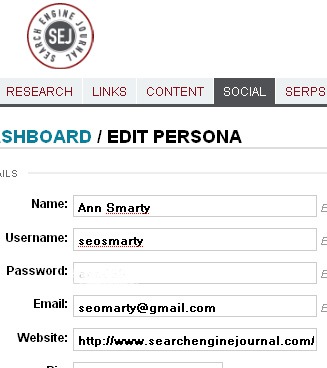 What you should see then is the summarized view of your persona:
2. Add your Twitter account: See that little link above your avatar that says "Add website", click it and add your Twitter profile:
(Note: if your login details on Twitter are different from those you provided when adding the persona, you'll be able to use a custom login information, so don't worry).
Choose "Twitter" from the drop down list behind the "Add Website" link;
Select the login type (either default or custom) and click Add.
The tool will login to your Twitter account and analyze your Twitter activity to show:
Your friends and followers;
Your recent mentions;
Your recent retweets,
Your recent posts.
The stats will be visualized in the form of a graph and a table (where you can compare your daily activity).
Your Twitter posting activity: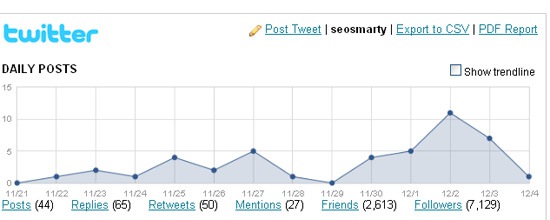 How many replied you receive:

How many Retweets you get:

How the number of your friends is growing:

You will also be able to see daily change (isn't it encouraging to tweet more?) visualized in a table:
Now you can easily monitor your Twitter activity by day and see analyze the effect.