Your content might go viral, but it also might never get read. Turns out a majority of the content shared on Twitter (59 percent) never gets clicked on, according to a recent study by Columbia University and the French National Institute.
Their study looked at a month's worth of visits to five popular news sites (BBC, Huffington Post, CNN, New York Times, and Fox News). The researchers discovered that 2.8 million shares on Twitter drove 9.6 million visits to 59,000 pages – and a poor correlation between social shares and views.
Essentially this means that having a large number of Twitter shares doesn't necessarily mean you'll get tons of traffic. No surprise there – a lot of people share links without ever clicking.
Certain types of content, which the researchers called blockbuster content, generated 90 percent of clicks. Yet blockbuster content only accounted for 9 percent of the shared links.
This isn't too surprising, either. Certain pieces of content you publish will outperform all your others in terms of traffic – and those posts tend to get a lot of shares.
Another interesting finding is that posts that go viral usually aren't shared by the publication, but by readers.
Some Of Your Content Will Strike Out
While some people may view this as a "depressing" study, it's really not. Arnie Kuenn, CEO of Vertical Measures, once used a great baseball analogy at a search conference: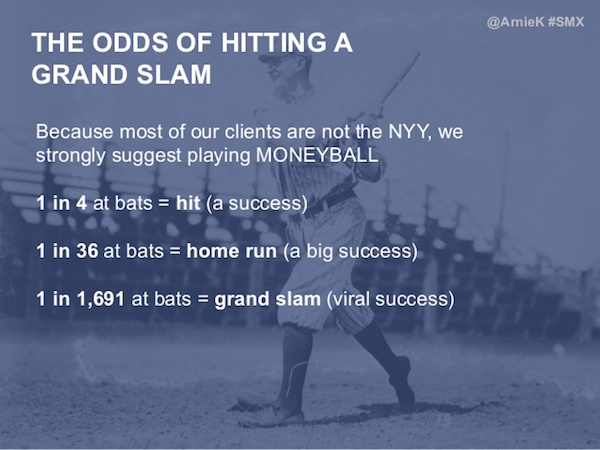 Sometimes your content will strike out. Some content will die a lonely death. It happens to everyone.
But most of your traffic will come from your home runs and grand slams. You just need to figure out how to get more of them.
We Live in a Headline Culture
However, the reality is that most of the people who actually do click through probably aren't reading every word. Even fewer will read all the way to the end.
Does the brand/publisher make a difference with social links people click on? Apparently not. Forty-three percent of people who clicked on stories were totally clueless about who published that story, according to a separate study by Conde Nast, as reported by Digiday.
This is important data to think about, especially considering how people consume news. Social media is now either the primary or secondary news source for 69 percent of 18- to 24-year-olds, according to Reuters Institute for Journalism Research, as reported by The Drum.
It seems that most people are getting most of their information from headlines and summaries. But this is hardly a new phenomenon.
Back when newspapers were still a thing (before the internet), studies told us that most people only read the headlines and summaries and looked at the images and captions. Now it's the same story with digital. However people get their news, most people still aren't reading it!
Image Credits:
Feature Image: Depositphotos
"Grand Slam" Image: Published with permission of Arnie Kuenn