Let's face it, we tweet a lot. Most of us have a great habit of sharing any interesting article we come across. And I am sure you are already aware of quite a few browser tricks to quickly grab the page URL, add a comment and share on Twitter.
Let me share a few more to add to your arsenal: the following browser extensions off the fastest way to tweet:
FireFox
Statusus
Statusus alows to quickly share any page you are currently reading from right-click context menu. Just select the phrase or a sentence you want to go in the update, right-click, select "Statusus" and choose whether you want the update to go to Twitter or Facebook.

Drawbacks:
It clutters right-click menu (which, if you like playing with new addons, is likely to be already pretty much cluttered);
It lacks options and adds "via @Statusus" to your update: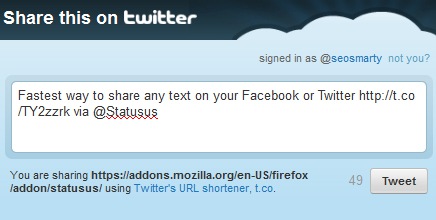 TwitterBar
TwitterBar allows to update your Twitter stream right from the status bar. It adds a little bird icon to your browser URL bar – click it to post the current URL to Twitter (you can set it to confirm the update with you every time you click it):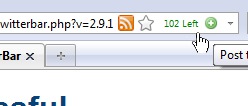 It works via Twitter auth, shortens the link and adds "Currently browsing" to it (by default):
This behavior is customized via the tool settings though:
You can use any phase to go in the post as well as use $$ placeholder for the current page title:
You can select the shortener;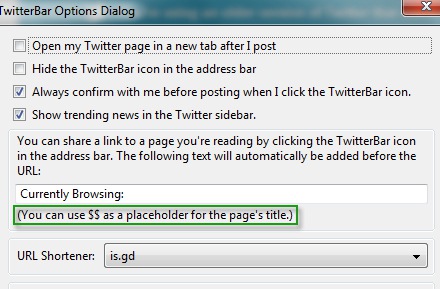 Google Chrome
Twitter Share This Page
Twitter Share This Page: The fastest way I am aware of to share updates via Google Chrome which works from the Address bar icon:
Clicking the icon in the status bar brings you to Twitter share screen;
The tool automatically grabs the page title or the text you highlight on the page;
The tool automatically shortens the URL (which can be customized from the tool option):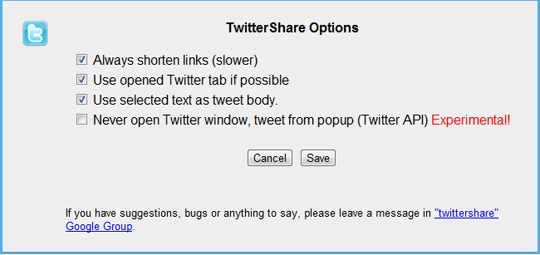 All in all, it requires two clicks: one on the icon in the address bar and one to post the update: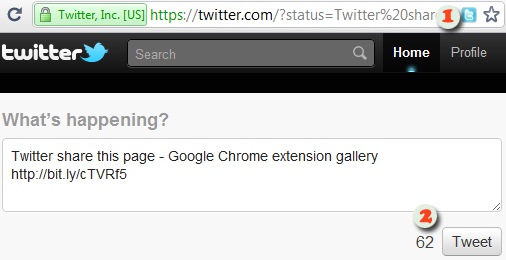 Happy sharing!