In July, we reported on a new Twitter customer service feature that let a few select brands inform consumers via their profile page when they are most responsive on the platform. This is one of three new features Twitter announced is rolling out to all companies.
Twitter's new features, including a larger Direct Message button, aim to help businesses better serve customers by telling them if they provide support and when they are most active on Twitter.
To take advantage of any of the following features right now, all you have to do is visit Twitter's Customer support settings page and select the option that lets any Twitter users Direct Message you.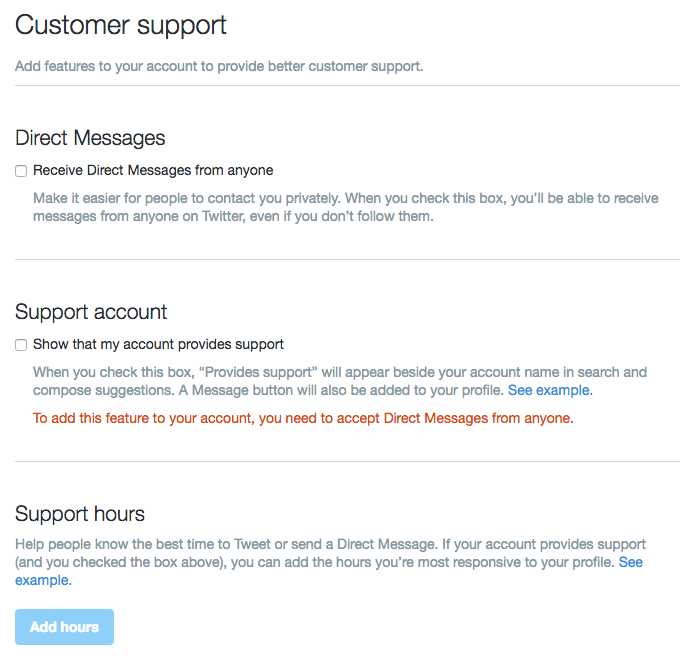 After you activate the new features, Twitter users will start seeing them over the next few weeks as it rolls out.
1. Provides Support
You can now add a "Provides support" notation to your Twitter account.
"Businesses can now indicate that they provide support, which adds that information to suggestions when people search for a business, @mention a business in a Tweet, or find a business in Direct Messages," Twitter said.
Here's what it will look like to users in search results and compose suggestions: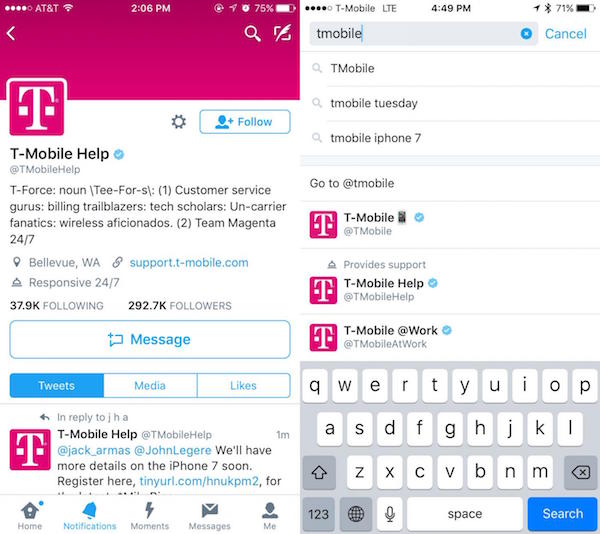 2. Most Responsive
Twitter now lets you share the hours when you are most responsive on the platform. Said Twitter:
"Businesses can display hours of availability on their profile to help set people's expectations for when they are likely to reply."
3. A Bigger Direct Message Button
Companies that take advantage of these two new features will also get another benefit: a bigger Direct Message button. You can also see this in the T-Mobile image above.
Twitter said this is to make it clearer to customers that your business will support you via private messaging.
Image Credits: Twitter