Twitter has introduced some new features that will let you filter out more notifications and content you don't want to see. Here's what's new.
1. New Filtering Options
Twitter has introduced three new advanced filters that give you the option to mute notifications from accounts that:
Use the default Twitter avatar (an egg).
Haven't verified their email address.
Haven't confirmed their phone number.
2. Timeline Muting Options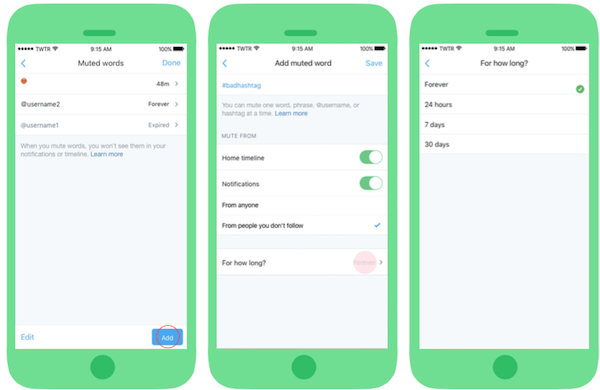 In November, Twitter announced an update to its notification mute feature that let you mute keywords, phrases, hashtags, usernames, emojis, and conversations you didn't want to see.
Now you can decide how long you want to mute content from your timeline. Twitter gives you four options:
24 hours.
7 days.
30 days.
Forever.
3. Twitter Gets Proactive About Abusive Content
A couple other changes are on Twitter's end.
First, Twitter said it's working to algorithmically identify abusive content itself – even if users don't report it.
When Twitter identifies an account that is engaging in abusive behavior, the platform will limit them so that only their followers can see their tweets.
"For example, this change could come into effect if an account is repeatedly Tweeting without solicitation at non-followers or engaging in patterns of abusive behavior that is in violation of the Twitter Rules," according to Twitter. "Our platform supports the freedom to share any viewpoint, but if an account continues to repeatedly violate the Twitter Rules, we will consider taking further action."
In addition, Twitter said it will notify you (via your Notifications tab) when they receive your report of an abusive account, and update you if they take "further action."
Image Credit: Depositphotos