Twitter rocked markets this week with a spectacular initial showing. But how do Twitter ads measure up against Facebook ads? Is it worth spending your ad dollars on Twitter?
When it comes to direct response marketing, AKA lead generation and/or Ecommerce, Google really takes the cake in terms of ad performance. However, if you're set on creating a social media ad campaign, you'll want to see how Twitter ads and Facebook ads compare.
In my article today, we'll compare these two social giants across several pertinent criteria, including:
Network Reach – Who has the largest audience?
Ad Performance – Do Facebook and Twitter ads really drive results?
Mobile Ad Performance – Who is dominating in the mobile space?
Ad Formats – Which platform provides the most varied and effective ad types?
Let's take a look!
Social Network Reach
Facebook gets a gold star for network reach, earning an A+ with its colossal 1.15 billion active users, sharing 4.75 billion items daily. Twitter's reach isn't too shabby, with 232 million active users tweeting 500 million times a day, but those numbers just can't compare with Facebook's.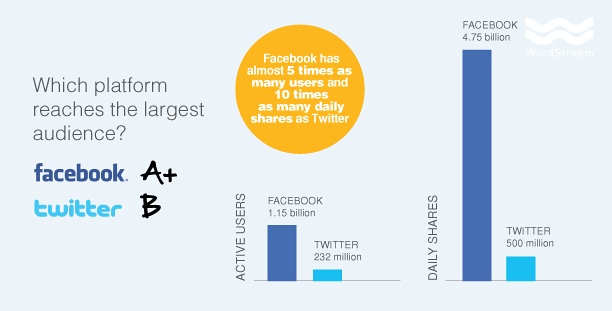 The Wall Street Journal theorizes that Twitter's audience simply isn't impressive enough to get advertisers excited, which might explain why Twitter owns only 13% of social media advertising budgets compared to Facebook's 57%.
Ad Performance
Directly comparing Twitter vs. Facebook on ad performance is difficult since the two social networks use different metrics to measure performance (and Twitter keeps its cards close to the chest). However, we can dissect some data on how they stack up against one other.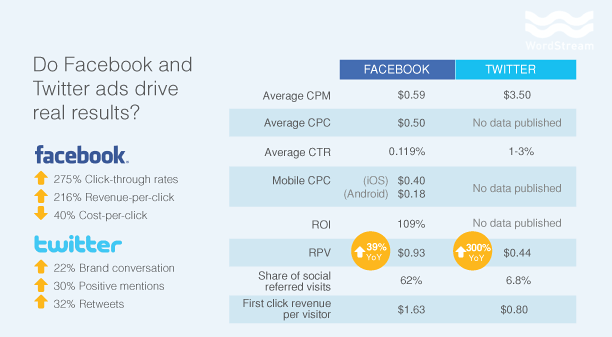 According to AdWeek, the "engagement rates" for Twitter ads can get as high as 1-3%, which is significantly higher than Facebook's 0.119% CTR. Twitter's advantage here is likely the result of their ad design – Twitter ads are in-stream, integrating ads with regular user content, rather than pushing ads off to the side as Facebook does. While this means that Twitter ads are seen more, Twitter's average CPM (cost per impression) of $3.50 is much higher than Facebook's $0.59.
Twitter Vs. Facebook: Mobile Ad Performance
Twitter's design provides a big advantage when it comes to mobile ad performance. Twitter ads perform well on small screens, with ads seamlessly integrated into a user's timeline to feel natural and organic. Facebook ads usually appear in the right rail, which isn't even present in the Facebook mobile app.
Facebook does have one native ad format in the Facebook mobile app – the App Promotion Ad. However, for many businesses looking to advertise on mobile devices with Facebook, the App Promotion Ad isn't applicable or desirable at all. In comparison, Twitter enables all of its ads to appear on desktop and mobile devices. Major win.
Here's how Twitter and Facebook compare in terms of mobile performance metrics: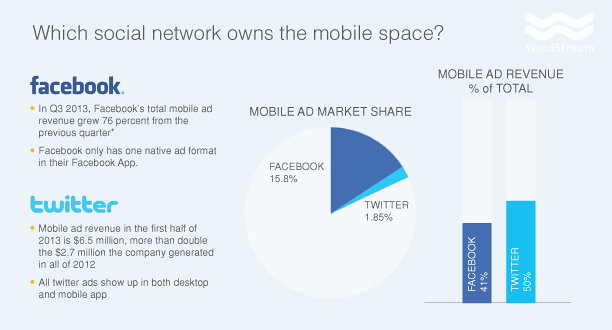 Facebook leads with mobile ad market share, but we can predict major growth from Twitter – Twitter is expected to net $1.33 billion in worldwide ad revenue by 2015, and it's expected that more than 60% of that revenue will come from mobile ads. You've heard it everywhere – mobile is the future, so Twitter is smart to be growing faster than Facebook in this category.
Ad Formats
Back in June, Facebook cut its ad format options in half, answering advertiser requests to simplify Facebook's ad system. Robert Hof at Forbes notes that the new ad options make it easier for advertisers to accomplish specific goals, like gaining more fans and getting more app installs. However, if Facebook started off with 27 ad formats and is now down to 10, does that mean over half their initial ad formats were useless? That doesn't do much to inspire the troops.
Twitter's ad format offerings are much more simple by comparison:
Promoted tweets
Promoted accounts
Promoted trends
We will likely see these ad options grow throughout the next year or so as Twitter makes more of an effort to boost its advertising strength.
So Which Should You Get Excited About? How About Neither?
When it comes to lead generation, Facebook beats Twitter, but both struggle. There just isn't a ton of intent, especially compared to search engine marketing. Social platforms like Facebook and Twitter are a powerful option for engaging with fans and soft selling with content marketing, but the average small business isn't likely to see much success when it comes to direct response marketing.