Using Twitter for streaming news on one company or business is nothing new. It's considered perfectly fine to separate your personal Tweets from your business life and maintain several Twitter accounts at a time.
This week I am sharing a cool tool called TweetFunnel that allows several people to post to one Twitter account and provides you with really useful options:
(1) Grant different users with different rights (those who can contribute and those who can review and approve submitted Tweets);
(2) Schedule Tweets for later publication;
(3) Manage your whole multiple Twitter accounts from one handy dashboard:
The process is really quick and easy:
Hit "Try it" in the top-right corner of the page and create your account. You will need to specify your company name, a name to create your custom company URL at the site and login details (email, account name and password). The service requires no email confirmation, so setting up an account is really quick and easy.
Login and add your Twitter account (either by Twitter's secure authentication method or by providing your Twitter account login information).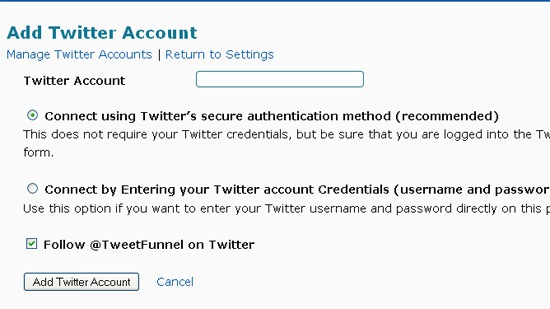 When logged in to your dashboard you will be able to see your Twitter stream and manage your Twitter activity: reply to Tweets, retweet, send private messages, favorite Tweets and schedule Tweets for publication: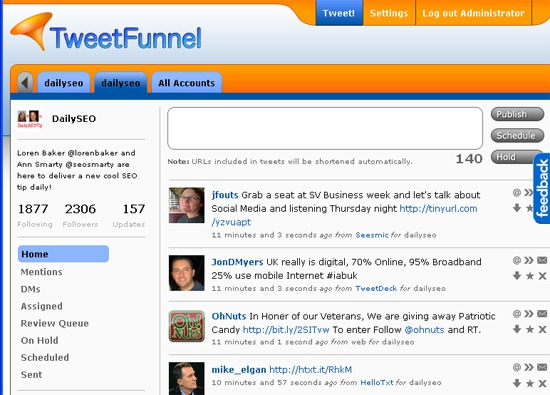 Now add users (contributors and publishers). Go to "Manage TweetFunnel Users" and add or invite users.
There are 3 levels of users: an administrator (who can do everything: he creates the account itself and adds users as well as reviews and publishes Tweets), a publisher (reviews and publishes or denies Tweets) and a contributor (who writes and submits Tweets to the administrator for approval).
To add a user, you will need to provide his login and contact details:
Once a new contributor logs in, he can see the same dashboard with some limited options. He can create new Tweets and only submit them for approval. The administrator or a publisher can then go to "Review Queue" to moderate the Tweets received from the contributors. He can do the following with the queued Tweets:
approve and post,
approve and publish later,
reject the tweet.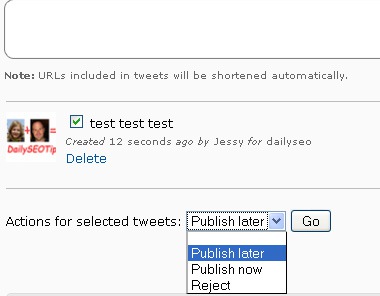 Looks like a neat tool, what do you think?
The tool has been reviewed under SEJ policy.