Video is a great way to build links and manage reputation. A creative video will generate links on ts own (like any kind of good content), besides you can always help spread the video by distributing it to a number of video listing and hosting sites.
TubeMogul is a very helpful (and free!) service you can try if you are promoting video content. Here I am going to describe my (brief) experience with the site.
TubeMogul provides a quick access to quite a number of well known video hosting communities: Howcast, Viddler, Crackle, Revver, Dailymotion, YouTube and many more. Of course you will need to register at each site in advance (quick tip: when creating an account at each site, make sure to make it complete: add an avatar, link back to your site, important details, etc).
Note: some of the video services require additional registration (when uploading a video through TubeMogul) because they target only "specialty" (i.e. very specific) video content: "how to", professional-quality or episodic videos, etc.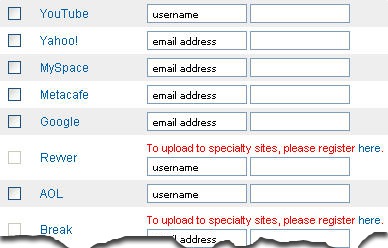 After you are done with creating accounts at all video sites your video fits in, you can upload your video to TubeMogul, create the title and the description, choose a relevant category, give your login details and upload the video to all sites you chose at a time.
TubeMogul will store and update you of all upload statuses (for example, if the video service requires moderation, encoding, etc). The site also seems to choose an alternative category for your video (if the one you chose does not exist at the site) – with me it was quite correct in its choice.
Note: with bulk upload, your video is going to have one and the same title and description throughout all the sites. Besides, some of the sites allow for more details than TubeMogul asked me to specify (e.g. linkback to your site) or in-description HTML editing (where you also can add your link). Thus I for one ended up logging in to each video site and adding some slight edits to each video submission manually.
Now the best part: no matter how you submitted your video (using the service or on your own), you can add your profile link and track its statistics. You can see how many times it was viewed overall and yesterday, and the historical statistics. The statistics can be viewed in a table or on the graph – a great way to analyze your video performance, viewers' response, etc: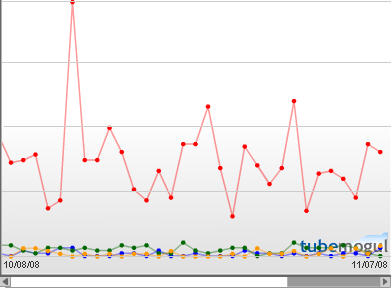 Again, my experience with TubeMogul was rather brief, so please share yours!
In the end, here is another useful link if you are serious about your video distribution: here is the list of 62 video sites of all types (thanks to Rand's headsmacking tip for discovering it for me).