Earlier in the morning a major 8.8 earthquake hit Concepcion, Chile (a major university city) which has set off a Tsunami warning in the Pacific which reaches from California to Hawaii. According to MSNBC news, at 11 am EST, Hawaiians will wake up to an early morning Tsunami warning and evacuations of seaside areas.
The major news networks are all covering the disaster in Chile, and Pacific reaction to the tsunami warnings, via social media feeds from residents in the Chilean area, and tweets from Hawaiians and locals from other Pacific islands. For those who visited this page looking for information on the Tsunami Warnings, here are some online resources to check the warnings in your area :
NOAA's Tsunami.gov
NOAA's Pacific Tsunami Warning Center
Twitter is tracking the Tsunami warnings with the hashtag #Tsunami. Looking at the Twitter results, we can see that the Hawaii Red Cross is proactively reaching out to native Hawaiians via Twitter.

Tsunami Warnings and Search Engines
Looking at the major search engines; Google, Yahoo & Microsoft, we can see how fast the search engines are at covering the Tsunami warnings.
Google is covering the Tsunami news results on a search for tsunami, but is not suggesting a search for Tsunami Warnings in the immediate search suggestions. This is a major issue with Google Suggest applying real time occurrences to its functionality. Once a user decides to search for "tsunami warnings", Google shows news results in Universal along with its Live Results of social media, news and blog coverage.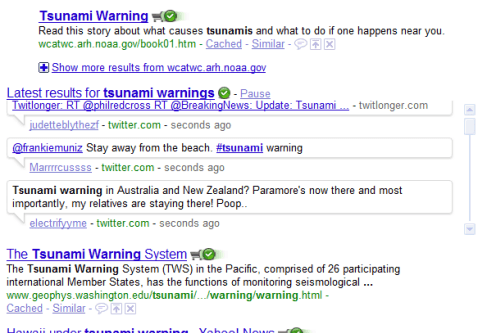 Bing suggests to search for Tsunami Warning as soon as the user begins looking for the word Tsunami from the Bing homepage (actually, as soon as I type in "tsu"!). In the search results for "Tsunami Warning" Bing even suggests current news video coverage of today's earthquake and tsunami, really hitting the nail on the head in terms of relevancy.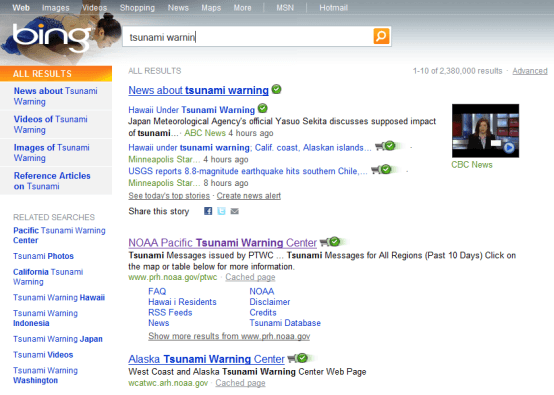 Yahoo also does a very good job of directing the end user to the term tsunami warnings via Yahoo Search Assist and I like the way that the Yahoo News Shortcut instantly brings Twitter results into the picture without forcing me to scroll down the page like Google does for its social results.