Earning your first dollar in e-commerce is fairly simple. You're selling a product.
But what if you own a publication or media site?
To start making money, you will have to:
Engage in affiliate marketing
Lease ad space (directly or via AdSense)
Sell info products (e.g., e-books, courses, webinars)
Publish paid content (guest posting)
Accept donations from users
All of these options are tricky to implement.
You should first focus on driving a decent amount of traffic to your site — a challenge in itself.
Once your website receives enough traffic, it's time to monetize that traffic and start earning revenue.
You need to proceed cautiously here.
Traffic monetization is always risky. Done wrong, it can hurt your site's usability, engagement, and organic search rankings.
One single mistake can ruin all of your hard work, so it makes sense to research what SEO and marketing mistakes to avoid when approaching the process.
Let's look at the top five most common mistakes you can make when trying to turn traffic into a continuous stream of revenue and without hurting your SEO efforts.
1. Don't Use Intrusive Popups & Interstitials
Smartphones and tablets may be the first touchpoint for your users. This means your site must rank high in mobile searches.
For starters, your site has to be mobile-friendly. But what else influences mobile search rankings?
If you plan to monetize mobile traffic, your first task is to check if your site features any pop-ups, banners, and other interstitial advertisements.
Although Google rewards sites that steer clear of intrusive interstitials (elements that clutter a page or visually obscure its content from users, making it hard to read or watch), there are ways to use pop-ups without harming your SEO.
Here's an example from the Google Webmaster blog: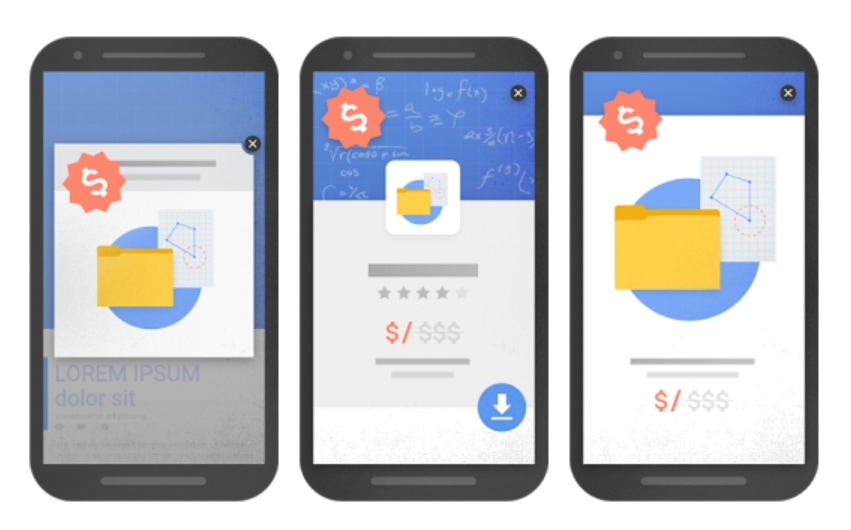 But sometimes it's difficult to tell the difference between user-friendly and intrusive popups. According to Google, the following types of popups or interstitial ads are allowed:
Cookie verification
Age verification
Legal-related verification
Sign in and sign up dialog boxes
Easily dismissible popups
Even though these are allowed by Google, I recommend getting rid of as many interstitial ads as you can (unless you are legally obligated to display them). Keeping your users and Google happy is more important than earning a few pennies from annoying ads.
SEO tip: If you use banners to sell products or convert leads, make sure that visitors see them only on specific pages. These should be pages that demonstrate a user's interest in your product. One other option is to display banners after a user visits a certain number of pages, say three or four. Don't unleash all your popups on the first page — this can negatively influence engagement and usability.
2. Don't Allocate Too Much Space to Ads
Selling ad space directly to companies or via Google AdSense is another way to monetize traffic. The only problem is advertisements are usually viewed as intrusive and useless by both users and search engines.
Most consumers hate ads – especially ones that provide no value. Ads can make sites less user-friendly when used incorrectly.
For instance, nobody wants to scroll to the bottom of a page to get to the actual content or wait for a page to load. Google picks up on these details and, if you push too many ads onto your site, it will hurt your SEO sooner or later.
Content should never play a second fiddle to ads. That's why Google introduced the page layout algorithm in 2012.
If you fail to strike the balance between content and ads, Google will downrank your site. Eventually, this will lead to less traffic and less revenue.
But that's only part of the problem.
Google looks at site engagement and user experience metrics like dwell time and average session duration.
So if you choose money over UX, you might notice metrics like bounce rate increase, while pages per session and average session duration decrease. This could signal to Google that your site doesn't provide enough value to users. Ultimately, you might lose rankings, traffic, and money.
SEO tip: Find the golden medium between content and ads by placing one to two ads per page, maximum. Position ads next to the top of a page or to the right of your content on the sidebar. Also, make sure that you test how your ads are displayed in different browsers and browser versions. Remember, ads should not obscure content. Don't let users report your ads.
3. Don't Increase Load Time with Excessive Elements
People won't wait more than a couple of seconds for websites to load. If people won't wait for your site, then you can't expect Google to reward it with high organic search positions.
People are impatient. They won't wait while your site loads all of its unoptimized images and scripts. They'll head somewhere else.
If your site is slow, conduct a page speed audit. Then optimize your site as soon as possible to keep your traffic pipeline from drying up. No traffic means no money.
SEO tip: To monetize traffic, you should guarantee that visitors can access your site quickly. Here's how you can improve your site's load time:
Get rid of excessive third-party add-ons and plugins
Compress Flash, CSS and Javascript elements
Reduce the size and number of images (if possible)
Opt out of using autoplay on videos, audios, and animations
Optimize sliders (images and autoplay)
Eliminate intrusive banners, popups, and ads
Reduce the number of redirects
Utilize browser caching
Improve server response time
4. Don't Break Up Content Across Many Pages
Breaking content up into multiple parts and placing these segments on individual pages is not ideal for site owners who care about providing convenience for consumers.
Users find this tactic frustrating. Yet many websites like Forbes and The New York Times still do this to generate more advertising revenue.
Don't force your readers to hop around multiple pages just to read one article. They probably won't be back.
Sure, you may get more pageviews and display more ads, but this isn't a long-term strategy. Focus on nurturing a loyal audience by publishing content that's actually great and keeps them coming back.
SEO tip: Do not underestimate the importance of engagement metrics. Create neat and clean pages with valuable content that can be accessed all at once. Make it easy for people to access and consume your interesting content.
5. Don't Generate Poor Content
Without valuable (relevant and useful) content, none of this will matter. Your site won't rank well, which means little traffic and even less revenue.
Poor content can even damage sites that drive a decent amount of traffic. If you outsource content production to a third party to save money, you risk lowering the quality of your content and losing your audience.
As content quality decreases, so too does traffic and revenue.
A constant stream of fresh, high-quality content is great for SEO. Content populates your site with additional pages, keywords, and links, driving more traffic to your site.
Satisfy your users with valuable content and Google will reward your site with more traffic that you can monetize.
SEO tip: Content is what makes your site special. It's good for both users and search engines. Producing content that matters is a complex task, but if you truly want to monetize traffic, you will have to go the extra mile with your content production. Research competitors, brainstorm creative ideas, create a content plan, analyze your conversion funnel and then start writing.
Conclusion
Focus on user intent. Google wants to help searchers find content that satisfies their needs at that moment.
You can provide that great content. The more of it you make, the more traffic you have. Once you have that audience, remember to keep your traffic monetization tactics user-friendly.
Don't be afraid to start making money off of your site. Experiment with a variety of strategies!
Just don't ruin your SEO with the five tactics discussed in this article. Don't use intrusive popups and banners; strike the right balance between content value and ads; improve your site load time; make sure your high-quality posts are published on their own pages; and craft high-quality content.
---
Image Credits
Featured Image: Pixabay
Screenshots taken by Sergey Grybniak, July 2017