After my recent huge post on SEO tools was published, I promised to add the section for free online internal analytics services; but before that I decided to discuss different aspects of the topic starting with effective tracking of your backlinks and referrals. The 4 tools I'll be reviewing here include:
| | | | | |
| --- | --- | --- | --- | --- |
| Options/ Analytics | Site Meter | Hittail | Google Analytics | Get Clicky |
| Sorting options | no | no | yes | yes |
| Filtering options | no | yes | yes | yes |
| Export results | no | yes | yes | yes |
| Traffic stats per referer | no | no | yes | yes |
| Multiple domains per account | no | yes | yes | yes |
Now a few words about each of them:

Sitemeter provides a partial report of your site recent referrals.
Benefits: the service is free and extremely easy to install and use.
Drawbacks: no sorting options; mixed up search referrals and site referrals; no export option; public stats for free users; one domain per account.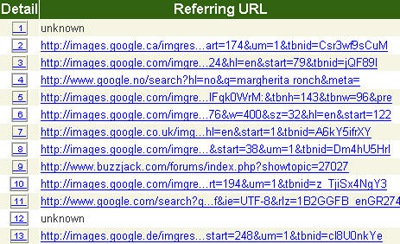 Hittail – while the service is primarily meant for long tail tracking, it does provide information on recent referrals under "Search Hits" tab.
Benefits: find the exact date and time when the link was clicked to bring a surfer to your site; export data to Excel; delete any referrals you don't want to see; track more than one domain per account.
Drawbacks: limited sorting and filtering options; no traffic stats for each referral.

Google Analytics does have powerful features allowing you to track your visitors' behavior but rather weak backlink-tracking options.
Benefits: see traffic stats (people count, time on site, bounce rate, pages per visit, % of new visits) for every referral; play with multiple powerful sorting options.
Drawbacks: no direct link to the referring page for less powerful referrals (I recall there's some hack to remedy that but I can't find the link; so if you know it, please comment).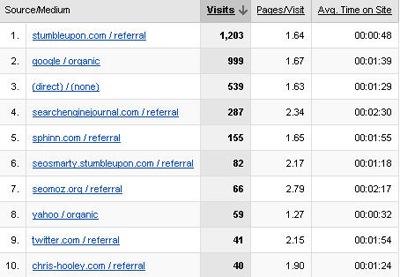 GetClicky offers a most convenient blogger-oriented solution for tracking (especially newest) backlinks.
Benefits: get updated of most recent links; newest unique links and backlinking domains; set date range and see how the links performed over time.
Drawback: 100,000 daily page views limit