If you've worked with a web designer lately, then you should be all caught-up on 'responsive design'. If you've somehow managed to neglect all the buzz surrounding the importance of responsiveness, here's a brief introduction.
Responsive web design simply makes sure that webpages can adjust to the device in use depending on its width. Why is this important? For starters, with all the people surfing the net on tablets and smartphones, it's vital for devices of all sizes to access websites. There are, of course, other reasons why responsive website design can give your site a boost. Since this concept is new, it will give you a competitive edge. Responsive designs can also save you money, since all changes can be media in one shot, give your site a consistent look on all formats and will earn a Google recommendation, since Google prefers webmasters to use responsive design.
If you're still looking for some inspiration on how to create your own responsive website design, here are the top 25 responsive design sites for 2013.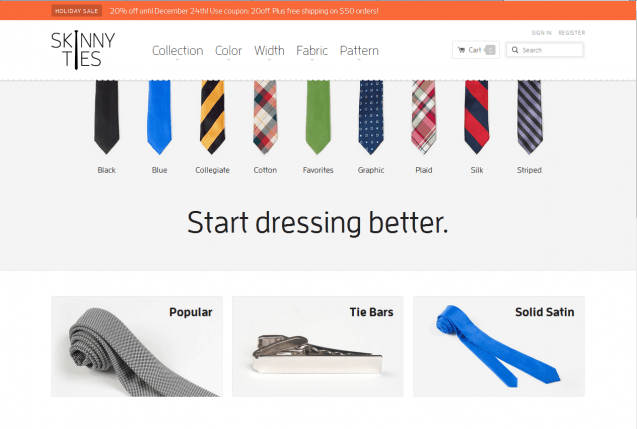 Screenshot of Skinny Ties on 12/24/13
Skinny Ties sells retro-style neckties. The site, which has been around since 1997, has a simple layout with incredible images of the products available. Navigation works perfectly on all devices where fans can easily search for ties by material, color or design.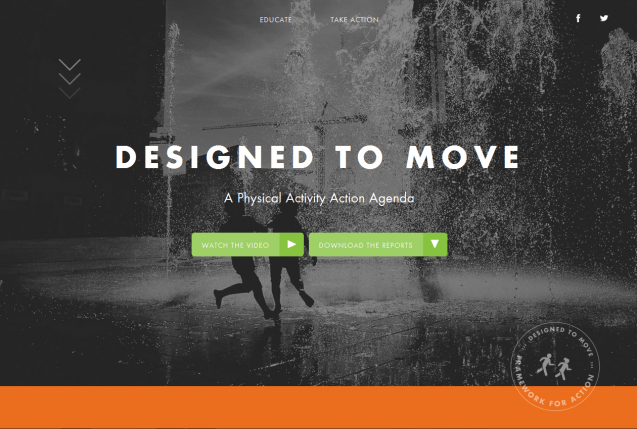 Screenshot of Designed to Move on 12/24/13
If you've been putting off getting in shape, then you might want to check out Designed To Move. The site is full of educational information to get you motivated. The site seamlessly shares this important information on all devices.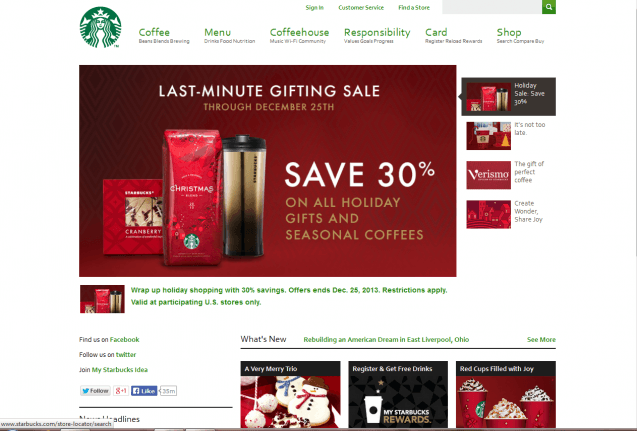 Screenshot of Starbucks on 12/24/13
Starbucks website represents the brand extremely well. It features large videos and new items clearly visible on the homepage. Bonus points for having the store locator at the top of the right side of the screen. Easy to spot and useful when you need your caffeine fix.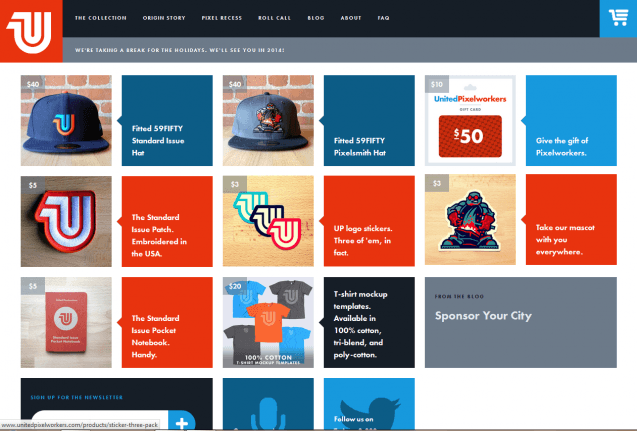 Screenshot of United Pixels Work on 12/24/13
This site mainly sells t-shirts, along with some other accessories, that are geared to the web design community. Obviously, the company would have a solid website. Highlights include the simple grid layout and large typography.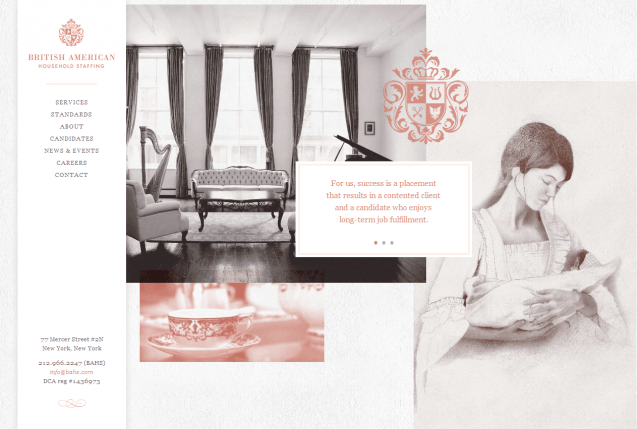 Screenshot of British American Household Staffing on 12/24/13
This household staffing agency located in SoHo has a clean, light and elegant site that matches their business exceptionally well. It also looks just as nice on other devices.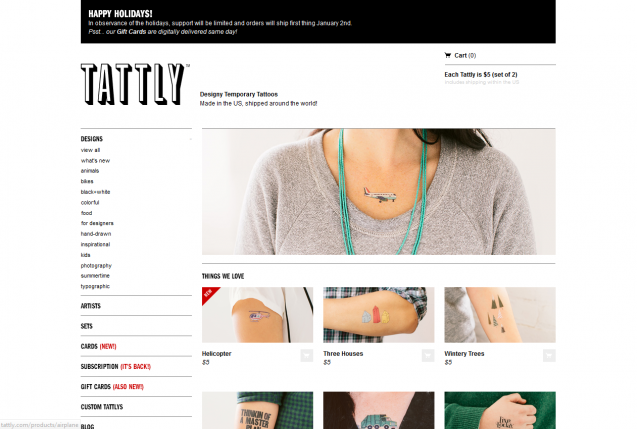 Screenshot of Tattly on 12/24/13
Tattly sells 'Designy Temporary Tattoos', which were created by leading designers and illustrators. Its online store features a simple grid that's complemented by a monochromatic color palette. It also resizes nicely on all devices.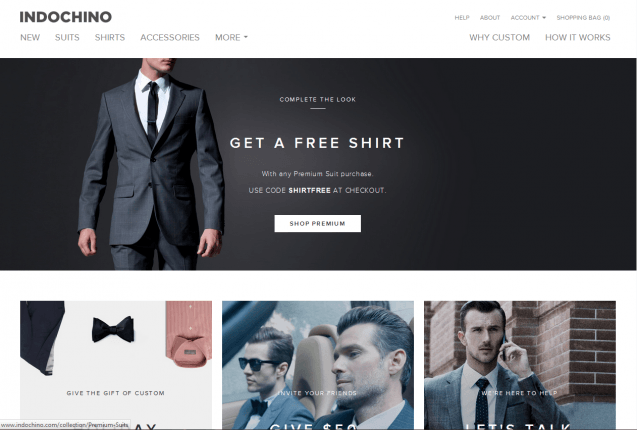 Screenshot of Indochino on 12/24/13
Indochino is the maker of high quality custom menswear. Its online shop contains outstanding product photography with a minimal design aesthetic.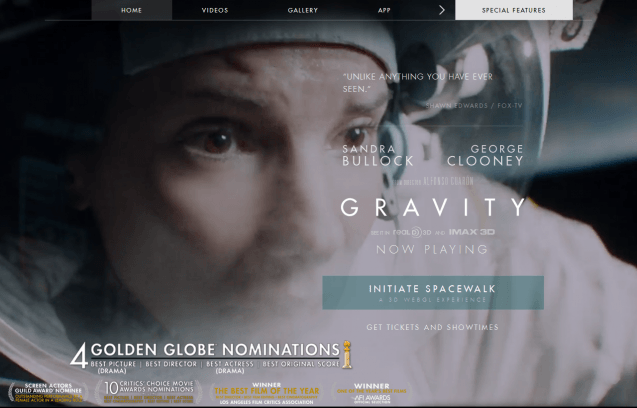 Screenshot of Gravitymovie on 12/24/13
The George Clooney and Sandra Bullock vehicle had a site that was very fluid,which expanded to fit large monitors. Also, the full screen HTML5 video is also worth mentioning.
17. House: Kampania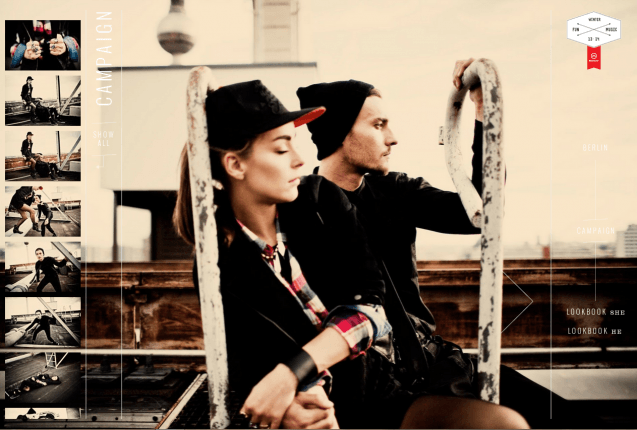 Screenshot of House: Kampania on 12/25/13
This is a trendy website for a fashion company that contains parallax, full screen video, and responsive design. What more can you ask for from this fun site?
16. Fit For a Frame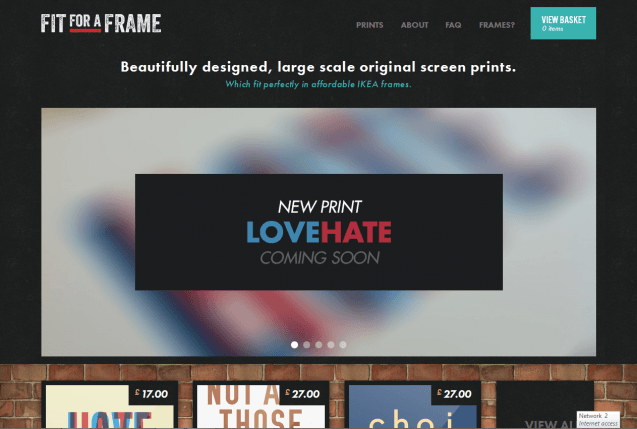 Screenshot of Fit For a Frame on 12/24/13
Fit For A Frame sells beautiful prints that were created by talented designers and illustrators. Their online shop has simple navigation along with a simple layout. One neat feature is how the prints on the homepage will switch to a vertical layout when being viewed on a smaller screen.
Screenshot of Jack Daniels Holiday Select on 12/24/13
The "Holiday Select" 2013 Christmas promotion from Jack Daniels Australia website is utterly creative and fun. It takes visitors on a historical tour of the legendary whiskey producer's Lynchburg, TN distillery in a neat animated version. Wish JD's official site in the States was just as cool.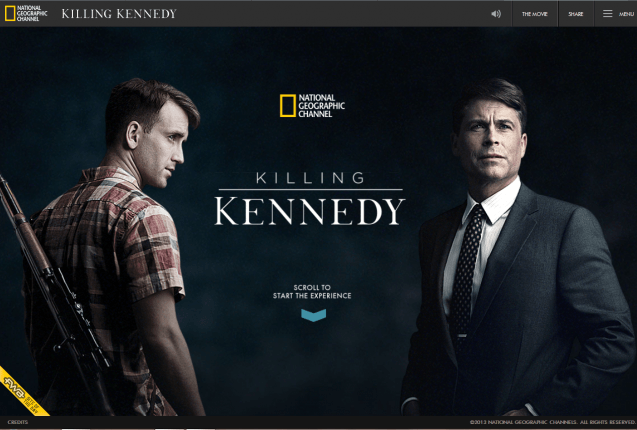 Screenshot of Kennedyandoswald on 12/24/13
For the 50th anniversary of the JFK assassination, National Geography created an interactive documentary site that gave visitors a responsive audio and visual experience of both President Kennedy and his assassin Lee Harvey Oswald.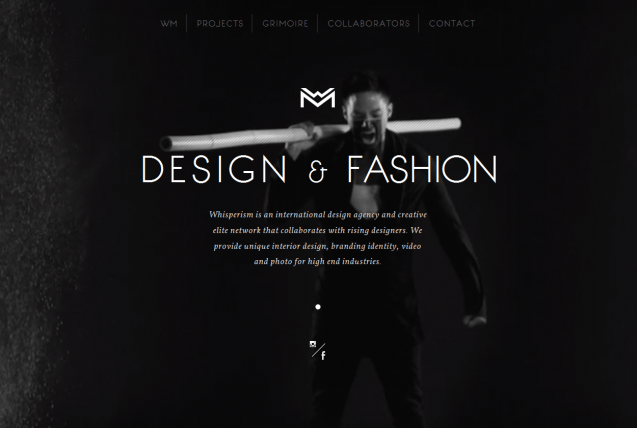 Screenshot of Whisperism on 12/24/13
Here's a very minimal, sleek and cool responsive website from Design & Fashion company Whsiperism. We're also fans of the company utilizing the HTML5 video.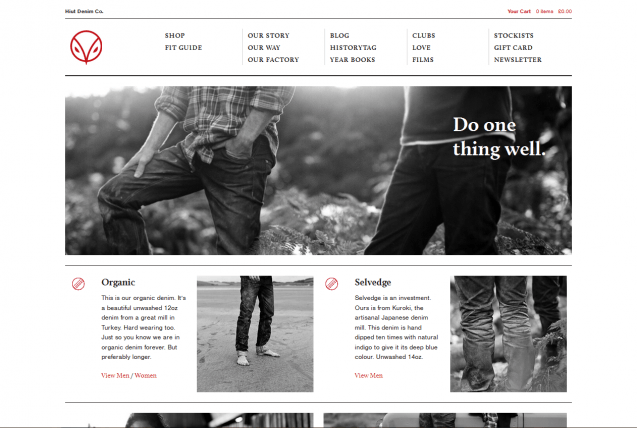 Screenshot of Hiut Denim on 12/24/13
You would except a site that sells jeans to be rich in photography, which is is exactly the case with Hiut
Denim and all their hi-res photos. There's also some history on denim and emotion thrown into the site fore good measure.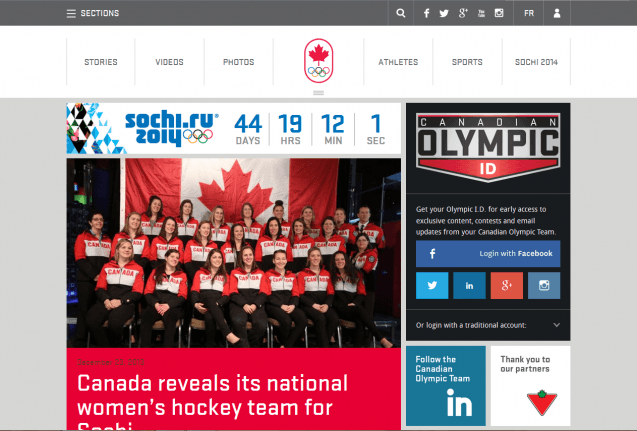 Screenshot of Canadian Olympic Committee on 12/24/13
To help get the country excited about the upcoming 2014 Winter Olympics, the Canadian Olympic Committee created an inspiring magazine style site that includes all of the news, social media contact information and athlete information visitors should know before the games begin.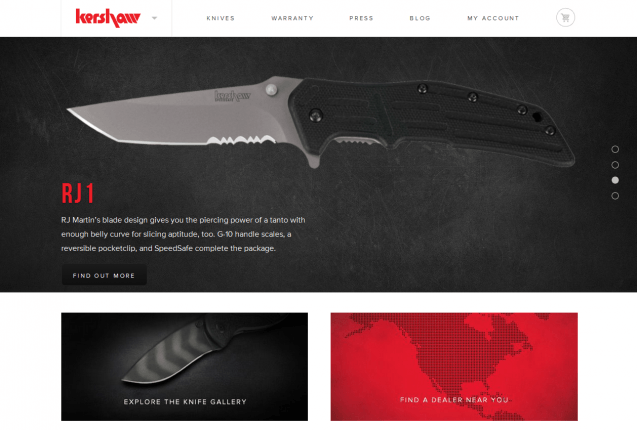 Screenshot of Kershaw Knives on 12/24/13
Kershaw's ecommerce site is clean and proudly showcases the products. Also, the site makes use of its space by folding down horizontally with a scrollable list. Not bad for a knife-making brand that has been in business since 1974.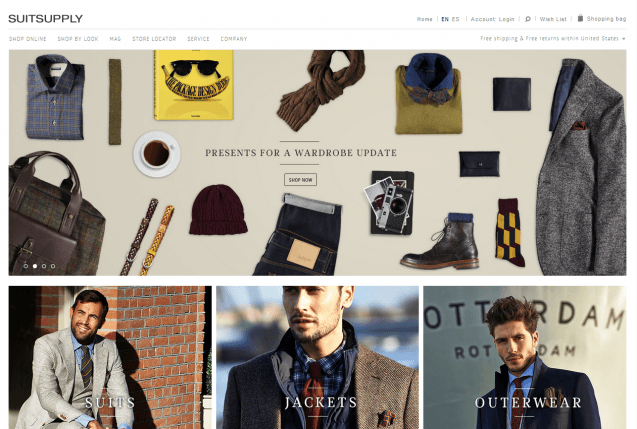 Screenshot of SuitSupply on 12/24/13
SuitSupply is an online men's fashion retailer that was founded in 2000. The company's minimal layout, combined with high quality product photography, makes for an aesthetically pleasing experience.
8. The PrivateBank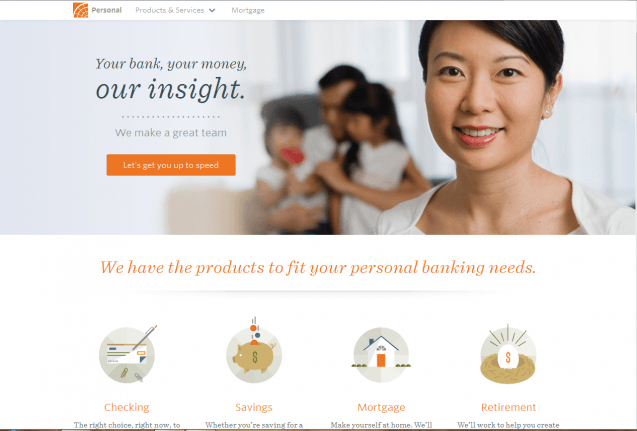 Screenshot of The PrivateBank on 12/24/13
Who would have though that a bank would have such a great site? But, The PrivateBank kept things clean and nominal with a site that easily directs customers to the proper section. There's also some pretty amazing hi-res images on the site to compliment the otherwise basic layout.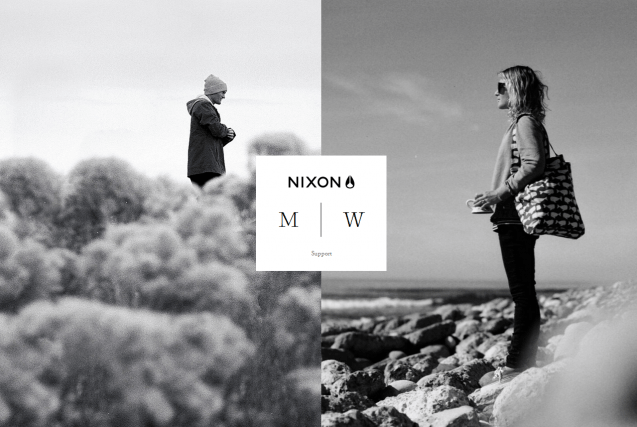 Screenshot of Nixon Watches on 12/24/13
Nixon is only one of the few well-known brands that have fully embraced a responsive ecommerce store. It's a simple and minimalistic layout that features plenty of product and lifestyle images. The timepiece manufacturer also has an effective checkout process on mobile devices.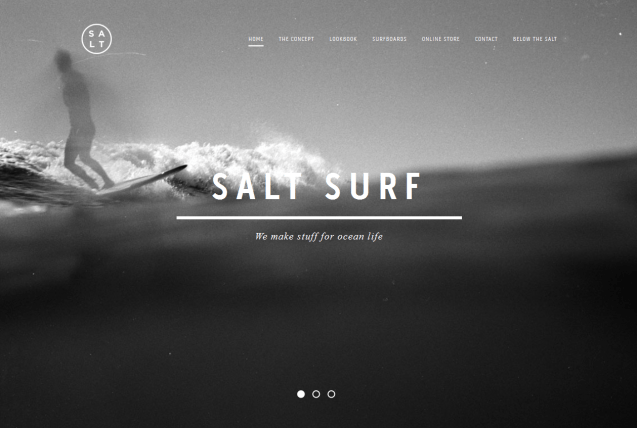 Screenshot of SALT Surf on 12/24/13
This collaboration between two surfers, Tyler Wolff and Nabil Samadani, is full of magnificent full-canvas photography on a simple and minimal layout that totally works if you're searching for a new surfboard.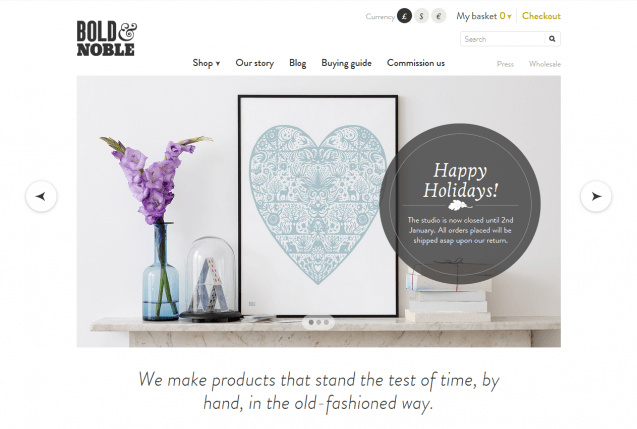 Screenshot of Bold & Noble on 12/24/13
Bold & Noble, makers of amazing screen prints, have an extremely clean and responsive ecommerce website that's flexible and has a "Shopify" vibe to it. The clean site definitely pairs well with the company.
4. Volkswagen Showroom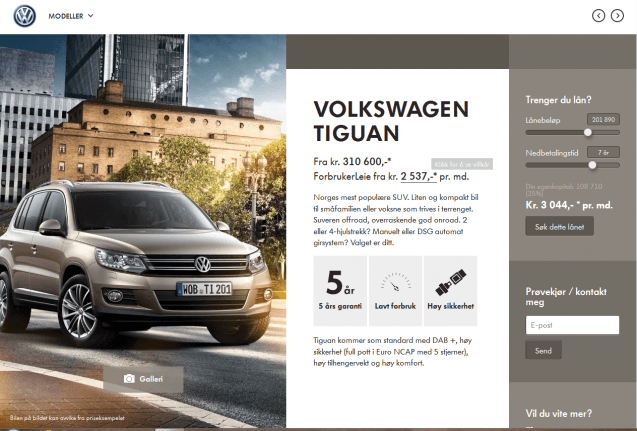 Screenshot of Volkswagen on 12/25/13
The simplicity behind this fluid site allows visitors to painlessly compare prices, explore car galleries and even calculate your loan. Everything you need to know before heading out to a dealer.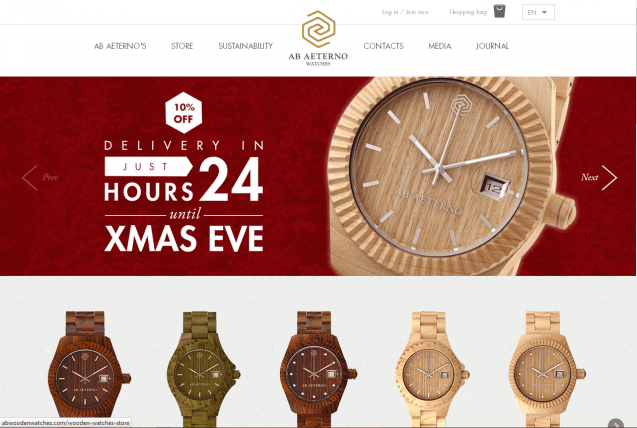 Screenshot of AB Aeterno on 12/24/13
AB Aeterno is an Italian watchmaker known for producing eco-friendly wooden timepieces. This may not sound appealing, but check out the incredible images of the watches on their site. Not only is the product heavily showcased, the site also features videos and tons of important information on a light and clean site.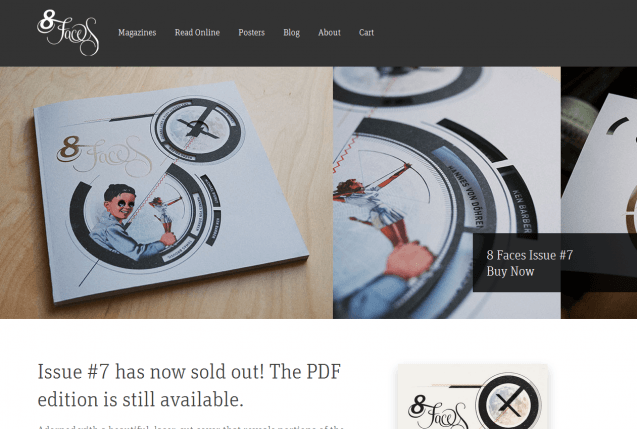 Screenshot of 8 Faces on 12/24/13
8 Faces is a limited edition typography magazine that centers around interviews with print, web, illustration and type designers. This fully responsive site contains large images, larger typography, and allows readers to purchase the magazine, prints and even back issue PDFs.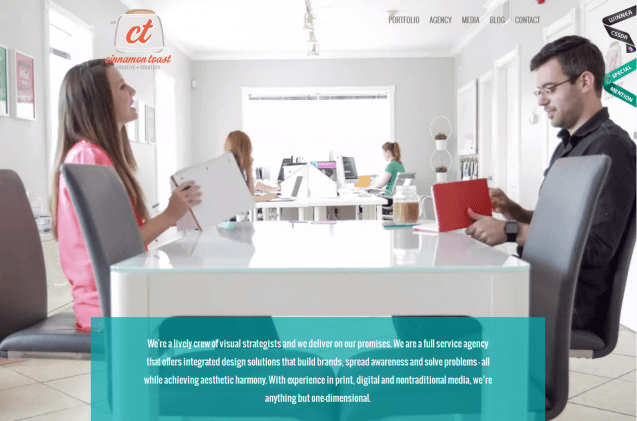 Screenshot of Cinnamon Toast on 12/24/13
If you're a web designer, you better have a topnotch site. While we've come across a number of outstanding sites from agencies, Cinnamon Toast is by far the best of the best. Overall, it's just an awesome responsive website that has some stop motion going on in the background. We're sold.
Did you spot your favorite responsive website design on this list? If not, which was the best fully responsive site in your opinion.
Featured Image Credit: Bo-Yi Wu/Flickr