I attended a brand summit at Kota Kinabalu, Malaysia, awhile back, and one of the major points that I got from the conference is that Twitter is like a digital campfire. It shapes the world, and provides an opportunity to connect with the members of the community.
Indeed, Twitter is an effective social media tool for marketers to connect and engage with their target market. Publications such as BBC News World, Fox News, and New York Times have maintained a steady presence on Twitter. Popular brands like Chanel, Samsung, Starbucks, PlayStation, Victoria's Secret have also joined and successfully leveraged on Twitter to connect with their audience.
So the question is, how do we build a community around our digital campfire? If you're not sure how to go about Twitter marketing, here are some tips for you:
Strategize
Before going to Twitter camp, the most important thing to determine is why you are there in the first place. In order to create well-defined goals, we should craft an integrated marketing communications plan – no matter what advertising channels we choose. Should we decide to include Twitter in the media mix, it should be based on solid grounds that Twitter is part of the media lifestyle of the target audience. Doing advertising activities a la carte won't work in the current marketing landscape. It should form part of an overall cohesive marketing strategy.
Once you have established the overall strategy to include Twitter, make sure to take advantage of the many benefits that it offers.
Be Committed
It's like going to camp, with the commitment that you'll do your best in the activities, make friends, and try to work around the struggles of camp life. My professor used to say – should you ever decide to be in social media, you have to stay there. It is a commitment.
You can't NOT be there once you've made the decision. The audience will count on your presence, to engage with you, to read your tweets, and to just connect with your brand.
Share Your Content Using Your Own Persona
Just as going to camp will make you realize your strengths and weaknesses, and what makes you great as a person, so is true with Twitter marketing. Your brand should be made whole. You have to humanize your brand, know its flaws, and what will make people buy it. Treat it as if it was a real person talking, sharing, and engaging with the audience. It makes your brand more relatable. You would want your Twitter followers to read your tweets, like them, and retweet them.
Check out this exchange between Nespresso and KitKat. Both have successfully humanized their brands. Nespresso apparently gives a gift to KitKat, to which the latter responds to by saying, thank you!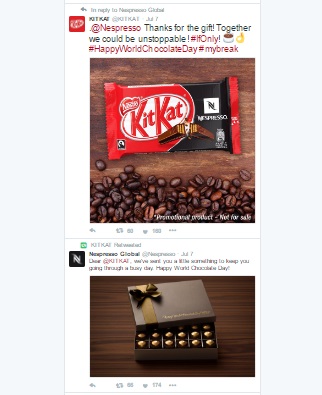 Another good way to be more engaging in Twitter is to ride on the current trend, see this tweet from Virgin America.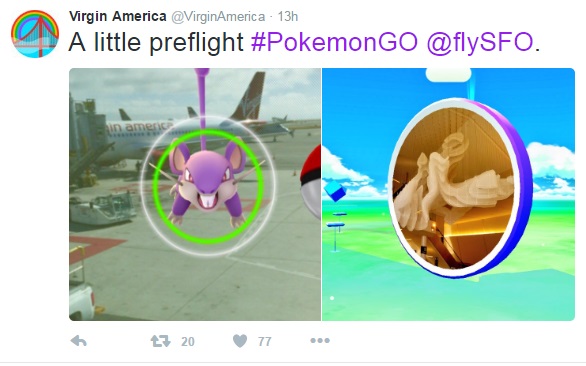 Remember to also follow a good Twitter content strategy. It shouldn't be too hardsell, where everything just pushes for your product. Nobody likes an annoying salesman. Be sure to foster online relationships instead.
Follow Industry Leaders
In camp, we have counselors or camp leaders that we follow orders from. The same principle applies to Twitter marketing. One good advantage of Twitter over the other social platforms is its ability to connect to high-profile personalities.
You can follow them, send them a tweet, and hope that they'll actually respond to you. This could also work for job applications. Who could ever forget the successful airBnB job application stunt by Nina Mufleh? She made a creative online proposal to airBnB, and tweeted it to the CEO! She got a job interview shortly right after. Twitter is very powerful this way, so be sure to take advantage of that.
Track Trends
The hashtag is a powerful Twitter tool in tracking online trends, so make sure to always check what's on and hip, and use this to your advantage.
For example, #JenniferAniston trended recently because of an article she wrote for Huffington Post titled, "For the Record". It's a blog post that shames the notion of objectifying women to conform to a certain norm. Vogue, being a product targeted towards women, have jumped on it, and cleverly stated, "We are all Jennifer Aniston".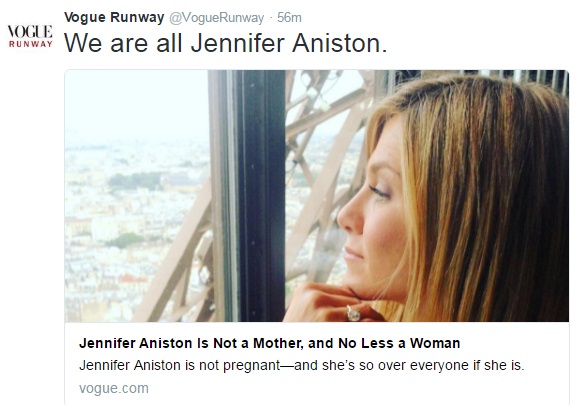 Leverage Your Followers
The most important aspect of utilizing Twitter as a digital campfire is to build a community around it. The main goal is not to have many Twitter followers, but to make your current community more active and engaging.
As a result, they will become your online brand advocates, voluntarily retweeting your posts, or answering your questions, and tagging other people along in the conversation. As a by-product, you'll create a movement of online brand advocates who will voluntarily rally for your brand.
To Conclude
Twitter has the power to gather people together to create connections and to exchange stories. It is a very dynamic tool that can be used by marketers to engage with their community. It should be used with extreme care because its strength is in the very community that it built around the digital campfire. When used well, it can make a brand.
To learn more about effective Twitter Marketing, listen to this Marketing Nerds podcast with Madalyn Sklar & Kelsey Jones.
Image Credits
Featured Image: cienpies/Depositphotos.com
All screenshots by Meg Cabrera. Taken July 2016.