Paid search advertising is one fastest growing and rapidly changing industries today. Theses constant changes require more effort and different strategies to improve pay-per-click ROI. The days of building a profitable campaign by just running keywords through Google's keyword tool, writing ad copy, and making a few changes are over.
There are several major changes within paid search that have added an additional level of complexity to the daily lives of paid search marketers. Let's discuss what they are and how you should adjust your approach.
1. Bid Adjustments, Multipliers, & Enhanced Campaigns:
Google's goal of being ubiquitous across all devices for all users has changed the game for paid search marketers advertising through Google AdWords. Bid adjustments across both devices and locations (in addition to ad scheduling) and serving different ads for different devices at different times, has brought a whole new level of complexity that many paid search marketers didn't imagine was possible.

2. Last Click Conversions vs. Attribution:
The days of simply optimizing paid search campaigns on last click is unfortunately over. Why is this unfortunate? Because optimizing on last click alone is much easier to do. Now we need to look at Google Search Funnels, Assisted Conversions, and various Attribution Models to help make the best decision for our campaigns. This change makes sense, it just makes optimization much more difficult.

3. Quality Score Updates/Changes:
Google's quality score algorithm and reporting seems to change pretty frequently. And what makes things worse is sometimes quality scores still stink for successful campaigns with relevant keywords, relevant ad copy, and relevant landing pages. It's not easy to keep high quality scores and this directly impacts the cost for each click, which could lower your ROI.
4. Automated Bidding and Rules & Competitions:
Automated bidding and rules have successfully helped PPC marketers save time and be more efficient. However; a human element will always be needed to review and approve changes. In addition, automated bidding can lead to higher CPC's and a lower ROI if multiple advertisers are using position-based and some performance-based bidding rules.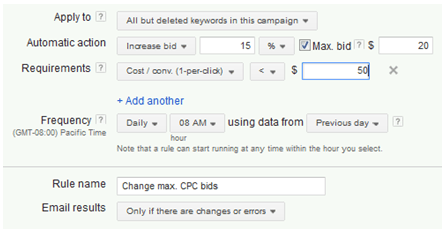 5. Product Updates and Betas:
Perhaps one of the most exciting elements of paid search is the constant product updates and new betas for advertisers to try out. While these are exciting, they take time to try out and master if we want to ensure our clients are ahead of their competition. Whether it's new types of reporting, such as the new paid and organic report, or new betas release like review extensions and dynamic retargeting ads; things are constantly changing. Stay on top of these new products and releases if you want to stay ahead of your competition.
In conclusion, it is now more important than ever for PPC marketers to take the time try new ideas and strategies, research what changes in the industry, and take calculated risks to outsmart your competition. It's also important to set client's expectations about how the changing landscape can have both positive and negative impact on results. To end with a quote, "Insanity is doing the same thing over and over again but expecting different results." The same goes with PPC, so get outside your comfort zone, try new things, and accelerate your results!