Andy Beal tweeted yesterday how he saw an interesting find. Google displaying THREE subpages in the SERPs. For as long as I can recall, Google had a rule that they wouldn't ever display more than two pages out of fairness.
So when I read Andy's tweet, I went right to Google and sure enough, I found the same thing. but only when I put in a brand along with an additional keyword.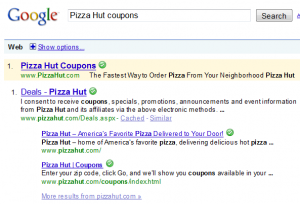 I haven't been able to replicate this with any generic phrases after several attempts, only when it's with a brand. If that's the case, will this lead to another uproar about unfair treatment of brands over other sites? Or is it a portent to an expansion of results to non-brand sites? And if so, what will the criteria be then?
Rob Enriquez then chimed in on Twitter that he saw this back in October, for a city hall search. Wow. October? Where's the buzz in our industry on this?
With what seems to now be rapid-fire changes to the results, (most recently the site hierarchy update) it's a whole new ballgame for SEO. Snippets, Breadcrumbs, Microformats, and now this, as yet to be announced or fully understood triple hit in the SERPs for brands.
Alan Bleiweiss has been an Internet professional since 1995. Just a few of his earliest clients included PCH.com, WeightWatchers.com and Starkist.com. Follow him on Twitter @AlanBleiweiss , read his blog at Search Marketing Wisdom.