This is a sponsored post written by SE Ranking. The opinions expressed in this article are the sponsor's own.
Mobile internet usage has surpassed desktop usage and the adoption of voice-powered digital assistants is steadily rising. These advancements are changing the way people search, especially for local businesses.
Our data shows that nearly one-third of all Google searches are related to location. Google stressed that every "'near me' intent is a 'near you' opportunity."
Optimizing for local search is a massive opportunity that businesses can no longer ignore.
Customers expect to get relevant, accurate results instantly in every search query. When they do, will your business be able to deliver the answer that your customer is looking for?
If your answer is no, then it's about time to evaluate your local SEO strategy.
Here are the things you need to focus on if you want to improve your chances of gaining visibility in local search.
Evaluate Your Present Local Rankings
Before developing an SEO strategy, check where you are at the moment. This can be done by using a tool such as SE Ranking.
SE Ranking's Ranking Checker provides information on mobile and desktop rankings, along with extra keyword data such as:
Competition.
Search volume.
KEI.
AdWords suggested bid.
And more!
Check out the Google AdWords Ranking Checker – a new feature that SE Ranking recently rolled out. It's a nice tool that evaluates the local visibility of your website.
This feature tracks organic and paid rankings of the keywords you are using and lets you compare the results.

It's also a good idea to check how you are ranking in a particular location using our Google Location Changer tool.
This can be especially useful if you are working with an SEO consultant from a different state or country. Regardless of the actual location, he or she can always check your rankings accurately – as though they are physically present in your local shop or office.
Check What Your Competitors Are Doing
There is a saying that smart people learn from their mistakes and the wise ones from the mistakes of others.
Tracking the strategies of your local competitors is an effective way to evaluate their strengths and weaknesses and consequently improve your own marketing plan.
You can gain competitive intelligence by using SE Ranking's SEO/PPC Research tool that helps you identify the most important players in your local market and shows you how they drive organic and acquired traffic.
This tool will also display what your competitors' Google ads look like, which keywords they are using, and what kind of rankings their organic efforts are producing.

You can also see the history of their ads, review their flops, and avoid making the same business mistakes yourselves.
Research Semantic Core Keywords for Local SEO
Keyword research is the foundation of any SEO campaign. Focusing on the right keywords can potentially bring lots of targeted and quality traffic to your site.
It is important to use keywords with geo-modifiers (locations, cities, place names, etc.) if you want to rank well in local search.
SE Ranking's Keyword Suggestion tool picks a variety of combinations based on your primary example.
Let's say you own a custom furniture shop in Chicago. A general keyword phrase can be "custom furniture maker" or "furniture shop."
To make your keyword locally oriented, you can add Chicago to your keyphrase like "Chicago furniture makers" or "custom furniture shop in Chicago".
Within the Keyword Suggestion tool, you can also use "Search Engine Suggestions" that will show you different combinations of exact search queries.
It's a neat option that you should try out.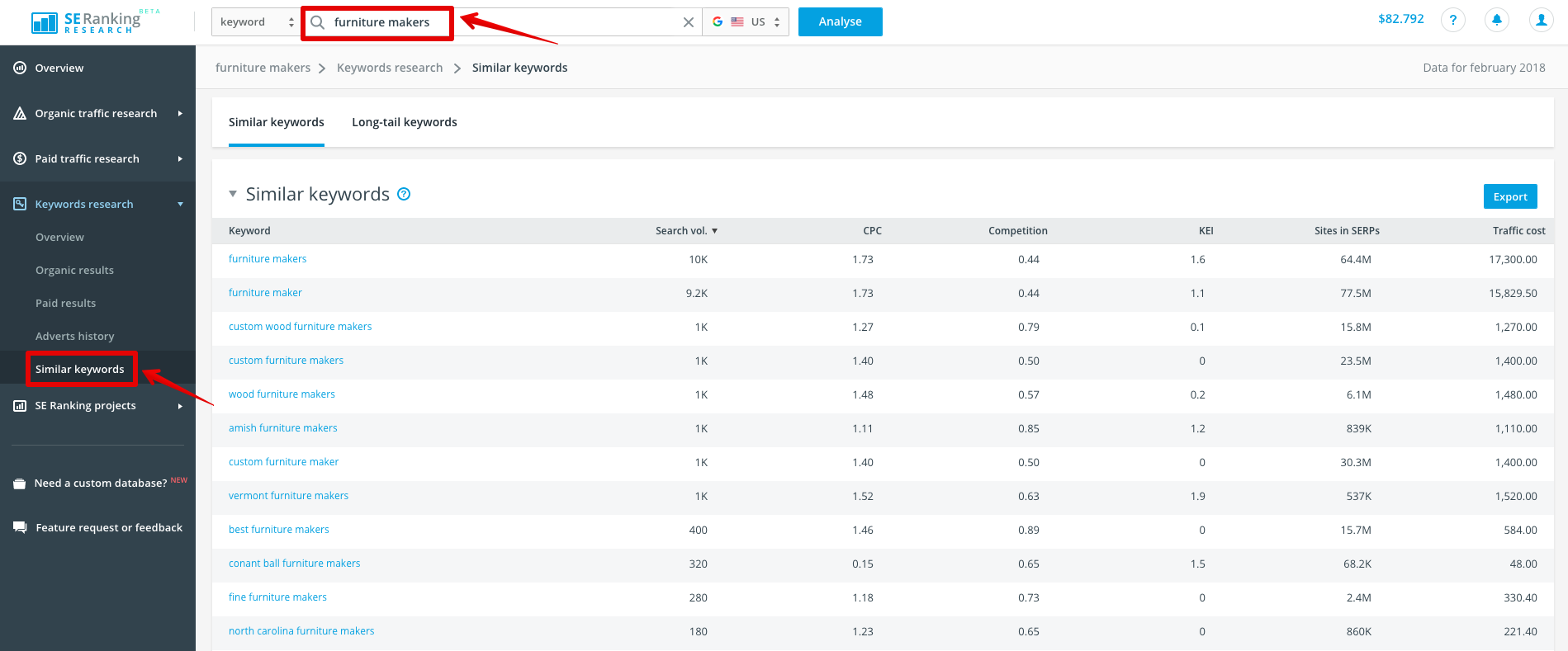 SE Ranking generates a list of keywords or phrases together with their monthly search volume, KEI, suggestion bid, and rankings.
It also analyzes the Top 10 results and groups thousands of keywords into several clusters.
You can also build a report and filter keywords based on parameters (such as competition, KEI, search volume, CPC, etc.) and analyze the data using clear and concise format.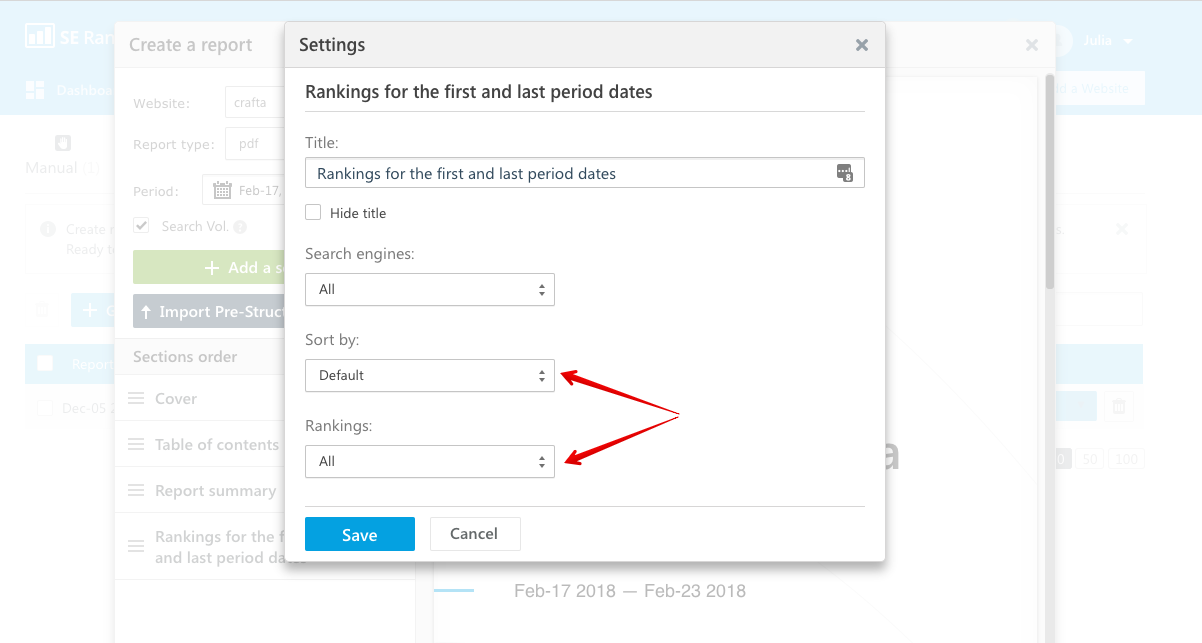 Analyze How Well a Certain Page Is Optimized for a Local Query
If you are running a business that focuses on serving a specific community, you might benefit greatly from optimizing a particular webpage for a certain search query.
For example, if you are a lawyer in Los Angeles and you want to push your business law specialization, you would want to optimize your "business law" page so it pops up in SERPs in top positions for your location.
In order to do so, you need to run an on-page SEO audit, which will uncover all the issues you need to address to achieve your goals.
Along with defining how well this page is optimized for the desired query, the SE Ranking will scan the content for uniqueness and reveal all technical errors.
The audit checks for all of the major SEO elements, including:
Titles and meta descriptions.
Outbound and internal links.
Page optimization for desktop and mobile devices.
Load speed.
Webpage usability.
It also provides a comprehensive report of what's wrong and how to fix it.

The audit takes a few minutes to conduct and produces action items you can work on.
Create Localized Campaigns and Strategies
Data from various research tasks and analyses can help you start building your own campaigns and strategies.
Be creative and precise especially if you are investing money into AdWords or other paid customer acquisition channels. These can be expensive and it would be hard to recover if you make optimization mistakes.
Make sure that you are using the variations that you've discovered using the keyword suggestion tool.
If you've discovered high-performing competitor ads – you can apply the tactics they used to your own ad strategy.
Create campaigns using keywords with local intent to acquire quality traffic and keep the positions you've already gained.
Execute your local SEO strategy with precision and you will achieve greater results.
Optimize your website for local search using SE Ranking tools. Trial is completely free! Signing up is quick and easy – NO credit card required.
---
Image Credits
Featured Image: Image by SE Ranking. Used with permission.
In-Post Photos: Image by SE Ranking. Used with permission.