Group buying and daily deals have increased exponentially in the past year or two- and they will only grow larger. The benefits on both side of group buying a daily deals are what have made this become to wildly popular.
Fair warning: this article is geared more towards those who may not know much about group buying but I think there's a little something for everyone in here.
On one end, you have the general group buying sites (such as Groupon or LivingSocial) that negotiate with businesses (both big and small) to work out a price for a certain amount of items. On the other end, we also have the trend of niche group buying and daily deals sites (sites such as Bookperk or Groupenture) that offer discounts and deals for a highly targeted group of individuals.
Once the deals are negotiated with the participating businesses and established, said site can offer these deals in a 24 hour window (or weekly window, in some cases) to the public with super low prices; 50% off or more sometimes. Often times, a tipping point is employed to assure that there's enough people interested in the deal for all three parties to benefit.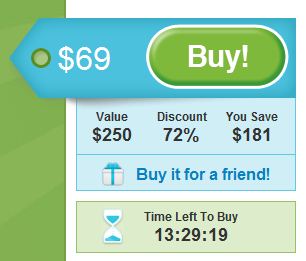 The group buying sites offer:
Ability to receive email alerts on deals each day
Ability to have geo-targeted deals sent to you (most buying sites offer the ability to drill down by zip code and also include nearby deals as well)
Ability to view the discount percentage being offered
Ability to buy deals for friends
Ability to share deals on social networks (Twitter, Facebook, etc)
You'll also notice that as you're searching, these sites also get indexed and rank fairly high, if using geo-targeted searches.
This could be useful, depending on the length of the deals. If it's a daily deal that's running for 24 hours, it's probably pointless to point out that they're being indexed as they'll likely be indexed before consumers can really search and take advantage of it.
The "Group Buying Effect"
There's a lot that can be said about group influence/dynamics and social psychology with social media and group buying. We know that social media drives brand exploration and users are also more likely to make a purchase online based on something shared or purchased by either an influencer or someone who is a part of their regular social community.
The power that group buying holds is that not only are stellar deals offered, but the exploration and interest in the items offered are multiplied due to the fact that they are shareable. Think about it:
You're hanging out on Twitter or Facebook and a close friend of yours shares a deal that they found on Groupon. You click it; not because you're super interested in what's being offered, but because your friend has shared it. Once you start checking it out, you notice that the discount is for 60% off, and valid for the day only.
Suddenly- this deal looks good to you and you decide to purchase it. Not because you REALLY wanted it, but because you were exposed to it through someone you trust in the social community, and found value in the discount.
That, and there's a time limit on it. You start thinking, "Oh snap! I better snatch this deal up quickly because I won't have the chance to tomorrow."
Businesses and group buying sites are playing on:
Urgency- Giving the buyers a sense of urgency due to time restraints
Exclusivity- Offering the buyers a sense of exclusivity with limited quantities
Social Sharing- The likeliness that users will share with others in their network and influence them
When a business participates in a group buying effort, they're gaining so much by tapping into the social aspect of these sites. They're essentially reaching a whole new audience thanks to the interconnectedness of the web and the reach that the consumers of group buying sites lend.
Why Niche Sites Will Succeed
Niche sites automatically have a one up on general group buying sites like Groupon and LivingSocial. This is because people are automatically drawn to those things that interest them.
Bookperk, for example, will draw a whole slew of users who are looking to get a book and and something extra- whether that be a movie ticket, a goodie bag…. anything that's being offered and relevant to the book that the promotion is running with.
For those who travel, sites like Groupenture will attract consumers quickly. Consumers won't have to wait for a travel related deal, relevant to them, like they would on a site as large as Groupon. Every deal on Groupenture will potentially be valuable to them if they travel often or are looking for deals.
Ultimately, businesses will likely find benefit in experimenting with group buying sites once they establish some benchmarks with their sales history- I think there's something to be said for trying it out and seeing if your sales are increasing and if its beneficial for your business as a whole.
Do you see a future in group buying? Do you see more niche sites popping up, or more general sites? Are there long term benefits to these sites, or could it just be a trend that will shift or die down?
Note: I've been following some conversations in Namesake and noticing that many others are talking about the irrelevance of larger sites like GO and LS and it's started me thinking about whether sites like Groupon or LivingSocial need to become more targeted or segment themselves out in order to survive. There's some excellent conversation happening on there and it could definitely call for a follow up post.