The AdMax SEO Toolbar is a new-launched tool that consolidates the best SEO tools into a single browser plugin. This is also the first FireFox addon that addressed mobile SEO as well (it features mobile keyword rankings and mobile link building tools).
Let's take a detailed look at the toolbar features and options:
To start off, download and install the toolbar from here. After restarting FireFox you should see the toolbar there:

Page Speed at a Glance
The first most prominent section of the toolbar is the one showing you the page speed:
Load time,
Page size,
Number of requests
Clicking on the section reveals the details: which exactly files were loaded and the size of each: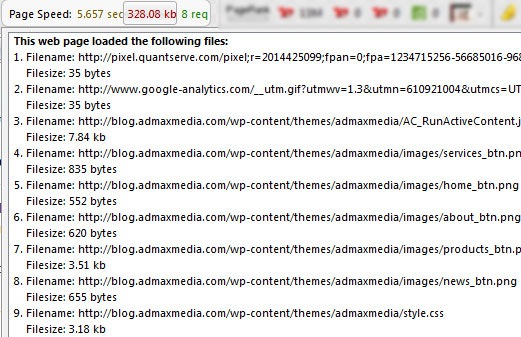 Current Page External Metrics
The next toolbar section lists SEO's favorite numbers, namely:
Page Google Toolbar PageRank;
Yahoo! SiteExplorer "Links to domain" number;
Yahoo! SiteExplorer "Links to page" number;
Yahoo! SiteExplorer "Indexed Pages" number;
The number of Dmoz listings;
Domain age;

Clicking any metric will take you to the actual result page which, by default, opens in a new tab.
Toolbar "Actions" Section
The toolbar also allows to perform some actions that could speed up your working process:
Never care to look for the comment field: use easyComment button (create multiple profiles to let the tool pre-fill your name, email and URL);
Highlight on-page nofollow attribute;
View page source;
Get the page info;
Check your keyword position in Google (using a built-in tool)
Quickly perform a keyword research (in Google Adwords and Google Search-based tools)
Access the "link building tool"
The latter deserves a more detailed explanation:
Link Building Tool
The built-in link building tool consists of three sections:
Backlink Builder: this tool takes advantage of Google's link building queries, which combined with your base term, allow to search for various link building opportunities;
Blog Commenting: this section offers access to "dofollow" blog database;
Directory submission: search for relevant directories here.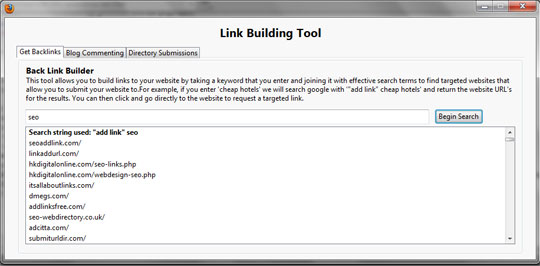 The tool has been just released and is still in beta but it looks like a very useful utility, what do you think?