The big day is just a few days away! Below we have some recipes from some geeks and nerds in our industry. These folks actually know how to cook so you can trust their recipes and recommendations.
Ingredients – Crumb Crust:
1 1/2 cups of all-purpose flour
1 cup of almond meal (I used almond slices and crushed them with a mortar and pestle…)
1/2 cup of sugar
pinch of salt
1 1/2 sticks of butter
Ingredients – Apple Pie Filling:
5 Granny Smith apples, cut into small chunks (about 1/2 inch thick and wide)
1 tbsp of fresh lemon juice
1/4 cup of granulated sugar (add a little extra if you like it sweet!)
1/2 tsp of ground cinnamon
pinch of ground nutmeg
pinch of salt
1 tbsp of butter
1/4 cup of caramel pieces
For directions and step-by-step pictures visit Sonja's blog for Apple Caramel Crumb Pie.
Sweet Potato Gnocchi with Sage Butter by Jennifer Evans Cario
2 lbs sweet potatoes
12 oz fresh ricotta cheese
1 c grated Parmesan or Romano cheese
2 T packed brown sugar
2 T + 2T salt
1/2 t freshly ground nutmeg
2 3/4 c all purpose flour
1 c unsalted butter
6 T chopped fresh sage (or 2 t. dried sage)
For directions and step-by-step pictures visit Jennifer's blog A Flexible Life.
Authoritative Agile Inbound Marketer's Guide To Pecan Pie
by Scott Cowley
Ingredients
1 Pastry for Single-Crust Pie
3 eggs, slightly beaten
3/4cup corn syrup
2/3cup sugar
1/3 cup butter, melted
1 teaspoon vanilla
1 1/3 cups pecan halves
Directions
Preheat oven to 350 degrees F. Prepare and roll out pastry for pie. Line a 9-inch pie plate with the pastry. Trim; crimp edge as desired.
For filling, combine eggs, corn syrup, sugar, butter, and vanilla. Mix well. Stir in pecan halves.
Place the pastry-lined pie plate on the oven rack. Carefully pour the filling into the pastry shell (don't overfill if pie tin is too shallow).

Cover edge of the pie with foil. Bake for 25 minutes. Remove foil. Bake for 20 to 25 minutes more or until a knife inserted near the center comes out clean. Cool on a wire rack. Cover and refrigerate within 2 hours.
If pie fails, search for the closest Marie Callendar's.
Ingredients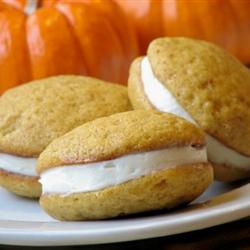 2 cups packed brown sugar
1 cup vegetable oil
1 1/2 cups solid pack pumpkin puree
2 eggs
3 cups all-purpose flour
1 teaspoon salt
1 teaspoon baking powder
1 teaspoon baking soda
1 teaspoon vanilla extract
1 1/2 tablespoons ground cinnamon
1/2 tablespoon ground ginger
1/2 tablespoon ground cloves
1 egg white
2 tablespoons milk
1 teaspoon vanilla extract
2 cups confectioners' sugar
3/4 cup shortening
Directions:
Preheat oven to 350 degrees F (175 degrees C). Lightly grease baking sheets.
Combine the oil and brown sugar. Mix in the pumpkin and eggs, beating well. Add the flour, salt, baking powder, baking soda, 1 teaspoon vanilla, cinnamon, ginger and cloves. Mix well.
Drop dough by heaping teaspoons onto the prepared baking sheets. Bake at 350 degrees F (175 degrees C) for 10 to 12 minutes. Let cookies cool then make sandwiches from two cookies filled with Whoopie Pie Filling.
To Make Whoopie Pie Filling: Beat egg white and mix with the milk, 1 teaspoon vanilla and 1 cup of the confectioners' sugar. Mix well then beat in the shortening and the remaining cup of confectioners' sugar. Beat until light and fluffy.
This is a salad I make over and over and everyone loves it, probably because it kind of tastes like dessert.
Ingredients
Greens (the 50/50 spring mix/spinach mixes work well)
A nice crisp apple chopped up or thinly sliced
Dried cherries
Toasted pecans or walnuts (candied nuts work great too if you have them).
The key is the dressing – sounds crazy but trust me: Whisk together ¼ cup (real!) maple syrup with ¼ cup mayonnaise until smooth. Then whisk in 3 tablespoons of champagne vinegar or white balsamic, then ½ of olive oil plus salt and pepper to taste. This is adapted from a recipe I found in Bon Appetit years ago. If you want to make it more savory you can add sliced shallots and/or crumbles of goat or blue cheese.
Recipe courtesy Rachael Ray
Ingredients
3 medium sweet potatoes, peeled and cut into chunks
3 tablespoons butter, cut into small pieces
1/2 cup chopped pecans, a couple of handfuls
3 tablespoons brown sugar
2 ounces bourbon
1/2 cup orange juice
1/4 to 1/2 teaspoon freshly grated nutmeg
Salt and pepper
Directions
Bring a medium pot of water to a boil. Add sweet potatoes and cook 12 to 15 minutes until very tender. Drain sweet potatoes in a colander. Return pan to medium heat. Add butter to the pan. When butter melts, add nuts and toast for 2 minutes. Add sugar and let it bubble. Add bourbon and cook out alcohol, 1 minute. Add orange juice and the cooked sweet potatoes. Smash with a masher and season the sweet potatoes with nutmeg, salt and pepper.
This is the Cranberry Sauce I found to make for our very first Thanksgiving in Florida. It was an instant hit and a must have ever since. Enjoy!
Cranberry Sauce
Recipe courtesy Norma Jean Harden; Spoonbread Catering
Prep Time:10 min Inactive Prep Time:1 min, Cook Time:15 min
Serves – Approximately 2 pints
Ingredients
1 pound (4 cups) fresh cranberries
1 1/2 cups sugar
1 cup water
1 whole orange, unpeeled, seeds removed, and chopped fine
1/4 teaspoon ground cloves
1/2 cup crushed pineapple, drained
1/2 cup chopped walnuts
Sprinkle ground cinnamon
Directions
Wash cranberries and set aside.
Bring sugar and water to a boil. Add cranberries, oranges, and cloves. Simmer over a high flame, stirring frequently, until berries pop open. Add crushed pineapple, walnuts, and cinnamon, and blend. Cool and serve.
It has finally felt like fall around here and the kids are getting in a baking mood. So, I had to share this treat with you.
I have to thank Dave Miller for this next one. Watch out, man in the kitchen, and he knows what he's doing. This is by far the best pumpkin bread I've ever had. It has chocolate chips in it. YUMMY!!!!!! I plan on making this one for Thanksgiving breakfast.
Pumpkin Bread
Ingredients
3 cups white sugar
1 (15 ounce) can pumpkin puree
1 cup vegetable oil
2/3 cup water
4 eggs
3 1/2 cups all-purpose flour
1 tablespoon ground cinnamon
1 tablespoon ground nutmeg
2 teaspoons baking soda
1 1/2 teaspoons salt
cup miniature semisweet chocolate chips
Directions
1. Preheat oven to 350 degrees F (175 degrees C). Grease and flour three 1 pound size coffee cans, or three 9×5 inch loaf pans.
2. In a large bowl, combine sugar, pumpkin, oil, water, and eggs. Beat until smooth. Blend in flour, cinnamon, nutmeg, baking soda, and salt. Fold in chocolate chips and nuts. Fill cans 1/2 to 3/4 full.
3. Bake for 1 hour, or until an inserted knife comes out clean. Cool on wire racks before removing from cans or pans