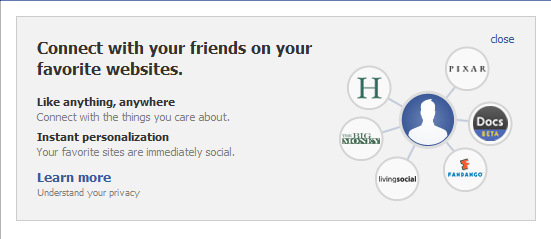 In San Francisco today, a great even called "F8" took place. Facebook CEO Mark Zuckerburg announced a few new key features that will help improve our social experience internally to Facebook as well as externally to the web. You know, I always joke about how Facebook is going to take over the world. Little did I know that my prediction may be true. So, to recap a little for you:
New Social Plugins
Social bar plugin: something that can be added, which includes Facebook chat, the "like" button, as well as a list of friends who "like" the same site you do.
Recommendation plugin: This uses an algorithm which will pretty much analyze all your favorite things, as well as the interests of your friends, to recommend things that you might "like".
Activity stream plugin: this filters out all the rest of the stuff in your newsfeed to only show you your "liked" website's updates. I like this, because normally I have to sift through all my friend's updates to find something a fanpage or whatever posted for me to see.
Facebook login plugin: They plan on doing away with Facebook Connect (which was an awesome idea in the first place) and making the Facebook login plugin essentially the same thing, however, you'll also be able to see pictures showing what friends of yours have joined the site.
The "like" button: Running in an iFrame with no login required, this is probably the simplest of all the plugins. The beautiful thing about the "like" feature on websites is that it doesn't need to know anything about you to congregate a list of friends that have recently liked or engaged the website. It will also automatically add this into your Facebook profile.
Now, those goodies are pretty much for the general public. The following things have also been added that are a little more complex.
Open Graph Protocols
This has been a tricky subject to grasp for me, but here it goes. Websites will now have semantic markup, and Facebook will now be able to reads tags from external websites, to see, categorize and understand what kind of things you're liking. There are 30 partner sites that are going to be involved with this, so you'll have no shortage of websites to play on. It's going to be fluid, so if you have something liked in your profile from the CNN website, you can hover over the link and it will give you information. Inside Facebook gave the example of "like"ing Toby Gerhardt on the ESPN website and being able to receive updates strictly about him in your Facebook activity stream. He will also show up in your profile, and when you hover over him it will probably say "ESPN" etc. It's all integrated. Instead of just connecting links to static pages, they want to connect people, interests and encourage social-ness in the web. This is what I've gathered from reading about open graph protocols, but until it's actually physically usable, there could be more involved that I'm not understanding right away.
"We think connections between people and things they care about will define internet experiences. Our goal is to accelerate."
Graph API
Every object in Facebook is going to have a unique ID. Developers can then download this object from graph.facebook.com/userid. To see your friends for instance, you can go to /yourusername/friends/.You will no longer need SDK and tons and tons of documentation. Breathe a sigh of relief, developers!
Because it's in real-time, you can also use web hooks that will allow you to ping whenever users update their walls as well as register call backs.
So… in closing
Sites like Microsoft Docs, Pandora etc will be using all of these features. Once they are fully done and I get my hands in to it, I will probably be able to write a better article. Until then, this was just a glimpse of what was said today at the conference 🙂
Also, from an SEO perspective… when things are getting moved into real-time search and sites are now connected in these ways… are "likes" going to be something that will be incorporated in SEO and social media marketing in the near future? Since the industry is always moving and changing, should this be something we should be aware of now, and possibly looking to implement? Sorry- crazy brain thinking ahead to the future. I'll slow my roll here just a little.
Part of me thinks this is amazing, and part of me thinks that it's scary. I absolutely love the innovation, but there's always the concern for privacy and what it means when we're so used to getting information tailored to our liking. If you think about it this way, once the algorithms start picking up your interests, and start influencing your web results and whatever else it will eventually come to, it's almost as if you're living in a sheltered world. You're going to get so used to having information given to you, that you may be blind to whatever other information out there that doesn't fit into your "likes". What do you guys think?