Soovle is a customizable engine that unites the suggestion services from all the major providers in one place: Google, Bing, Amazon, Answers.com, Yahoo, Wikipedia, Youtube. I found the tool to be a major help for search and content creation inspiration.
Various ways to play with it:
Type a search term and press enter (or click "Soovle").
Look through the suggestions and click any of them;
You will see the results quickly updated based on the new phrase you just clicked.
You can repeat steps 1-3 as many times as you want!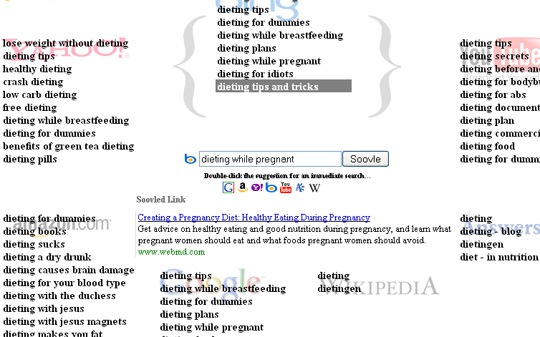 Some other tricks you need to know:
1. Soovled Link is the first search result that is likely to be returned if you execute the search. It is fun to use for associations (Based on the currently active search engine. The currently active search engine is the one between brackets (see the screenshot above));
2. You can move the engines around by use the right arrow key or click on the icon, found below the search box, of the desired engine.
3. Double click a suggestion to perform the search on the engine it came from OR drag a suggestion onto the small icon (below the search box) of an engine you'd like to execute the search (warning: search results will open in the same window, so your play may be interrupted).
Use Saved Suggestions:
"Saved Suggestions" stands for a not-so-obvious option that allows to save phrases while you play.
Use the mouse to drag any suggestion onto the book image at the upper left of the screen. You can use your saved suggestions in a number of ways:
To search again in the future. To do so, click on the saved suggestion (this fills the search box), and press enter.
To print your saved suggestions as a list. To do this click the printer icon below the list of terms. Or you can save them to a file for manipulation by a desktop application. To do this click on the icon with the downward-arrow on it – this icon is at the left of the graph
To research the saved suggestions using Google trends: click on the graph icon to try this out (the search will open in a new tab). Multiple phrases will be separated by commas and thus compared at Google trends.
See: the following: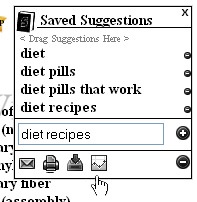 Will start this search: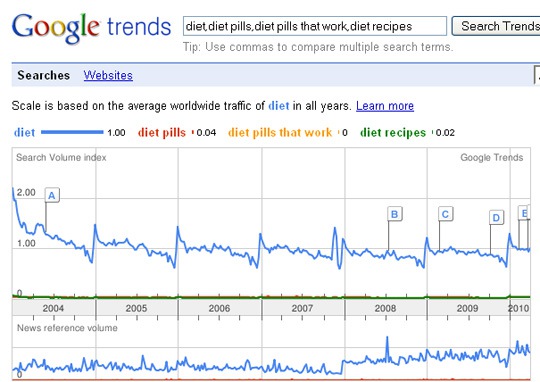 Check the top internet keywords…
This list is the most used search suggestions provided by the major service providers and is organized by each letter of the alphabet.
You can see them by clicking TOP icon in the top right corner of your screen.
The top list is compiled nightly by querying each of the completion services of the major providers. Each provider's result is treated as a vote. The votes are tallied and the terms are ordered, within a letter-set, by the number of votes that query received.