Sony PSP Commercials Feature Google Search
Sony PSP commercials in Japan are featuring the ability to search Google using the PSP as Sony's Portable Playstation moves beyond mobile gaming and movies and into web browsing and search. The commercial was aired this evening on Japanese television and I was quite pleased (and also driven to go buy a Sony PSP) after seeing a 2-3 second shot of Google's homepage being featured on the Sony handheld gaming and web browsing device. The popularity of the Google brand is an excellent marketing gimmick and definition of Internet capabilities, although Google is not the most popular web destination in Japan.

As of today there is no info available about Google working with Sony PSP to become the default search engine for its users, however ThreadWatch's NickW pointed to a RussellBeattie post which rumors about the possibility of a search deal causing the delay in PSP 2.0 web browser updates in the US. From Russell "I wonder if there's a Search Engine out there (Y!, G, AOL, LookSmart? Probably not MSN…) that saw the upcoming release and called Sony and made a deal to get pre-installed on the PSPs. Now for the past week, they've been doing work to index PSP-friendly websites? Maybe this is the reason for the unexplained delay. The update is already out in Japan and works perfectly on my PSP – there doesn't seem to be a technical reason for the wait."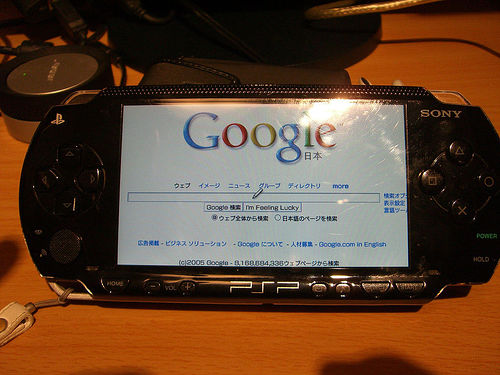 The Sony-Google partnership, if it exists, would make sense because Yahoo, the other realistic partner material, is a direct competitor of Sony in the music download market. Plus, Google is behind Yahoo Japan in terms of popularity. If Google is looking to secure Japanese users into its new network of search and communications oriented technology, Sony is the obvious company to partner with. I reckon we'll all have to wait for an official announcement, but mark my words, Japanese Sony PSP TV commercials market Google's homepage when advertising the PSP's web browsing feature. I haven't found the exact commercial online yet, but here is a collection of Japan Sony PSP TV commercials.
CNet looks at the new Sony PSP 2.0 Browser which can be downloaded to the PSP via the Sony PSP America website (which is down right now) : "The PSP's Web browser can be used to access Web-based e-mail accounts, as well as other Web sites, on the color TFT LCD display, Sony said. The official system Web site has been designed and created for the PSP Web browser. The site hosts information about PSP games, UMD movies and downloadable content such as games and movie trailers."