Throughout past week I came across several people having trouble with .htaccess files. Really, that tech stuff is sometimes frustrating. We have also discussed the 301 redirect and .htaccess file on DailySEOtip last week and found that many people might be using it incorrectly even though it appeared to work (please refer to the comments).
I am not that tech savvy myself – actually I am self-taught, so most probably there are better ways to do things than what and how I am doing. So I am not going to share my own tips here but rather share my list of helpful resources I refer to when I need some basic edits to my .htaccess file really quickly.
.htaccess Generator
.htaccess Editor – I had been seeing many generators but last week stumbled across this one through Lifehacker post and really liked it. It is very well organized and available in a number of languages.
The step-by-step approach is what I liked most about it. You can click through the tasks and add details and the file will be generated below. Here is an example of setting up 301 redirect: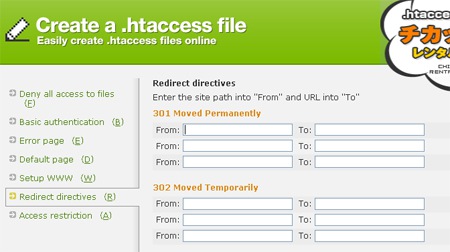 .htaccess Beginners' Guides