Influencers, news aggregators, industry authorities, and brands are all striving to be social media power users.
But knowing how to share today's most topical and relevant web content with your own audience can seem like a laborious endeavor.
Here's how you can efficiently collect, modify, and repost the best content the web has to offer – and keep your audience engaged with your brand.
Identify Your Sources
Premium Sources
Think of premium sources as publications, companies, and news sources.
You'll want to spend the most time with this list, making sure it's big enough to create variety.
Not sure where to start? Tools like Buzzsumo offer a nice spread of published content and social engagement based on a simple keyword query.
Try not to rely too heavily on only a few premium publications, news sources, and companies that provide relevant content for your audience.
Think about having big buckets in which you can pick and choose curated content to share.
For example, if space exploration is your thing, NASA's twitter account would be an obvious choice, but don't forget to include accounts like Forbes Science and Tech column, which provides a steady stream of newsworthy content related to space travel.
To refine your bucket, use public Twitter lists to find active accounts related to the high-level sources you've already identified. Cut out the work that someone else has probably already done for you.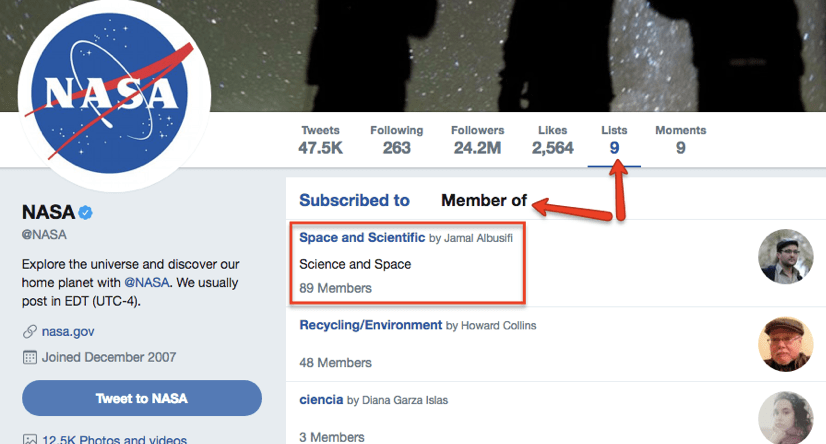 Niche Sources
Think of niche sources as influencers and people.
In the previous example, the NASA account is subscribed to several Twitter lists of astronauts, engineers, and scientists, including a very aptly named list labeled "astronauts in space now".
Also, dig deeper into your news sources. Instead of just retweeting posts from Forbes Science News, use Twitter lists to identify writers and journalists that write about topics that are particularly interesting or relevant.
You'll often find that following the individual contributor will provide more meaningful content to share, and may even open up an opportunity to publicly engage with a real person relevant to you and your audience.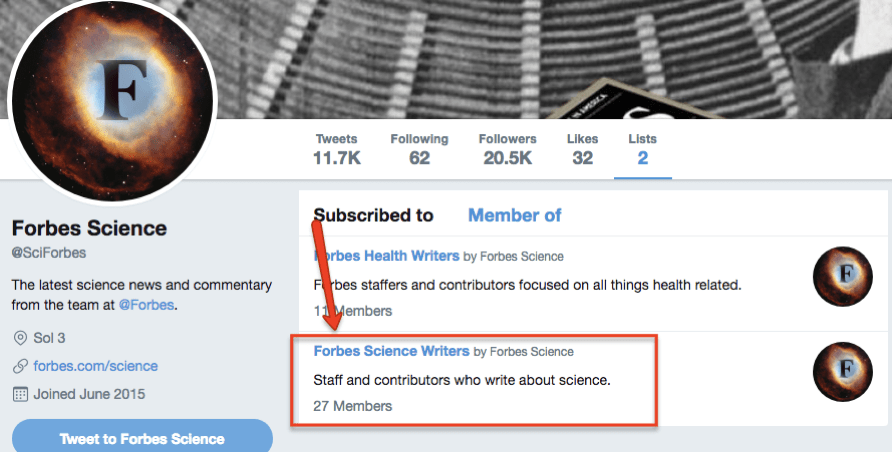 Stage & Post
Now that you've identified your amazing list of contributing content sources, you'll want to collect and stage your aggregated content in one place.
If you're only using one social platform (e.g., Twitter or Facebook), then you can use Zapier to create an RSS feed of your sources and then hand pick the content you wish to post.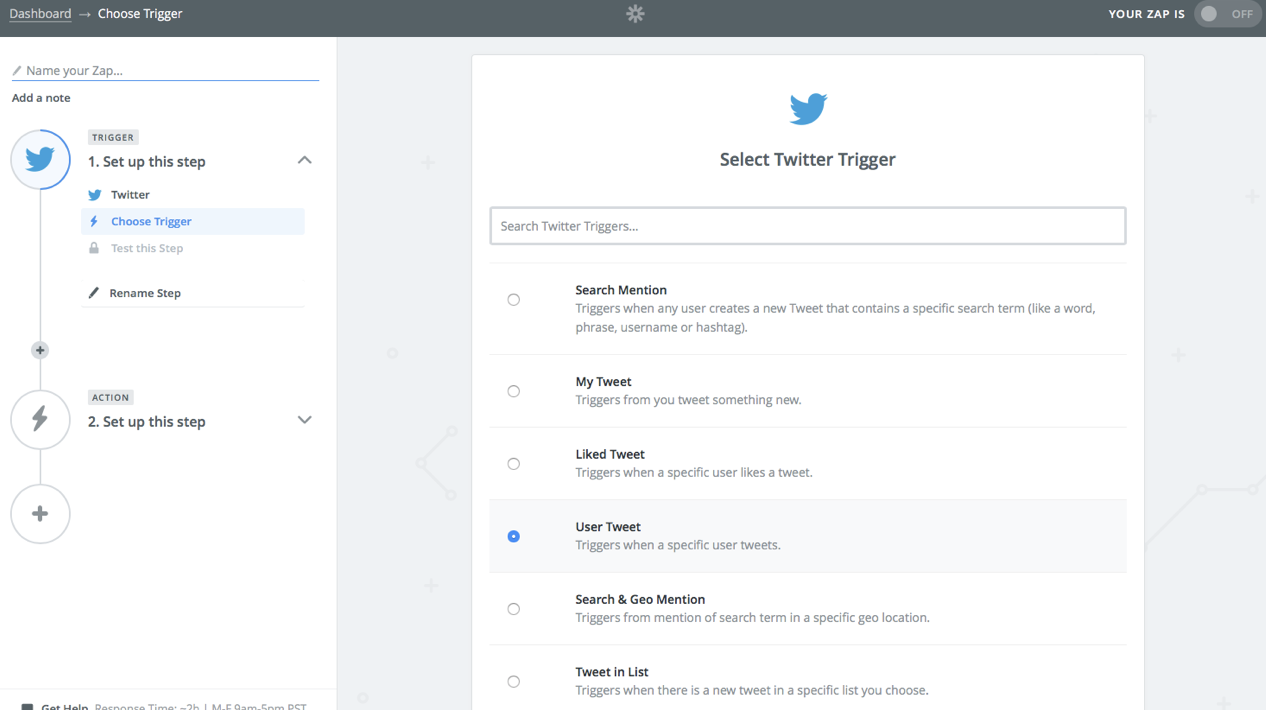 If you have multiple accounts to manage and you are short on time, consider an all-in-one tool like nTuitive.social that will aggregate, schedule, and post content in one environment.
Using nTuitive, you can scrape multiple accounts including RSS feeds, Twitter, Facebook, Google+, Instagram, or Pinterest into specific content groups.
Once staged, simply select the content you want to share, appropriately modify the post, and schedule it to be posted to one of your linked profiles automatically.
Using our previous example of NASA's Twitter account, I've aggregated all of NASA's relevant tweets below, deleted the unwanted ones, modified the posts, and scheduled each one over the next few weeks.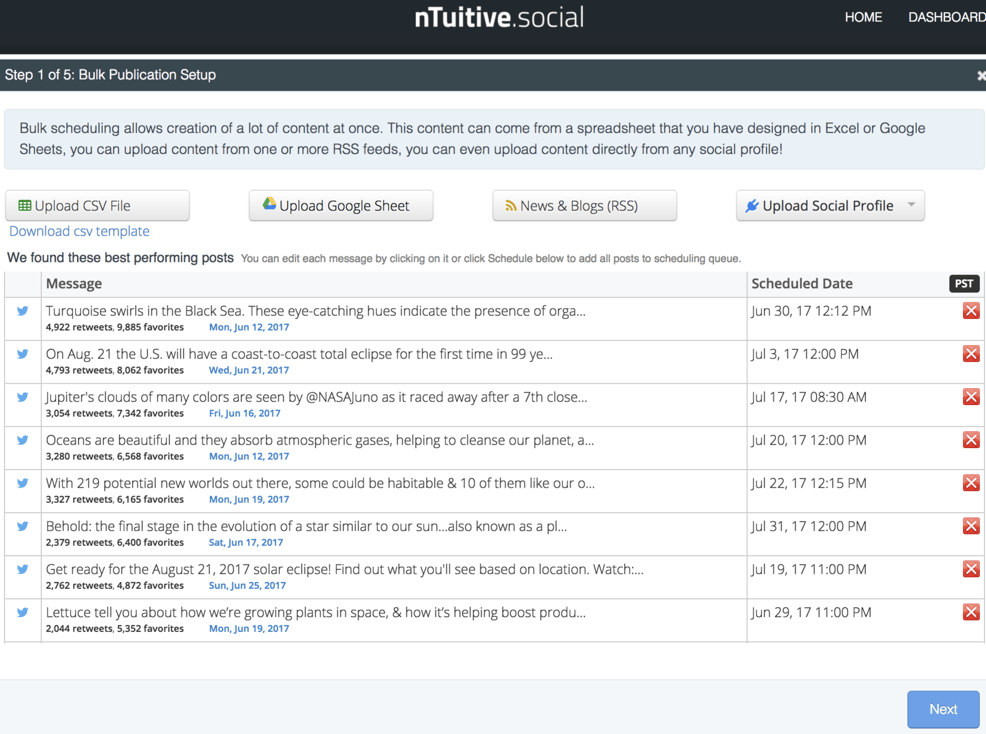 Once your scheduled content has posted, filter and track the performance by each content group to see exactly which of your sources is producing the best engagement with your audience.
By tracking the performance of each content group, you'll create an opportunity to better refine your list of sources over time.
Always look for new and exciting content sources, while also trimming away the sources that don't seem to provide any value to your audience.
Best Practices
This method of aggregating and posting content remains a shared collection of posts produced by other people. We're using for our own benefit with our individual audience.
Social platforms were built for sharing. So be sure to abide by a few practical rules to keep your output of content above board.
Qualify the Content
Once you discover how to source, stage, and automate the content of others, you may find yourself paying less attention to the content you share for the sake of volume.
Engagement is important, but always look for quality over quantity.
Put some thought into your audience, and stick to a meaningful strategy to cut out the noise.
Give Credit
When you take an existing post and share it with your audience, give credit where credit is due. This can often be done by simply tagging the handle or hashtag associated with the original author, account, or source. If you're using hashtags, use the same tag for each source. This will help you track performance of content later on. For example, if I were to tag all of my NASA tweets with #NASAmazing, I can track performance, reach, and engagement of this particular group of posts. It also gives me a creative opportunity to properly credit the original post.
Appropriate Post Modifications
Never alter the content of an original post to change its meaning or value. Always maintain the integrity of the original content.
When adding your own commentary, make sure there is a distinction between the original content and your own input.
Summary
When done right, there is tremendous value in content syndication on social platforms.
Depending on your brand and your goals, there should be a consistent and appropriate split between posting original content versus the content others have already created. If you fail to provide enough original content, the value and recognition of your brand will inevitably become very thin.
Think of content syndication as a way to fill in the gaps and keep your audience engaged with topics you find important. With helpful tools like Buzzsumo, nTuitive.social, Twitter lists, and RSS feeds, you can turn this endeavor into an automated 10-minute task on your monthly to-do list.
Image Credits
All screenshots taken by Cynthia Johnson June 2017.