Although text message marketing isn't my specialty, I've been hearing some impressive results. I had an opportunity to interview with Justin Rockwell of OIR Interactive and Text-Board.com, so I thought I'd get the low down on what kind of results you can get, how to get those results, and how you can combine social media distribution with text messaging as a conversion point.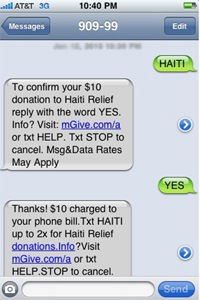 Justin Rockwell: My favorite success with SMS was the Red Cross text-to-donate campaign after the earthquake in Haiti… Because it was so easy to share and distribute the call-to-action, the campaign took off virally across Twitter and Facebook. The Red Cross raised $7 million in less than one week strictly through text messages.
Brian Carter: What's the big opportunity in text message marketing for regular businesses?
Justin Rockwell: Almost 100 billion text messages are sent each month in the United States, and text messaging is the only marketing vehicle to allow individuals and businesses to communicate with one another in a personal and extremely efficient manner. When a consumer joins a texting campaign, he or she is showing an interest in that product or brand and is eager for more information. The opportunity for the business to convert that customer into a sale is huge. Text message advertising, with a 97% average open rate and a powerful 17% average conversion rate, enables a business to drive traffic into its location instantly for an extremely high return on the investment.
Consumer participation in campaigns that advertise an SMS opt-in as the main call-to-action is very high; some campaigns see participation rates as high as 35%, far outperforming campaigns whose call-to-action asks respondents to visit a website or call a number for more information. Businesses can run multiple SMS campaigns simultaneously and then determine from the opt-in rates which particular advertisement or venue garnered the most respondents.
Brian Carter: What businesses benefit the most from it? And are there places that shouldn't invest in it?
Justin Rockwell: There is no golden rule for who will benefit the most from SMS marketing, but what we're seeing is that businesses with relatively inexpensive products, businesses with frequently visited locations, and businesses catering to the 25 and younger crowd have instant success with text campaigns. Businesses that have an established and steadily recurring clientele also do very well.
Text message offers allow consumers to be compulsive in their decision making. Consequently, a business will have an easier time driving someone instantly to its establishment if the purchase is something the consumer can make on a whim.
This doesn't mean that expensive retailers shouldn't include text message marketing within their campaigns; it just means that their expectations on how a campaign will perform should be adjusted. Car dealerships, realtors and fine jewelers might have lower opt-in rates, but they need to consider the quality of those subscribers that do join. These subscribers are "serious buyers," and they are highly likely to make their expensive purchase within a short time frame.
Even businesses whose clients don't fit the model demographic can run highly successful text campaigns. One of our clients operates a seasonal business in a busy tourist area and caters to a 55-and-over demographic. They have had amazing success using billboards to advertise their SMS campaign, which recently resulted in a 16% conversion rate and a 500% ROI for messages sent during the summer season.
Brian Carter: Why did you want to get into facilitating this kind of marketing?
Justin Rockwell: Consumers have been demanding mobile content for a while but many marketers have been reluctant to take the plunge into full-service mobile marketing. This was an opportunity for me and my business to stay ahead of the trends and offer clients something new. This was the reason we built TextBoard. We needed a solid application that would meet our demands as marketers and show results to businesses running their campaigns.
Offering text message marketing services made the most sense because of how pervasive and inexpensive texting is for businesses and consumers. Whereas mobile websites and applications only work on "smart phones" or with people that have data plans, text messaging is supported on almost 100% of all devices and is low-cost or free for almost everyone.
Brian Carter: What's different about TextBoard?
Justin Rockwell: TextBoard is an SMS marketing application built by marketers for marketers. Creating built-in analytics to track campaign performance was the single most important criterion for our design. We needed to be able to track a subscriber through the entire life cycle of a campaign. And I feel we've done this extremely well with our patent-pending staggered delivery method, proprietary completion rate calculations, and subscriber level click tracking.
Brian Carter: Is text message marketing growing?
Justin Rockwell: The number of consumers who text is growing, and the number of businesses that send text messages is growing exponentially. According to Nielson, the average mobile user sends 350 text messages per month. This is a 200% increase from the year before. It's interesting to note that 1/3 of people who send text messages are participating in some kind of text marketing campaign, and this is expected to grow to 50% by 2012.
Some of the largest brands have already incorporated text marketing into their daily campaigns. These include Best Buy, Walmart, NFL, Pizza Hut and more. With the big guys using mobile, it paves an easy path for smaller brands to engage with their customers though text message as well.
Brian Carter: What are some examples of successes businesses have achieved with it?
Justin Rockwell: My favorite success with SMS was the Red Cross text-to-donate campaign that was run after the devastating earthquake in Haiti. People were encouraged to text the keyword HAITI to a short code to have a $10 donation added to their next cell phone bill. Because it was so easy to share and distribute the call-to-action, the campaign took off virally across Twitter and Facebook. The Red Cross raised $7 million in less than one week strictly through text messages.
Some other notables include Subway, who received an average 50% coupon redemption rate; the Chicago Blackhawks, who grew their mobile subscriber list to over 30,000 in just a few weeks; and McDonald's, who attracted 1.5 million participants when they added a text-to-win component to their monopoly game.
Brian Carter: How do you overcome the challenges of analytics and tracking with text message marketing?
Justin Rockwell: The technology has existed to track performance in SMS campaigns, it's just been scattered through so many levels that it's been difficult for marketers to consolidate everything into one place. TextBoard fixes this. We track subscriber growth, opt-outs, and clicks over time to get a sense of how campaigns are growing. The system lets you use multiple keywords under a single campaign to quickly measure the effectiveness of advertising mediums. TextBoard tracks which subscribers clicked a URL link within an SMS message and which didn't, allowing businesses to customize follow-ups for each person. Savvy marketers can even track those clicks all the way to a purchase.
But even if you're not using a robust system like TextBoard, there are simple ways to track how well your messages are working. Include a coupon code within your message and use it to keep track of which subscribers redeem the coupon. This will give you instant feedback on the overall conversion of a campaign-and it works well for both online and offline retailers.
Include a link to your mobile website to allow subscribers to browse products or obtain more information. Including Google analytics within your site's code allows you to quickly set up goals and identify those visitors who came to the site via text message link. I should note that the average click-through rate for a text message is roughly 19%. That number is almost 5 times better than the average email marketing campaigns. This large percentage indicates consumers are eager and able to view additional online content from their phones by clicking URLs within text messages.
Even something as simple as a vanity 800 number is a great way to track text message effectiveness. Using a service like CallFire, you can forward incoming calls from a text message to your business and later review how many incoming calls were made. You can even listen to recordings to see how many calls resulted in a sale or other goal.