Some of the biggest problems that SEOs face while optimizing their website are to understand where their gaps are, how to improve, how to track results, and this problem becomes more acute when a website keeps growing. And, there are very few tools which cover all aspects of website SEO like crawling, content, links, rankings, and traffic in one place. Solutions to this problem are often designed for enterprise-level business, and with steep pricing to go along.
SearchEnabler is one tool trying to bridge this gap by not only simplifying the SEO process for businesses, but also making it affordable. Though it lacks some of the more advanced features, such as keyword research, at $15 with offered features it is well worth the money for small business, startups & SEOs who want to get started in the game. It is also unique in that it is the first SEO software developed by an Indian company and has build its own data center from the ground up using FOSS. All these factors allows the company to pass on cost benefit to users.
Let's take a walk through the use of the tool, how it works, and how you can use it to improve results.
The Setup Process
First, let's talk about the sign up process and what you'll need:
– You can start by setting up a free account, and you may do this with your Facebook or Google account if you wish
– Afterward, you will need to verify your email address and start your configuration by entering you website address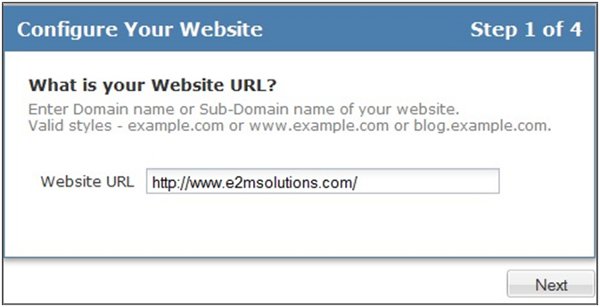 After that you will link the tool to Google Analytics, which is pretty much a necessity if you want to get the most out of it: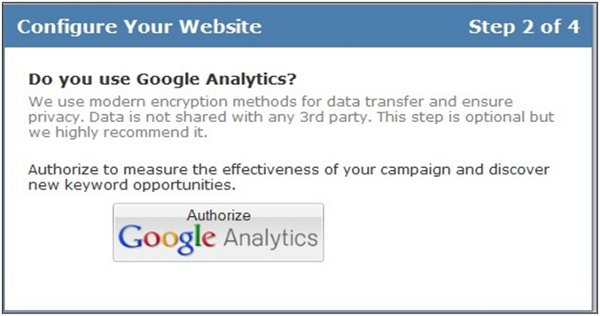 Then you will enter in your competitors or other sites you'd like to analyze for benchmarking, inspiration, etc: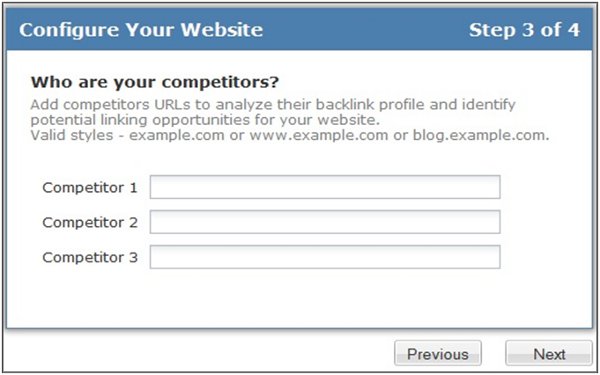 Finally, you'll need to enter in your geographical information for more local usefulness, along with your first set of keywords (50 countries are available for rank tracking. You can add more keywords from the rank tracking page later on.):
After you set up the account, the tool will begin crawling your sites in order to gain as much information as possible. Basic information like domain analysis, rank, links & home page crawl is available within a few minutes, but complete site analysis takes about two hours. It is well worth the wait.
Tool Features
After setup, you will have access to several features which are available in the sidebar on the left hand side of the page:
Domain Analysis

At the top of this page you will see a synopsis of your selected domain, like this:
Each one of these categories is explained in further detail for the remainder of the page. If there are issues with the site, you will be advised about the problem, what you need to do to fix it, and why it is an issue in the first place. Most of the issues and recommendations are linked to in detailed blogs which also serve as tutorials for new users.
Website Crawl Analysis
As we know, the first step to get into SERPs is to get crawled and indexed. SearchEnabler provides exhaustive crawl analysis to identify issues which might impact search engine crawls and indexing. Crawls are repeated every week. Your Crawl Analysis summary will look something like this:

Here we can see that our site has warnings which could make it difficult for Google to properly index our pages. Below the summary we see a detailed list of the types of crawl errors we are dealing with:

These pages are well linked throughout the site and Google shouldn't have any problems indexing them, but as part of our best practices it would be a good idea to add these pages to our sitemap.
SearchEnabler's crawlers are built from the ground up to keep costs lower and more efficient without impacting costs.

Other details listed on the page include:
Crawl Errors
Infected With Malware
Unreachable
Having Broken Links
Crawl Warnings
Unreachable From Sitemap
Redirecting Temporarily
Redirecting With Meta Tag
Wrong Usage of Domain Name
Using Multiple Canonical Tags
Crawl Notices
Denied Access to Crawlers
Marked Not To Index
Marked Not To Follow Links
Redirecting Permanently
Non HTML Content
Canonical Tagged
From the top of this page, we can also click through to see more detailed information:
Content Analysis
The next logical step after removing hindrances to crawling and indexing is to optimize content with titles, URL's and other tags. That's what SearchEnabler has done. The complete site is analyzed for content issues like duplication, missing tags, alts, links etc.
The Content Analysis page has a similar layout:

Issues covered on this page include:
Content Errors
Missing Title
Missing META Description
Duplicate Title
Duplicate META Description
Duplicate Body
Not Linking to Home Page
Content Warnings
Missing ALT Tag For Images
Too Many Outbound Links
Lengthy URL
Long Title
Short Title
Long META Description
Content Notices
Missing H1 Tag
Having Large Body Content
Another menu at the top is available for in depth information:

This will point you to the specific pages with the issue.
Meta information isn't always all that vital, but issues like missing titles or title length are a larger concern. Remember than meta descriptions aren't used for rankings, but they appear in the search results and can be used as a call to action. However, if you focus more on long tail, meta descriptions can actually work against you, because Google will not highlight the content on the page that uses the searcher's keywords.
WebPage Analysis
This page combines together content quality and crawlability issues in one place for specific keywords. This allows you to test how well optimized each page is for specific keywords using a wide range of factors.

A useful feature here is the option to view only specific issues using this drop down menu: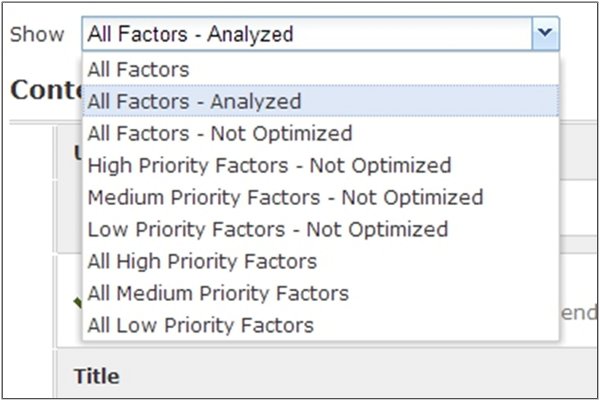 Some of the more useful factors measured here are the presence of a unique title and unique body content. Of course, it also tests to make sure the keyword is used in the title, URL, etc, and a total of 33 factors.
Keyword Rankings
Now we start to get into the fun stuff. You will probably be spending a lot of time on this page: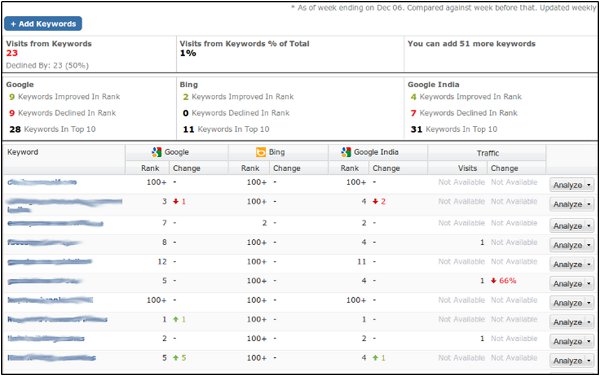 This allows you to track your keywords, see how well you are ranking, and see changes in rank, in Google.com, andBing.com, as well as country specific Google search engines. Here you can see google.co.in as that was the geography target selected in settings.
You can also see changes in traffic that result from this. The analyze button on the right-hand side will take you directly to the WebPage analyzer, where it will tell you if there are any specific improvements to be made to rank for the keyword. Obviously, the button at the top right is used to add new keywords to the list.
At the top of the screen, you can switch over to "Trend" to see a detailed history of how your visits and rankings are changing over time.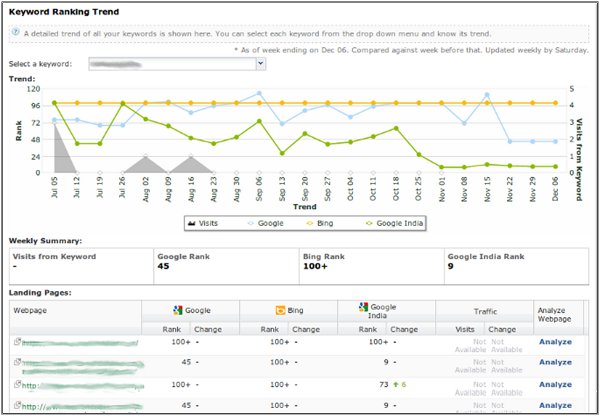 Link Analysis
In combination with keywords, links are your bread and butter. From the summary page, you can compare link performance with your competitors:
Link factors considered include the number of followed links, linking domains, and no-followed links. You can also see your link errors. The "Linking Invalid Pages" menu selection will point you to broken links, both on and off your site. Other menu options will show you your nofollowed links, top pages, linking domains, anchor text, and a raw list of all of your links.
You may have noticed that the focus is less on comparative analysis and more on actions. Since SearchEnabler is positioned for small businesses, some of the link metrics you might expect are not available. The advantage here, however, is lower costs.
Track
You can also use this tool to track your traffic and social media activity.
Traffic
From the summary page, you can see how your traffic from various sources is doing:

Above the visual graph is a list of more granular information about the number of visits from search engines, links, and social media. Improvements and declines are also listed, and declines are listed in red.
The menu items at the top will take you to data about search engine and referral traffic specifically.
You can see drill down information on search engine traffic with important metrics tracked like keywords driving traffic and pages receiving traffic from search engines (organic traffic).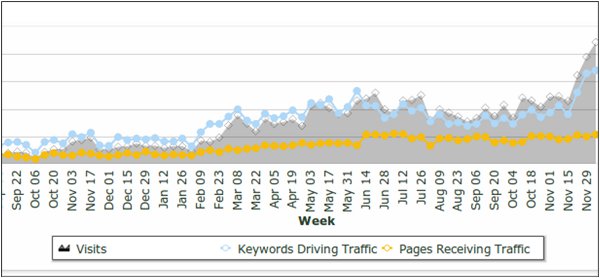 Social Media
A similar graph is visible from the social media page that tracks visits as well as "likes" on Facebook, "followers" on Twitter, and +1s from Google+. You can also view Facebook, Twitter, and Google+ information individually.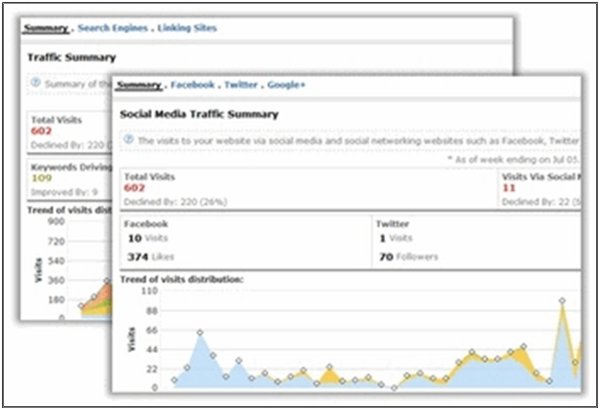 Mail Reports
Apart from viewing all data online, you can also get weekly mail reports. Below you can see weekly crawl and content summary with incremental errors, warnings and notices.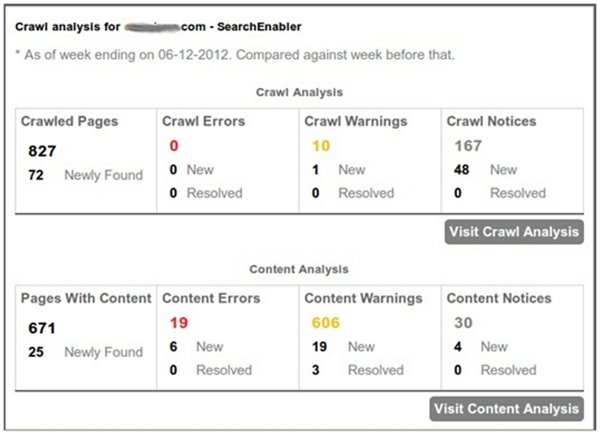 You can receive a concise keyword summary in your inbox every week: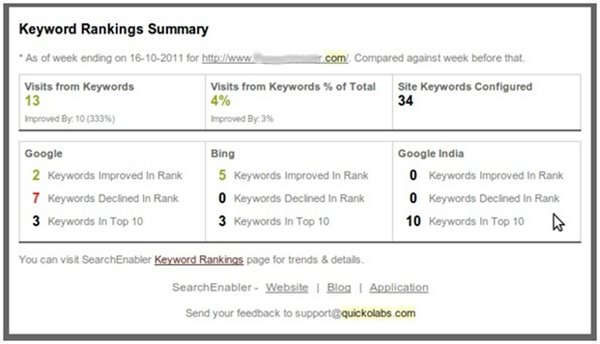 Some Improvements
I would recommend SearchEnabler to further enhance Link analysis and to provide actionable recommendations, as well as provide some mechanism for keyword research and keyword suggestions. Such features would be extremely necessary for novice users to understand what keywords to target and how fast one can rank.
That said, overall SearchEnabler has been successful in bringing together all the important features. It helps you identify elements that haven't been fully optimized and allows you to track key metrics, all without creating hole in to your monthly budgets or becoming a time sink.