SideStripe is a new search tool with quite a unique and useful concept worth sharing with SEJ readers. It is basically a Facebook application which assists you with your Google search. It provides a Google gadget you can add to your Google SERPs – the gadget will be looking for answers among your Facebook friends while you are performing your search.
It is very powerful to see information from people you know during your search. I liked the idea because the tool instantly suggests which of your friends you can contact for more information on your search query. For example, if I search for [usability], I see the following: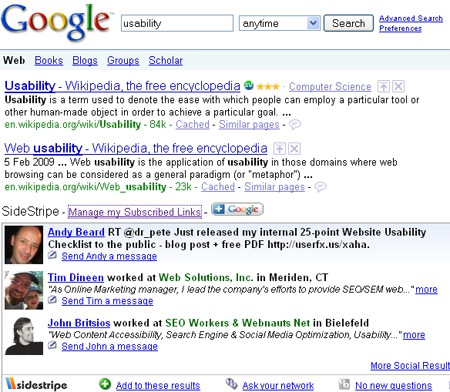 If there is no relevant information to be found among your Facebook friends, the gadget will invite you to ask your network and receive answers from people you trust. You ask a question and it goes into your feed on Facebook. People can click on the link that they see in their feed and answer the question.
Your friends can answer the question whether they are subscribed to the app or not (of course they can also easily sign up when they answer with a simple click). You will get an email that says you have an answer to your question. It will also make your answers open to your friends the next time they search. (Note: to be completely fair, I don't use the ask-your-friends functionality. I like the search concept and have the gadget installed but never try to ask my friends anything. Anyway, I decided to mention this option too as someone might consider it useful).
I contacted the developer and here is some explanation from him on how the tool works:
We take information that your friends have published into FB (and soon to be other places as well), and run it through our SocialRank search algorithm to give results that are relevant (and relative since they know the source) to the person searching. Our SocialRank technology takes all sorts of profile information about a person and their social network and determines the best result for that person. It is like every person has their own specific search results.