Jeremy "ShoeMoney" Schoemaker has been an Internet Marketing phenom for years now, and he is a polarizing figure in the community thanks to his pulls-no-punches persona along with his notorious marketing techniques. [pullquote]To-date, Jeremy has given away more than $80,000 to non-profits by taking his out-of-the-box marketing style and applying it to fundraising drives.[/pullquote]
Love him or hate him, you can't ignore him. But what a lot of people don't realize (and what he probably wants to keep quiet) is that Shoemoney has a softer side, having been very active in raising money for various charities in recent years.
At Affiliate Summit West 2009, Jeremy agreed to wear a winning bidder's logo at the conference, and the auction ended up going for $10,000.

The winning bidder, Trainsignal, makers of computer training software, were in attendance. The money was donated on behalf of the Affiliate Marketers Give Back Foundation to the National Breast Cancer Society.
At Affiliate Summit East 2009, Jeremy did a similar auction for the Lincoln City People's Mission Homeless Shelter. The winning bid of $11,000 was ponied up by the giant coupon site retailmenot.com.
Then a year ago at Affiliate Summit West 2010, he held another auction that raised $10,100 for the People's City Mission. The high bid came from ClickBooth.
In 2011, Banner Ad Rockstar won the auction for $5,000.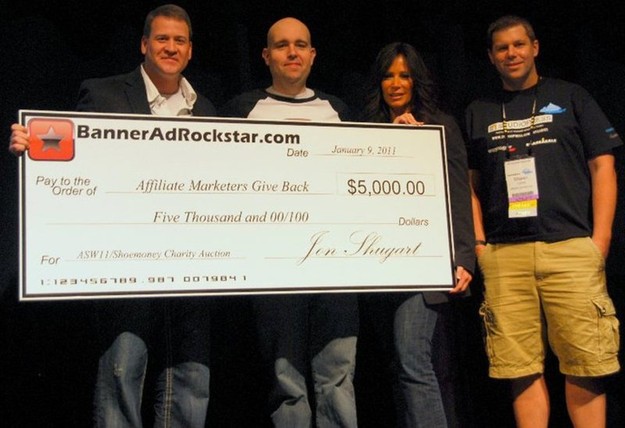 2012 ASW: Hostzilla Webhosting company took the prize for $5,710.
2012 Leadscon NYC BMI Elite – $5000
2012 Affiliate Summit West – Anthony Morrison – $5,000
In 2012, Jeremy took it up a notch when he featured select company logos on the back of his recently published autobiography for $2,500 each. The stunt brought in more than $30,000 for charity.
Jeremy tells SEJ, "In 2013 my goal is to reach the $100,000 mark." We are looking forward to seeing what antics he'll pull in order to check off the $100K box. Good luck to Shoe!