Sometimes your link building efforts produce absolutely nothing at all of value.
Sometimes you conduct the exact same research and use the exact same methods that have always worked for you, but they aren't working right now.
What do you do when this happens?
My link builders, even the most experienced and successful ones, will occasionally run into stumbling blocks. The same thing happens to me.
What I always advise them (and try to remember for myself) is this: do something totally different.
Here are seven ways you can shake up your link building efforts.
1. Search Differently
You could: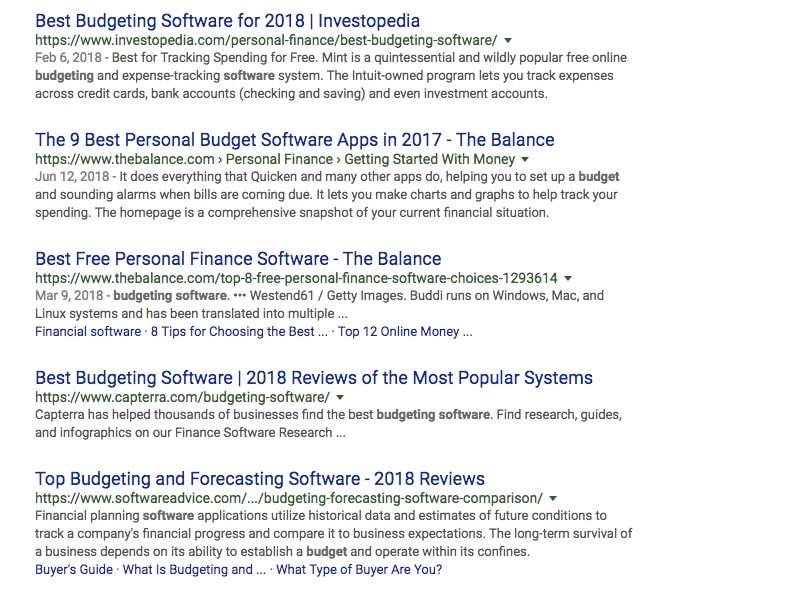 Notice that you get different results than when you simply search for [budgeting software]: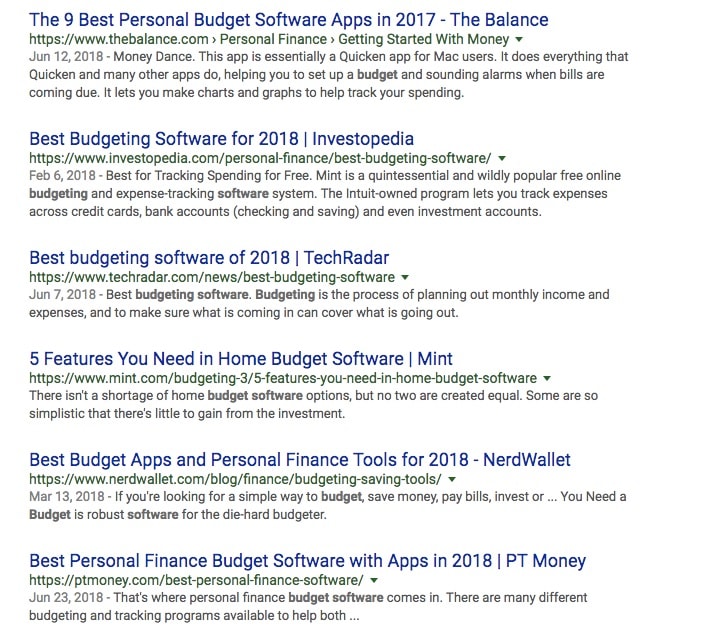 2. Reach Out in a New Way
Maybe you're most successful with email outreach for link building. Instead, try:
3. Realize That Less Is Sometimes More
We're all very busy people so recognize that no webmaster wants to read a thesis.
Look over your introductory email and pare it down to the minimum. You want something so ask for it quickly and get to the point without it taking four email exchanges to do so.
If you're on the phone, don't go on and on. Just state your point and ask for your link without asking loads of questions and giving out information that no one really wants to know anyway.
Yes, emails should be personalized, but you can still do so while being direct and to the point.
4. Brainstorm
If you're lucky enough to work with other link builders or marketers on your project, take a few moments to brainstorm new ideas and ways to solve problems.
Sometimes someone who is not working on the same thing that you are can more easily see different avenues of opportunity, or identify new solutions to old problems.
It doesn't even have to be a link builder! If you're working on a video game site and you don't play video games, ask someone who does, for example. You may get some amazing ideas that way.
5. Think in a Different Place
While I wouldn't really recommend doing this, as it's kind of unprofessional, we used to send a few of our staff out with money for a few drinks, and they did honestly come up with some truly amazing link building ideas that really worked well.
One of my best link builders will occasionally work from home in the very early morning, just so he has a different perspective already there for him. I do a lot of my work from home but sometimes going into the office for a few hours really allows me to focus and come up with new ideas.
Have a meeting at the local coffee shop instead of in your office or go out to lunch with members of your team.
Occasionally, just viewing different scenery is enough to trigger new and fresh ideas. Just taking a walk around the block can even help.
6. Get a Second Opinion
Have someone read over your link request and ask how you can make it better.
Have someone who isn't in the industry look over your email or content and ask for opinions on whether the points are clear.
The purpose of outreach isn't always clear, either.
I've gotten emails asking me to just take a look at an article. Are they hoping for a link? Do they want me to tweet it?
It's much better to ask for what you want and not make people wonder.
Silly, you might think, but it isn't always easy to recognize your own weaknesses. Sharing your work with someone else makes the trouble spots easier to locate and fix.
7. Persist in Your Efforts
Sometimes there are various reasons why you're having a harder time.
Perhaps you're targeting a group in a country that's enjoying a major holiday and that is why you aren't getting any responses. Maybe your emails are being sent to the spam folders, or you have an outdated phone number.
Because you are experiencing a slowdown you might be tempted to stop completely or totally rethink what you're doing.
Sometimes, however, simple persistence is the key.
We've found that following up multiple times tends to net us many more links than if we'd only sent out the one email.
Summary
All told, link building really isn't that tricky. However, link building is very, very tedious and time-consuming work.
Shaking things up a bit can usually bring things to light and restore your optimism. So what do you have to lose?
More Link Building Resources:
---
Image Credits
All screenshots taken by author, June 2018