Is the most exciting thing that happened at SEOmoz's 2009 advanced seminar that Rand almost fell off the stage on the first morning despite his supposedly having turned in early Sunday night and not having gone drinking with the other speakers?
No.
Is it finding that some random pot-bellied person named Jared is the #1 hot body on Victoria Secret's Body by Victoria contest because of the power of social media?
No.
But it might be the Booze Death Calculator Rand cited as a great example of how to both get links and effectively socially-enable your linkbait.
Or perhaps the watermelon and coffee.
Rand Fishkin kicked off today with two great content and architecture-focused sessions today.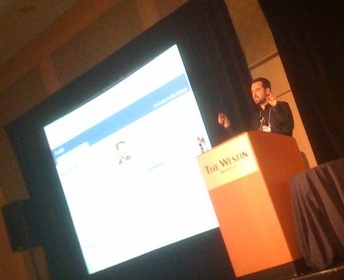 Leveraging Natural Link Creation Motives to Get More Links
One of the most interesting things he talked about was the psychological motives for natural link creation and how to leverage that. Here are some bullet points:
Pride/ego boost: badges, user rankings, profiles (linkedin profile completion), blog posts about top bloggers (they'll link back to you)
Citation worthiness: create a landmark post on some topic and everyone will link to it later (search ranking factors posts)
Anticipation: use mystery to stimulate your fanbase that you're working on something coming soon
Humor: effective but dangerous- Rand didn't say it but he implied "you may not be as funny as you think"
Site Architecture Tips
Ideal site structure vs. more realistic: 3 clicks to 1,000,000 pages vs 5-7 clicks; 100 links per page vs 40-60 links
Check out the flawless site architecture of FanBase – categories are content (keywords, h1's)
Tags can be a nightmare if you let users create whatever tags they want
Block pages with meta noindex rather than robots.txt
Don't remove nofollows if they're working- despite what Matt Cutts says, some people have lost major longtail rankings
Tips for Sites with > 50,000 Pages
Inkd– good simple useful link menu, good flow
Go from broad to narrow topic relevance
Create Wikipedia-style keyword-based internal links
Create a sitemap of sitemaps
Sitemap only your most important pages (the ones that draw in search traffic) if possible
Use sitemap content to ID duplicate content and which is canonical- submit the canonical version
Indexing- check with use analytics- number of pages that received more than 0 referrals from google, and 24 hr google search