Every business has some degree of seasonality.
Thankfully, this SEO force is a bit more predictable than others at measuring and counteracting.
Here is a process for diagnosing a seasonal SEO issue, tactics for overcoming the dips in the slow season, and advice for transitioning from slow to peak season.
Diagnosing a Seasonal SEO Issue
Your website traffic is going to fluctuate throughout the year, so it is important to know when the major movements in demand occur in your industry.
By understanding the general seasonal search patterns, you can avoid inaccurately diagnosing a technical, algorithmic, or competitive issue as a seasonal issue.
Google Trends is the global standard in identifying general search patterns.
Identify your industry patterns by throwing in 2-3 short-tail topics that are relevant to your business.
This will pinpoint which of the following four main patterns of SEO seasonality your business fits within.
1. Holiday or Event-Based Seasonality
This type of seasonality is the most obvious and aligns clearly with a significant holiday or sporting or cultural event.
Here is the seasonal search demand for the "Super Bowl":
2. Multi-Month Seasonality
This type of seasonality typically runs for 3-9 months, and then search demand drops off.
Multi-month seasonality fluctuates for a broad range of reasons, including meteorological, fiscal, and cultural reasons.
Here is the seasonal search demand for "tax software":

Here is the seasonal search demand for "skis":

3. Peak and Taper
This type of seasonality occurs most frequently during the start of a calendar year. With the start of a new year comes increased aspirational and lifestyle searches.
Here is the seasonal search demand for "weight training":

Here is the seasonal search demand for "healthy recipes":


Here is the seasonal search demand for "home building":

4. Constant Fluctuation in Demand
This last level of SEO seasonality is the most challenging for businesses.
Constant fluctuation makes it difficult to predict search volume because there are constant peaks and valleys caused by both macro and micro industry forces.
Here is the seasonal search demand for "hospital information management":

After you've identified your seasonal SEO patterns, go through this checklist to eliminate the possibility that your website may be seeing drops or increases in traffic due to another SEO force.
Tactics for Overcoming the Dips During the Slow Season
Now that you have a better idea of identifying your organization's seasonal patterns, here are a few tactics you can employ to keep your marketing engine running.
Expand Your Audience Intelligence
Where does your buyer hang out during the slow months?
Just because your buyer isn't searching for your product year-round doesn't mean you can't continue to add value to their lives throughout the year.
Use tools like SparkToro and Facebook Audience Insights to understand the websites, social channels, YouTube channels, and podcasts your buyer is consuming.
Here is an example (from SparkToro) of the type of data you would benefit from if you are selling to Coloradans interested in skiing:
This tells us the external channels your business should be present on (through earned, owned, or paid media) to get in front of this audience all year long.
Using that same search, here is some additional SparkToro data you can gather to identify other topics your buyer cares about: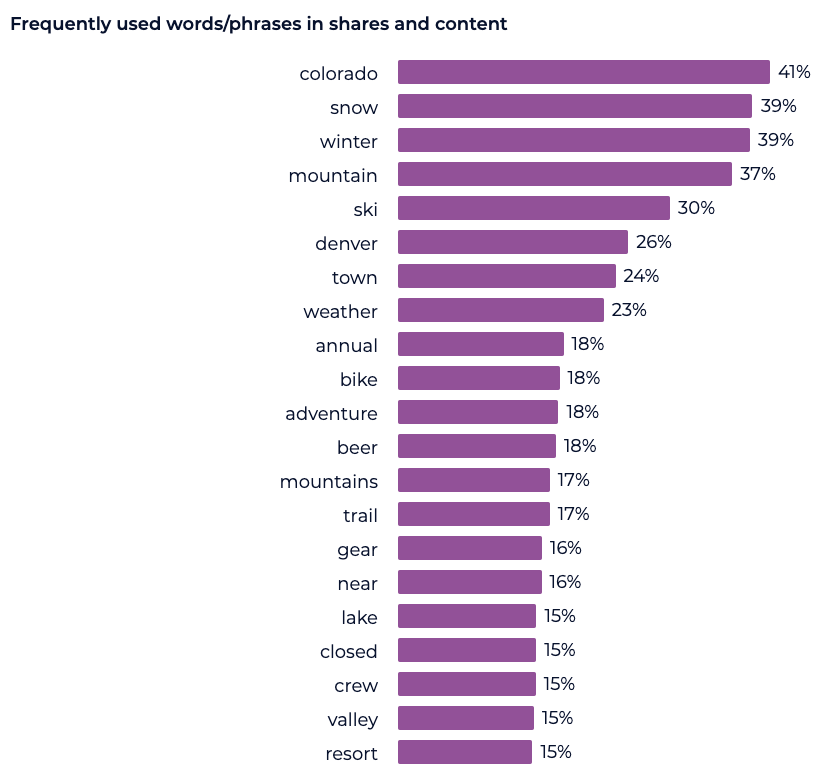 Take notice that there are a lot of non-skiing topics that your brand can align with during the slow season.
Conduct Persona Research
When was the last time you had a live conversation with your customer?
Use the slow season to spend time digging into the passions and activities that keep them busy throughout the year.
The goal of this exercise is to identify the external channels, topics, and trends that your buyer is engaging with year-round.
Launch Co-Marketing & PR Campaigns
Now that you know the channels and topics that your buyer cares about during the slow season, how can you align your brand to be present and relevant in their lives?
For example, let's return to the example of targeting Colorado skiers.
Knowing that skiers also care about biking, adventures, and beer, your brand can run a co-marketed campaign with another organization involved in one of those areas.
The campaign will expose your audience to theirs and vice-versa.
Use this audience intelligence for public relations efforts, as well.
Skiers care about staying fit for the next ski season.
Can you write a byline contribution or a guest blog article for another publication's site with a workout plan to stay fit during the summer months?
The goal of all of this isn't to shove your products down your buyers' throats during the slow months.
You simply want to be present and relevant in your buyers' minds year-round.
Create a Seasonally-Aligned Editorial Calendar
Publications in your industry don't write stories exclusively during the busy season, so why would your business operate any differently?
Align your editorial calendar of topics that peak in specific months with topics and events relevant to your buyers through the rest of the year.
Here is an example of how this could be done for a patio furniture company.

During the slow months, there are many topics that your buyer is interested in engaging with outside of your core products.
Fill this content void for your customers and think of your editorial calendar as a 12-month rolling cycle instead of only publishing content during peak buying season.
Transitioning from Slow to Peak Season
With the clock ticking down until things pick up again, here are some SEO strategies to accelerate your upcoming search campaigns.
Align SEO with Other Marketing Areas
SEO is an afterthought in many organizations.
Identify SEO opportunities you can take advantage of based on campaigns other marketing teams are running.
SEO shouldn't live in a silo, so get out there and see how you can expand your search footprint via content, partnerships, PR, or inbound links.
Run a Competitive Topic Analysis
Does your SEO footprint align with the topics that your buyer is searching for during peak months?
A competitive topic analysis will show you how well-positioned you are for each topic that your business needs to rank for.
Prior to content planning sessions, identify the topical weaknesses in which you need additional investment in order to be best positioned during peak months.
With the summer months ahead of us, many organizations are staring down the SEO doldrums.
Use this as an opportunity to expand your SEO footprint by better leveraging your search trends, audience insights, and a seasonally aligned editorial calendar.
More Resources:
---
Image Credits
All screenshots taken by author, June 2020