Calling all creative internet marketers! There's just one week left in the Search Engine Journal and Advice Interactive Group SEO Monster Mash recipe contest. The top five entries will be revealed October 23, and you'll be able to vote for your favorite. Remember, the grand prize winner will be awarded $500, an SEJ grab bag, and a featured post on SEJ with the winning recipe. So what are you waiting for? Get cooking!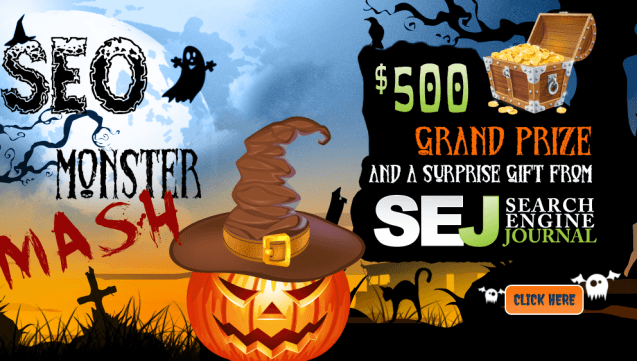 To submit your entry go to the SEO Monster Mash contest page. Entries must be submitted by October 18, 2013. Good luck!
Festive Fall SEO Recipe For Success
This savory stew will delight your friends and enemies alike! In olden days it was made with pandas, but since they are now endangered, penguins make a good substitution.
Ingredients
1 penguin, tagged "organic"
1 Crazy Egg 2 QuickSprouts
4 cups fresh content 3 medium SERPS
3 meaty Cutts of Matt 4 spiders
3 crawlers 3 piggybacks
5 strong keywords 5 exact matches
8 liters link juice 10 competing pages
link bait to taste evergreen content for garnish
Utensils
1 cauldron 1 SEO toolbar
1 keyword tool 3 sturdy blog posts
4 lines anchor text 10 activity logs + kindling
Steps
Form blog posts into a tripod and suspend the cauldron from the top, using anchor text to secure. Fill cauldron with link juice.
Place kindling beneath pot and light with your exact matches. Feed fire with activity logs as needed.
Bring link juice to a rapid boil and add all 10 competing pages. Boil until pages are limp. Lower flame.
Chop the penguin into bite size snippets with the keyword tool and add it to the pot along with the 4 cups of fresh content.
Using the SEO toolbar, beat the SERPS until they are thoroughly blended. Pour this mixture slowly into the cauldron, stirring continuously.
Add the spiders and the crawlers, taking care not to let any escape.
Finely chop the meaty Cutts of Matt and the piggybacks into bite-sized chunks. Add them to the mixture all at once, followed immediately by all 5 keywords, whole.
Beat the Crazy Egg until it hallucinates, then set it aside to mellow.
Meanwhile, soak the QuickSprouts in boiling water until they flower, about 1 minute. As soon as they bloom, toss them into the cauldron. (Remain alert! They're quick, remember?)
Add link bait to taste and simmer until moonrise on Whiteboard Friday. Garnish with evergreens.
Serves about 13 (or 1 coven)
Serving Suggestion
XML site maps in festive colors make great ground cloths. Place them around the fire with color compatible, hollow gourds and invite guests to dip their own portions from the cauldron.
Place piles of breadcrumb links around the sitemap for guests to sprinkle on top of their gourds.
Add a fun touch by providing white, gray and black hats for guests! After dinner, ask everyone to join in a Google Dance around the fire.
Note of Special Interest
This recipe is a favorite of the well known wizard, "Art of SEO"
Recipes must be received by October 18, 2013. Go here to submit yours!