When you were asked, "What do you want to be when you grow up?" very few of us answered "An SEO professional!" as children.
Most of us "fell into" this industry somewhere along the way. You always hear an interesting story when you ask fellow SEO pros and content marketers how they got to where they are.
For instance, one of my coworkers who do content marketing was a campaign organizer for the Hillary Clinton campaign.
My path to content and SEO was through teaching and creative writing.
We come from a lot of different places, and that's a good thing.
One of the unique things about building a career in this new field is that many of us have been watching the industry and our careers take shape as we go.
SEO & Content Marketing Demand Is High
Every year, the research team at SEO platform Conductor (disclosure: I work for the company) analyzes job openings, salaries, and backgrounds for SEO pros and content marketers throughout the U.S., UK, Canada, and Australia in the Digital Marketing Job Report.
This year's findings were just released: in 2018, there are more jobs in content marketing and SEO than ever before.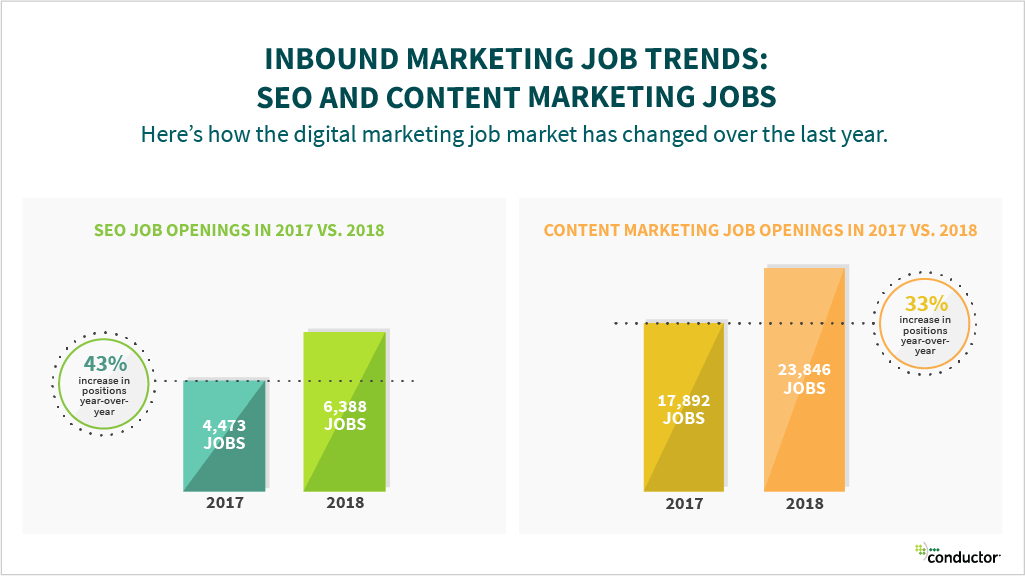 SEO jobs are up 43 percent year over year. Content marketing jobs are up 33 percent year over year.
In other words, businesses are increasing their investment in organic channels.
Content and SEO are growing fields for both junior and senior professionals.
Content Marketing Careers Are Taking Off
Content marketers, in particular, had a good year. For one, there are 4x more available content jobs than SEO jobs.
The data also shows that businesses are putting more content marketers into leadership roles. There was a 13 percent increase in content director salaries this year. Expect to see that seniority and compensation continue to climb.
If you're a content marketer with SEO skills, you're in the best possible position for job opportunity and career advancement.
The research shows that senior content marketers are much more likely to bring SEO skills to the table than their junior counterparts.
SEO & Content Marketing Roles Are Converging
As you look at SEO and content marketing jobs side by side, it's immediately apparent that there are more similarities than differences in backgrounds and skill sets.
If you compare actual content marketers and SEO pros (rather than open positions), you see that same convergence of skills.
Here's the side-by-side profile for SEO directors and content directors: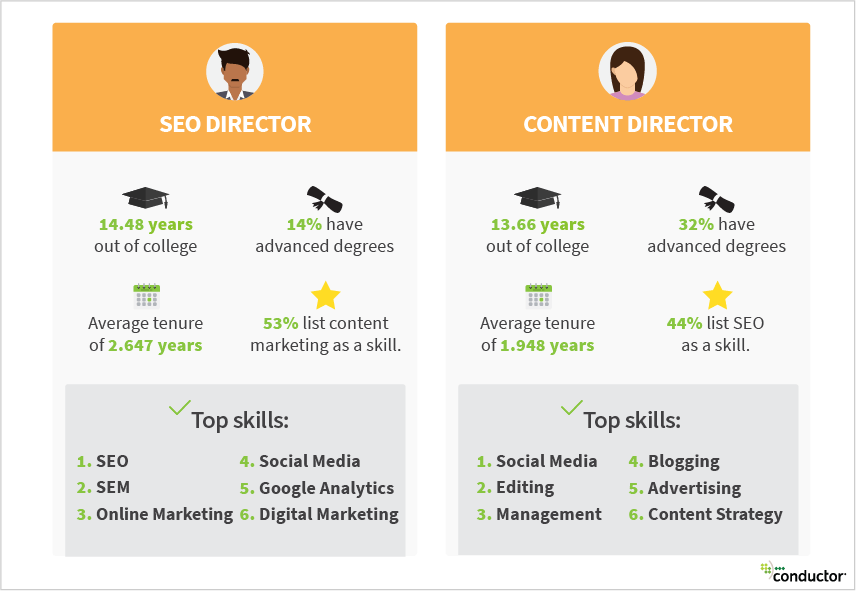 It makes sense: content and SEO success are tightly coupled.
What good is content if people can't find it? And what's the point of visibility if you're not leading consumers to valuable, relevant content experiences?
Content and SEO are two aspects of the same function – great marketing that's good for customers.
More Career Resources:
---
Image Credits
In-post Photos by Conductor