Most businesses and marketers measure success based upon a series of digital analytics, such as organic visits, page views and obviously, goal conversions.
I'm not saying this is the wrong thing to do – far from it – but you might be severely underestimating your leads and inquires. It's safe to say we spend the most part of our day on the internet, but not all business is scored online. Many people still pick up the phone, and usually this is major source of new leads.
Until recently, it has been almost impossible to know where your telephone inquires have come from. And that's been a big headache for anyone wanting to know how effective their marketing has been.
The latest call tracking software can tell you which of your marketing efforts are successfully generating calls, and which are failing. Call tracking is also a great companion for your SEO, so let's take a look at the benefits.
How do you track your inbound calls?
Let's say your business has a telephone number. I'm sure it does. It's probably plastered on your website, in magazines, in your Google AdWords campaigns – it may even appear on billboard ads.
But how do you know which of these marketing methods are generating the calls to your business? How are you tracking conversions? In case you don't already know, here's how call tracking works.
Let's take a look at an example problem.
I've noticed a damp patch in my home. I don't want it to get any worse so I'll see if I can get an expert in right away.
I type a Google search using the keywords "damp problems".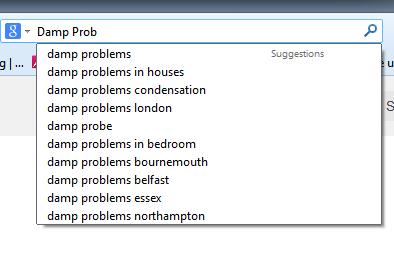 I spot Dr Damp, the first one with a phone number. He sounds like he knows what he's talking about: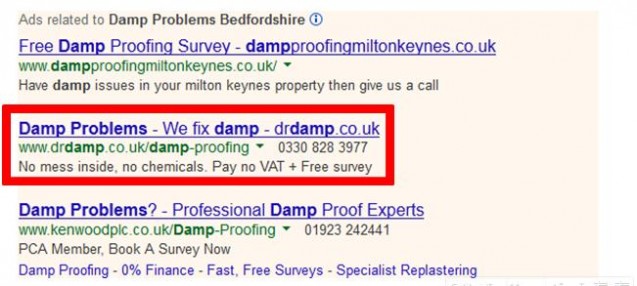 I call him on the listed number and he's able to come out to fix my damp problem by the end of the week. Looks like damp problems won't put a dampener on my year (sorry about the pun)!
But, the same can't be said for Dr Damp. Look carefully again at his advert. I called him from the ad but I didn't click on it, so he has no way of knowing how I discovered his business. As a result, he may think his AdWords campaigns aren't working well. He may even decide to cancel them.
This would be a mistake, because the ads are profitable. He's making use of AdWords extensions which is good practice, but he isn't able to see the full ROI if he's not combining call and conversion tracking for pay per click.
Yet there is a way for Dr Damp to measure and track his marketing.
It's called call tracking. The concept is simple. You create and track a different telephone number for each of your campaigns. The call tracking software records the number of calls you receive, and you get a genuine view on how your campaigns are working.
What does call tracking do?
Let's get into the nitty gritty of how call tracking software helps you create and track multiple phone numbers.
For example, let's imagine that Dr Damp is running three marketing campaigns for his site.
He's running an online pay per click campaign that is driving traffic to his website
He has paid for an advert in his local newspaper.
And he's also advertising on the side of local buses.
By setting up call tracking he can compare enquiries from all three channels. Here are his completely fictional results from the past month:
| | | |
| --- | --- | --- |
| Campaign | Cost | Number of enquiries |
| Pay per click advertising | £1,500 | 10 |
| Local newspaper | £1,000 | 2 |
| Side of the bus campaign | £2,000 | 0 |
Call tracking data allows him to see which campaigns are generating conversions. He can even see the time and date of the call; More importantly, he can track the return on investment (ROI) of each marketing channel.
It's clear from the table that the side-of-the-bus advertising hasn't been working well for Dr Damp. In future, he might want to stop advertising on buses and redirect his spent into pay-per-click advertising instead. He'll probably generate a lot more enquiries.
What are the benefits of call tracking?
With call tracking you can monitor which areas of your marketing – digital and offline – are performing well and which areas need improvement.
Here are the areas that call tracking works well for:
Organic search engine traffic: you'll be able to determine which landing pages are generating calls to your business.
Pay per click campaigns: you can see which keywords work best.
Digital advertising campaigns: By using a different telephone number on each ad you run, it's possible to see which display adverts perform best, too.
Alongside this data collation, you'll be able to listen in on calls, providing you with real insight into your company's customer service. This will highlight improvements that your sales team can make when handling inbound calls.
Let's look at a real example of call tracking in action.
Tracking telephone inquires can save you money
One of Receptional's clients, Mediahawk, a call tracking software specialist, outline in their Legal Marketers Guide to Analytics how they helped a law firm identify which area of their marketing was actually generating the most leads. And it wasn't where they were focusing the main bulk of their budget.
Within a month, data from a communications audit revealed that 98% of the firm's telephone inquiries had been generated through the company's tracked website, whereas the six newspaper ads with their own unique telephone numbers had generated only 1% of telephone calls.
In this instance, call tracking was able to provide accurate data about the legal firm's marketing efforts. It showed that the law firm was wasting budget upon expensive print advertising which was failing to generate any inquiries.
Unfortunately, many sectors, not just the legal sector, are neglecting to monitor all of their marketing channels, causing them to miss out on leads. The tools and marketing metrics that call tracking offers is simply something that businesses shouldn't ignore.
Call tracking shapes the bigger picture on ROI
Data is only helpful if you're putting it into action, of course.
Call tracking allows you to fill in the gaps of your lead generation. For most businesses, they're goal conversion rate is generated by Google Analytics and this isn't a fair comparison if conversions are coming from telephone inquiries.
If you know where exactly conversions originated, you can accurately measure your ROI – and ultimately this is going to help streamline your budget.