Have you ever felt the exact factors that impact local SEO results seem like they are always in flux? With every change search engines – specifically, Google – make to their search algorithms and results, it's hard to know exactly what you need to focus on to ensure your SEO efforts are keeping up with the latest trends.
These statistics give you a pretty good idea of what you need to know about today's SEO.
Local Pack and Reviews
What this means: Now that Google has reduced the number of results it shows in its "local pack" from seven to three, competition for top spots is stronger than ever. This is even more important now that Google shows this grouping of results (the local pack) in the top spot for the majority of searches with local intent.
Getting your business listed on Google My Business – and optimized for SEO with the right local and category-specific keywords – is imperative.
But what about what people see about your business when you rank in the local pack? One critical piece of your listing is your star rating, which is featured prominently in the local results (as shown below)– before someone ever clicks to your listing!
Not only could your rating factor into your placement on the page for local searchers, but having a stellar reputation on Google can increase consumer engagement with your business when your listing does show up in the local results.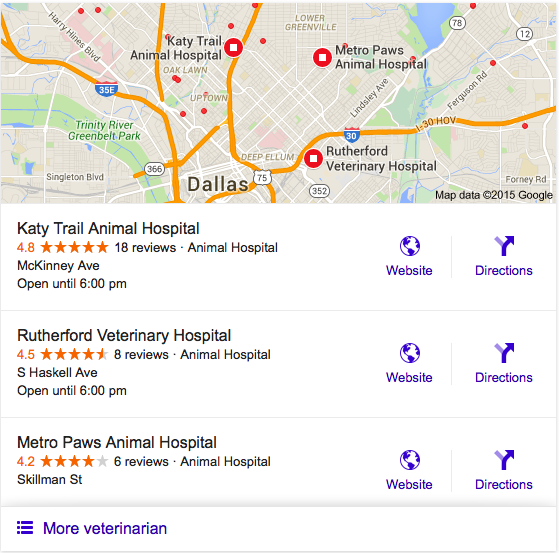 Mobile-Friendly Sites
60% of American adults use smartphones and tablets to search for local product and service information.
What this means: The use of smartphones to search for local businesses in the U.S. is growing as expected, so having a website that shows up for and looks good in mobile searches is a must, rather than a nice-to-have feature. Local listings are only one piece of the puzzle; having a mobile-friendly or mobile-responsive website is really going to boost your performance in local SEO now that Google is clearly emphasizing mobile sites in the search results thanks to Mobilegeddon.
Now that customer experience is becoming a much bigger factor in SEO, your site should not just be optimized for mobile, but it should also be optimized for conversions like calls and forms so you can capture and track leads from your SEO efforts.
Don't know if your site is mobile-friendly? Check it out with Google's free mobile-friendly test.
On-the-Go Searches
What this means: Not only are consumers searching for local information on smartphones – but they are doing it while they're out and about. And, they're looking specifically for information like business addresses and directions. That means you need to be prepared for these ready-to-visit consumers by optimizing all your online properties: local listings, social media profiles, business website, and blog, with pertinent and accurate location information and local markup.
Having your business name, address, and phone information (NAP) consistent across your local citations not only improves SEO performance, but it also provides your prospects with the information they are looking for to call, visit, and make a purchase. Since your entire web presence: local listings, website, and even social media can all impact your SEO, it's important that you know what your business looks like online.
As you can tell, there will always be new search trends that can impact local SEO. For now, make sure your business is up to date when it comes to your (mobile) website, your Google listing, and the completeness and consistency of all your local listings and citations. But remember to keep your eyes open for what's next; you never know what's coming down the path that could impact your local SEO efforts.
What trends are affecting your SEO results the most? Let us know in the comments.
Image Credits
Featured Image: Ditty_about_summer/Shutterstock.com
Screenshot by Tamara Weintraub. Taken September 2015.