This is a sponsored post written by SEMrush. The opinions expressed in this article are the sponsor's own.
According to recent SEMrush research, finding the balance between the creative element and search optimization is the most challenging task for copywriters. Some even believe there's a clash between SEO and human-centered content creation.
It stands to reason that producing texts appealing both to people and search engines requires thorough research, and many writers see as a restriction on their creativity.
Is it still possible to marry SEO and content and make this alliance a happy one? We believe so.
Here are three points any writer should take into account in order to create catchy content that will also attract organic traffic:
Choosing a trending topic.
Increasing semantic relatedness.
Raising chances of getting into Google's Featured Snippet.
1. Choosing a Trending Topic
Point: Picking the right topic is way more than just a free flight of imagination. You have to define what content your target audience prefers, what factors influence their choices, and what exact words can drive them to action.
Tip: Dive deep into local communities, learn the joys and sorrows of your "buyer persona."
It may also be advantageous to take a closer look at those who are already successful in your niche. What lets them dominate the minds and the SERPs? What subtopics do your rivals cover, what headlines do they use, etc.?
SEMrush Solution:
Topic Research scrapes, organizes and sorts popular search queries and Google suggestions. It also provides examples of the headlines your SERP rivals used.
Meet four needs with one deed: gain insights into real needs of your audience, find original topic ideas, reveal common patterns in your rivals' content strategies, and increase your chances of getting a featured snippet.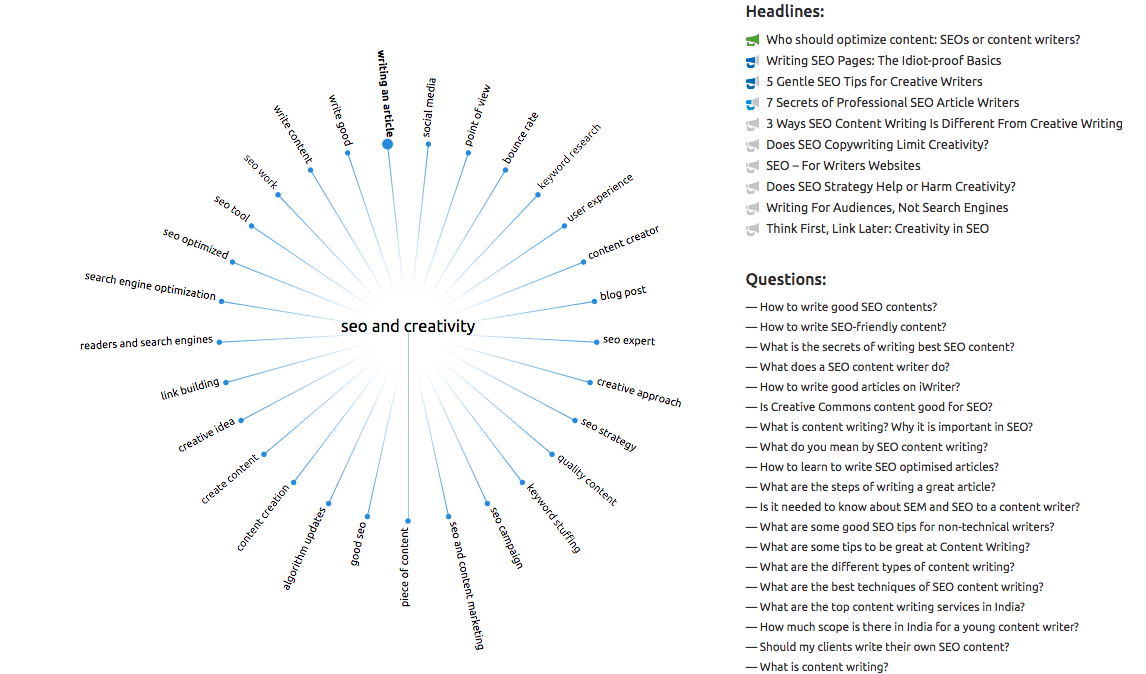 2. Increasing Semantic Relatedness
Point: As time passes, Google continues to evolve and get smarter about how it understands words and term relationships.
Tip: To keep pace with the search engines you need to enhance your keyword research and include more semantically connected words in your writing to rank higher.
SEMrush Solutions:
SEO Content Template comes in handy when you need to optimize the text on a single page without going into too much detail. Enter one or more target keywords, and the tool will analyze the first 10 pages from Google that rank for these keywords, and give you recommendations on which ones to use. The tool will also show you excerpts of your rivals' texts with your target keywords highlighted.
SEO Content Template tool uses TF-IDF to provide you with the list of keywords with the highest potential. The list is automatically sorted by each word's frequency.
SEO Writing Assistant is an extension for Google Docs that generates instant content optimization recommendations based on best-performing articles in Google's Top 10. This gives content marketers an opportunity to check if their texts or the texts of external writers meet various requirements, such as general quality of the content, readability (appropriate reading-ease score, target and recommended keyword density.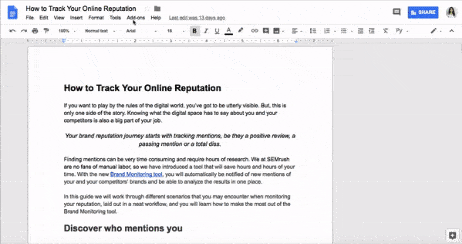 3. Raising Chances of Getting into Featured Snippet
Point: Google's featured snippet is something all content creators dream about because it guarantees maximum visibility for their texts and a serious increase in traffic inflow.
Tips: There are no surefire recipes to take you to so-called "position zero," but some tactics are worth trying out.
Identify the pages of your website that already rank in the Top 10 and try to optimize them for popular queries.
Target question-based keywords and provide structured answers (paragraphs, lists, or tables may come in handy here).
Make sure you use header tags correctly.
Just find what can be improved on your page and keep working. When you are dealing with highly competitive keywords, it is worth the effort.
SEMrush Solution:
Position tracking is a versatile tool that will among other things let you find the keywords with the potential of taking you to the featured snippet. You'll see your position in Google's Top 100 and the SERP features available for each word on your target device and in your target location. You'll also be able to compare your progress against your competitors.

As you get closer to your goal, you'll able to monitor your target snippets (whether you or your rival is featured) and the new ones that appear for your target keywords.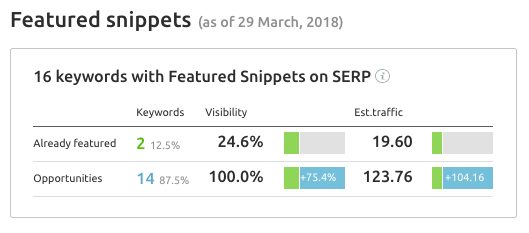 Finally
In the 21st century content just can't do without SEO and vice versa. The amount of information offered to users is so great that even the best content is at risk of being lost if not carefully dealt with in accordance with basic SEO principles.
Will it harm creativity? With the right tools and a well-thought-out approach you'll be able to automate the most burdensome part of the routine and uncover more inspirational insights and opportunities to get as close to your audience as possible.
---
Image Credits
Featured Image: Image by SEMrush. Used with permission.
In-Post Photos: Image by SEMrush. Used with permission.
SaveSave